Stefanie Preissner, writer of Can't Cope Won't Cope, dissects her TV debut
The process of writing Can't Cope Won't Cope for Deadpan Pictures was a baptism of fire. I'd never even really written dialogue before. Up to that point my theatre work had focused on rhyming monologues. I thought about suggesting a rhyming TV Drama to RTÉ… I can imagine the lead-balloon response. Not many things rhyme with Aisling! At least the title rhymes… a bit.
Going into the process, I didn't know that Microsoft Word wouldn't suffice for the script writing. I'd been talked into buying Microsoft Works when I bought my laptop, so I'm always looking for an excuse to get some use out of it. Would you like to see a list of things I've learned presented in a spreadsheet?
I wrote the scripts in a programme called Final Draft. Remember in that music video for Kelly Rowland's song Dilemma where she writes a break-up text to Nelly in an Excel Document? Well, that was basically me. I will forever be known to the Can't Cope Won't Cope team as the nightmare writer who didn't know how to format a script. To them, I'm eternally sorry! But hey, we got there in the end. Even if a few page numbers were missing.
I thought all of the other script issues were ironed out until I saw some of the rushes – I also learned loads of new jargon like 'rushes'. They're the scenes that are shot during the day that would have been 'rushed' to be developed back when things were shot on actual film, so that the crew could watch them back that night. There's a scene where my lead character Aisling is buying a bottle of vodka. In the script I had written: 'Aisling pays for the vodka exactly.' When I saw the scene, Aisling is paying for the vodka in exact change. But that's not what I meant. I meant that she knew EXACTLY how much it was going to cost because she buys it so often, so she has the money ready. But because my script wasn't clear enough the wires got crossed.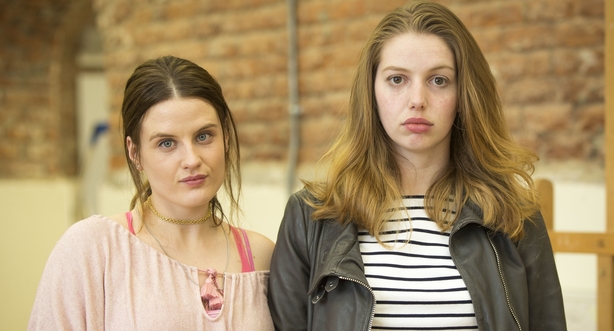 Danielle Mullane (Nika McGuigan) and Aisling O' Dowd (Seana Kerslake) in Can't Cope Won't Cope
It's no big deal, really. But it taught me just how prescriptive you have to be. If I write, 'The girls get out of the taxi' and in my head that scene is happening outside a chipper, unless I put down the exact location, the locations team won't know. They won't scout the location (more newly learned jargon), it won't be put into the schedule and, essentially, it won't happen.
The biggest thing I learned through this while process is about letting go. As a theatre maker, I have so much autonomy over my writing. I can change a script up until the very last night. But for TV, if it's not on the page when the cameras "turnover" (more jargon that means to start rolling) it's not going to be recorded. Once you hand over your script, that's it. Your job is done. And it's over to the rest of your team to make it happen from there.
Finally, I learned that it takes a village. Over 70 people worked on getting this show onto your screens and it wouldn't be the same without them. Every one of the 70 want it to be great! And we all hope you enjoy it! Here's to coping!
Can't Cope Won't Cope debuts on RTÉ2 on Monday September 19th at 10PM.