Every Friday, we ask a notable culture vulture to make some choice recommendations for your delectation. This week: writer and filmmaker Darren Thornton, director of the acclaimed new Irish comedy A Date For Mad Mary, which opens at Irish cinemas this weekend. NB: There will be a Q&A tonight (September 2nd) in the IFI Dublin with Darren & leading lady Seana Kerslake, following the 18.30 screening of the film.
Film
I loved the documentary Weiner, about disgraced NY congressman Anthony Weiner. I thought it was pretty incredible in terms of the access the filmmakers had to Weiner and his wife, and you're watching something crazy unfold in real-time as opposed to seeing them reflecting on it after the fact. Its available on-demand now and well worth catching up with.
Music
Right now I'm listening to a lot of the homegrown electronic music we have coming out of Ireland. Some of it we were fortunate enough to be able to use on the soundtrack for A Date For Mad Mary. I'm big fan of Daithi, Embrz, Cinema, I'm Your Vinyl and Le Galaxie.
Book
I just finished Purity by Jonathan Franzen, which I had been looking forward tor for a while and I liked it, although maybe not as much as The Corrections which I really adored.
Play
I loved Town is Dead by Phillip McMahon, which was in The Peacock back in June and July. It was a musical, but a highly naturalistic one which is something I'd never really seen done before - I loved it and found it really moving. Then Phillip's company thisispopbaby have a new show called Riot on for Dublin Fringe, which I know will be a completely different thing, but I'm also really excited for that.
Television
The Girlfriend Experience is an American show produced by Starz. It's loosely inspired by the Steven Soderbergh film of the same name from a few years ago and it's terrific! I literally stayed up all night and watched 13 episodes back to back. If you like good character drama, then you'll love this.
Gig
I was at a gig by a Louth trad band called Kern in the Spirit Store in Dundalk about a fortnight ago, and it was electric! One of the best gigs I've been to in a long time, and I say that as a bit of a Luddite when it comes to trad, but the gig was so visceral, everyone just connected with the music as soon as they went onstage and by the end everyone was talking about how we'd all witnessed something really special. They're playing Bagenal's Castle in Newry on September 16th and then they're in Spirit Store again on October 20th.
Art
Subvert All Power was a performance/exhibition curated by Seamus Nolan and Declan Mallon about the history of punks in Drogheda that was on at the Droichead Arts Centre last weekend,and it was really interesting.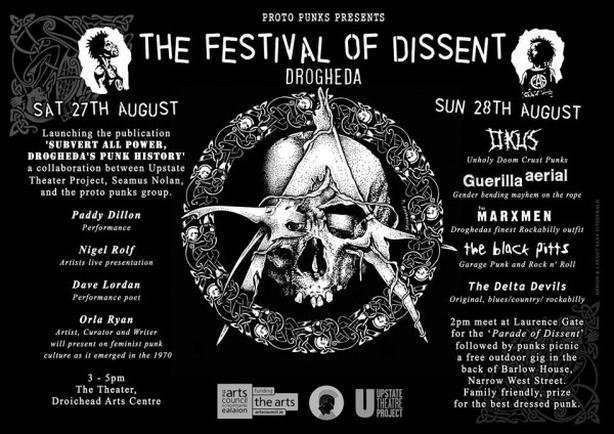 Radio/Podcast
All the obvious ones like This American Life, The Moth and Marc Maron, but lately I've also been loving Dan Savage's podcast Savage Love, he's just a really smart, insightful guy and he gets into really interesting areas when it comes to sex, love, relationships etc.
Tech
App-wise, Shazam is always handy for me because I can never remember the name of a song. And I love Instapaper and I use that all the time too.
And finally... The Next Big Thing
Riley Keough, the American actress who's the lead in The Girlfriend Experience, she's also in Andrea Arnold's new film 'American Honey', I think she's going to be pretty huge.