There is simply nothing more comforting than a big ol' bowl of rich, warming soup.
We all have our tried and tested favourites like potato and leek or a mixed vegetable soup, but there's no reason to just stick to what you know. Why not get a little adventurous with your tastebuds and try something new?
This curried squash soup with toasted buckwheat and crispy kale is simple but so, so good. Nourishing from the inside out and packed with vitamins and minerals.
On this episode of More than Meats the Eye, chef Holly White serves up her spicy squash soup to Ulster and Ireland rugby star Andrew Trimble to see if she can win him over with this plant-based delight.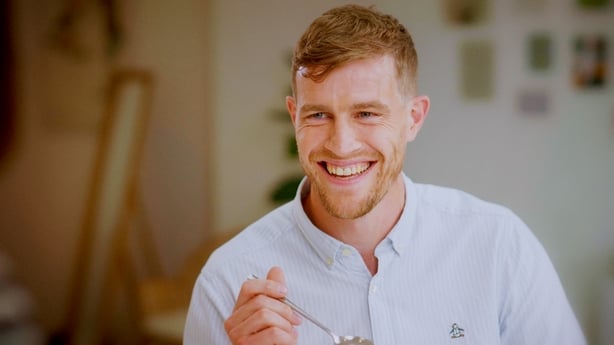 Stay tuned to the end of the video for Andrew's reaction!
Curried Squash Soup Topped with Toasted Buckwheat and Crispy Kale
(Serves 4)
Ingredients:
100 ml coconut milk (plus an extra 2-3 tbspns for garnishing)
80g of finely chopped shallots
1½ tins of chopped tomatoes (or 500g fresh tomatoes, finely sliced)
2 cloves of garlic - mince
1-2 tablespoons of Knorr Mild Curry Powder (depending on strength required)
1 butternut squash peeled and cut into cubes
1 Knorr Vegetable Stock Pot in 350 ml water
100g buckwheat groats
2 large handfuls of kale
1 tablespon of Knorr Chilli and Smoked Paprika Seasoning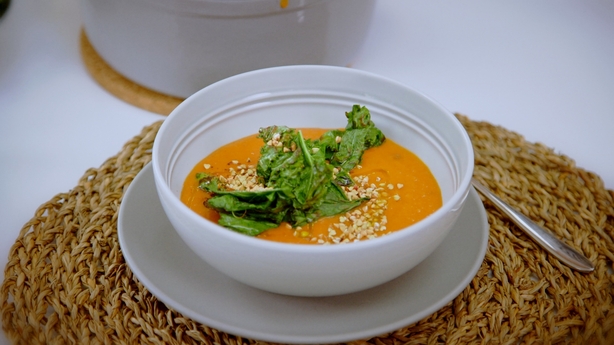 Method:
Roast the squash in olive oil at 180° for 30 minutes and in the meantime sauté the shallots, tomatoes, curry powder and garlic until the onions are caramelised.
When the squash is tender combine it with the sautéed vegetables.
Add in the stock and blend with either a hand blender, or pour into a blender jug and process until silky smooth.
To thicken gently simmer until reduced. Season to taste.
In a pan sauté your kale on a high heat until crispy. Set aside.
Add the buckwheat to the pan and lightly toast over a medium high heat stirring the pan regularly to ensure it toasts evenly. Sprinkle on the Knorr Chilli and Smoked Paprika Seasoning. The buckwheat will go a little golden after about 5-6 minutes.
Remove from heat and allow to cool.
Serve your soup topped with crispy kale, toasted buckwheat and a drizzle of olive oil.
Knorr is on a mission to inspire everyone to eat better for themselves and the planet. We know everything on our plates has an impact on our health and the environment. The good news? Small changes can make a big difference. With more veg, less meat and a wider variety of flavoursome foods, you can help change the world by changing what's on your plate.
For more information on Knorr's commitment to sustainability see here. Eat for good.
To shop the ingredients for this recipe visit Tesco.ie here.
For more recipe inspiration, watch More than Meats the Eye on RTE Player.