Saying goodbye to summer doesn't mean having to bid farewell to your trusty lunchtime salads.
This warm, flavourful Roast Cauliflower and Quinoa salad is a perfect go-to as the chill in the air settles over autumn and winter.
While 'quinoa' may be difficult to pronounce, this superfood grain is very easy to prepare. Not only is quinoa an exceptional balance of protein, fat, minerals and vitamins, it is also a more sustainable choice for the environmentally conscious foodies among us, requiring very little water to grow.
On this episode of More than Meats the Eye, chef Holly White prepares a tasty Cauliflower and Quinoa salad, topped with buttery hemp seeds for that added crunch. This time around, she's joined by Ulster and Ireland rugby star Andrew Trimble who she'll have to win over with this warming salad recipe.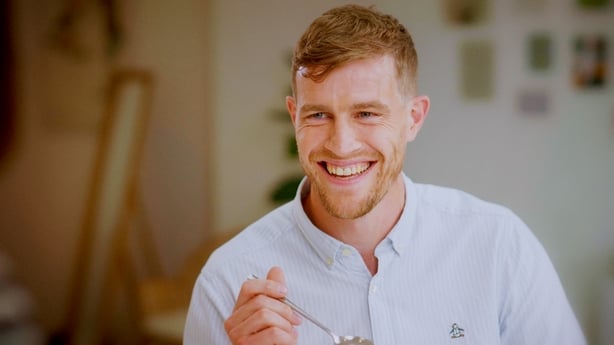 Stay tuned to the end of the video for Andrew's verdict.
Here's how to make this delicious Roast Cauliflower and Quinoa Salad recipe...
Ingredients
1 head of cauliflower
1 teaspoon of ground cumin
1/2 teaspoon of paprika
1 teaspoon of turmeric
1 teaspoon of garlic powder
A drizzle of olive oil
Salt and pepper to season
2 cans of mixed beans
250g quinoa (pre cooked weight)
1 Knorr vegetable stock cube
2 shallots, finely sliced
200g sun-dried tomatoes
200g raw courgette cut into 1/4 slices.
A large handful of rocket
Dressing
Juice of 1 lemon
1 tablespoon Knorr Miso Mushroom Liquid Seasoning
2 tablespoons of olive oil
salt and pepper to season
To serve
100g of hemp seeds
200g pitted olives
A handful of fresh parsley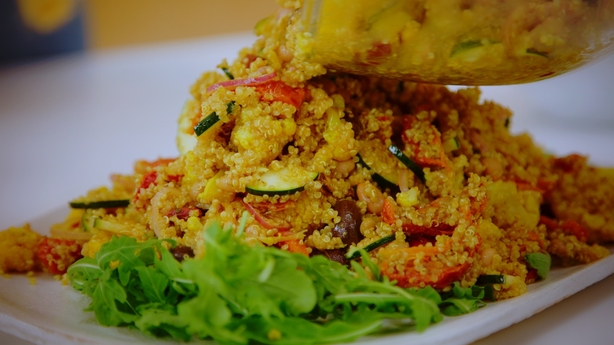 Method:
Heat the oven to 180 degrees.
Wash the cauliflower and remove the outer leaves.
Break up the cauliflower into bite size pieces, do this by hand.
In a bowl mix the spices and olive oil evenly and then add the cauliflower. Using either a spoon or your hands coat the cauliflower in the spices as evenly as possible.
Place onto a baking tray and cook for 30 minutes, tossing the cauliflower midway through to make sure it cooks evenly and doesn't burn.
Remove from the oven and season with salt and pepper to your preference.
The first step to perfect quinoa is toasting it. Just like nuts and grains, quinoa tastes better when it has been roasted. Toast it in a dry pan over medium-low heat for 5 to 7 minutes until it turns a light golden colour and smells nutty.
Then bring to the boil in 500 ml water with a Knorr vegetable stock cube and then let simmer for approx 15 minutes.
Stir all your dressing ingredients together. When your quinoa is cooked, stir the roasted cauliflower, shallots, drained beans, sun dried tomato and courgette together. Drizzle over your dressing and top with the olives and hemp seeds and serve on a bed of rocket.
Store in an airtight container in the fridge for up to 3 days.
Knorr is on a mission to inspire everyone to eat better for themselves and the planet. We know everything on our plates has an impact on our health and the environment. The good news? Small changes can make a big difference. With more veg, less meat and a wider variety of flavoursome foods, you can help change the world by changing what's on your plate.
For more information on Knorr's commitment to sustainability see here. Eat for good.
To shop the ingredients for this recipe visit Tesco.ie here.
For more recipe inspiration, watch More than Meats the Eye on RTE Player.