Everyone has their very own version of spaghetti bolognese with their own special additions and handy tricks.
Whether it is grating in the vegetables to dupe the kids or cooking the pasta in the sauce for added flavour, it is a dish we all feel comfortable adapting to our own tastes.
But what about trying out a meat-free version? By replacing minced meat with lentils, you are not only trying out something new, you are also making a more sustainable choice for you and your family. Requiring little water to grow, lentils have a carbon footprint 43 times lower than that of beef.
On this episode of More than Meats the Eye, chef Holly White whips up a tasty Lentil Bolognese for Wexford GAA star Lee Chin to see if she can convince him that you can eat plant-based, without compromising on taste or heartiness.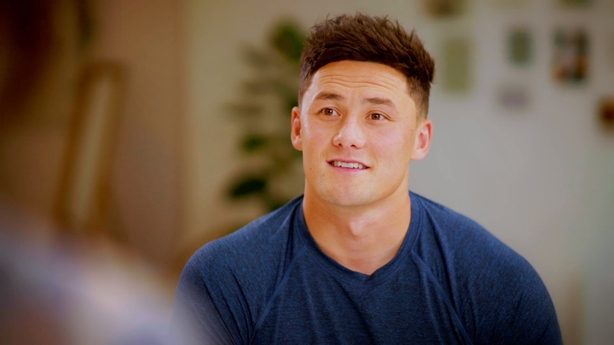 Stay tuned to the end of the video for Lee's surprise reaction!
Here's how you make Holly's hearty Lentil Bolognese...
Lentil Bolognese
(Serves 4)
Ingredients
80g of cashews, soaked (Note: Those with a nut allergy could use soaked sunflower seeds)
Olive oil
150g onions, finely chopped
2 pressed cloves of garlic
1 red pepper, finely sliced
200g mushrooms, finely chopped
½ tsp Knorr Tomato and Garlic Seasoning
2 tbsp tomato purée
2 tbsp nutritional yeast (optional)
1 tbsp Knorr Miso Mushroom Liquid Seasoning
1 Knorr Vegetable Stock Cube dissolved in 200ml water
1 x 400g cans of black or green lentils, drained and rinsed (or 150g lentils cooked)
2 tins of chopped tomatoes.
Crushed black pepper
Sea salt
Fresh basil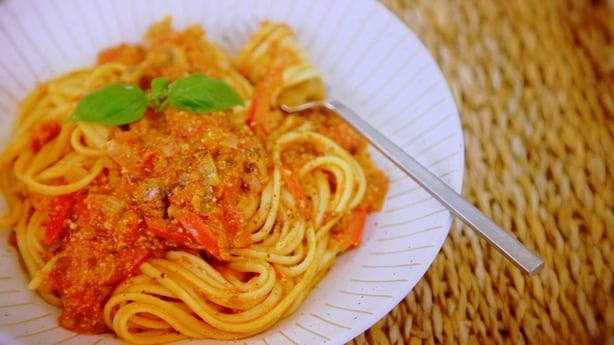 Method
Soak the cashews for 4-8 hours or overnight. If you're in a rush, soak them in boiling water for 15 minutes and then drain.
Fry the onions, garlic, red peppers and mushrooms until soft. Add the tomato purée and fry for a further minute.
Blend the nutritional yeast, cashews, Knorr Miso Mushroom Liquid Seasoning, salt and pepper until a smooth sauce is formed. Use some of the stock to help it blend.
Add the lentils to the pan and cover with the remaining stock and stir in the creamy miso mixture and the tinned tomatoes.
Allow it to simmer for 15 - 20 minutes with the lid off to thicken, stirring occasionally. In the meantime, boil your pasta in a separate pot.
Break down some of the lentils with the back of a wooden spoon to create a softer texture.
Serve with your pasta and top with fresh basil, salt pepper and a drizzle of olive oil.
Knorr is on a mission to inspire everyone to eat better for themselves and the planet. We know everything on our plates has an impact on our health and the environment. The good news? Small changes can make a big difference. With more veg, less meat and a wider variety of flavoursome foods, you can help change the world by changing what's on your plate.
For more information on Knorr's commitment to sustainability see here. Eat for good.
To shop the ingredients for this recipe visit Tesco.ie here.
For more recipe inspiration, watch More than Meats the Eye on RTE Player.