The 1980s
Mary Kearns, Gabriel Byrne and Sean Lawlor in 'Bracken'

Johnny Logan performs at Eurovision 1987

David Kelly as Rashers Tierney in 'Strumpet City'

'Scratch Saturday' presenters (from left) Amelia, Rosemary Henderson, Pajo, Jack Lynch, Brian Reddin, Ann Callanan, Andy Ruane and Kevin O'Connell

Jean Claude Drouot as General Humbert in 'The Year of the French'

Mick Lally as Miley Byrne, Mary McEvoy as Biddy McDermott and Joe Lynch as Dinny Byrne in 'Glenroe'

Ian Dempsey with Zig and Zag in 'Dempsey's Den'

John Bowman on the set of the last edition of 'Questions and Answers', 29 June 2009

Joan O'Hara as Eunice Phelan and Tom Hopkins as her son Christy in 'Fair City', during filming in March 2003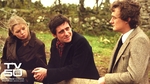 Bracken, a rural television drama series, created by Wesley Burrowes, was first broadcast in January 1980. The cast included Gabriel Byrne, who had played Pat Barry in The Riordans, and Dana Wynter. Bracken in turn led to Glenroe which inherited the characters of Dinny and Miley Byrne.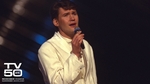 In April 1980 Ireland won the Eurovision Song Contest with 'What's Another Year?' by Shay Healy, performed by Johnny Logan, at The Hague, Netherlands. The following April Ireland hosted the contest at The RDS, Dublin, which was presented by Doireann Ní Bhriain. Logan had further success for Ireland in the 1987 event in Brussels, Belgium, singing 'Hold Me Now'. The following April, Pat Kenny and Michelle Rocca took on the presenting duties when Ireland staged the show at The RDS again.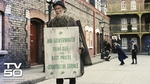 March 1980 saw the first broadcast of Strumpet City, a drama series based on the best-selling novel by James Plunkett. Set in Dublin between 1907 and 1914, a period of major labour unrest, the novel was adapted for RTÉ Television by Hugh Leonard. Shown as seven episodes, the series was directed by Tony Barry and the notable cast featured Peter O'Toole, Peter Ustinov, David Kelly and Bryan Murray.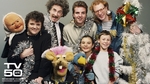 First hitting screens in October 1980, Anything Goes was part of RTÉ Television's development of young people's programming. Presenters included Kathy Parke, Aonghus McAnally, Mary FitzGerald and David Heffernan. This led on to 'Scratch Saturday'; presented by a team including Mary Kingston, Brian Graham, Brian Reddin, Teresa Smith and Andy Ruane; in the late 1980s and early 1990s. The programme included music, videos, reviews and issues concerning young people and is remembered for Andy's catchphrase: "Like it... Love it". 'Jo-Maxi' began in 1987, covering music and issues relevant to teenagers, and featured presenters Ray D'Arcy, Shauna Lowry, and Clíona Ní Bhuachalla.
In 1981 RTÉ got special permission from government to broadcast two television programmes of the RTÉ/BBC co-produced series, The Troubles. Both programmes included interviews with proscribed organisations.
The first episode of Anois is Arís, the Irish language educational series for adults on RTÉ Television, went out in November 1981.
An MRBI poll published in 1982 showed that of respondents who expressed an interest in current affairs, 53% depended on television, 20% on radio and 17% on newspapers for their primary source of information.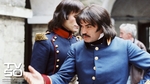 In 1982 two dramas co-produced with other broadcasters were aired on RTÉ television – the drama 'The Ballroom of Romance' (RTÉ and BBC) based on the novel by William Trevor and 'The Year of the French' drama series (RTÉ, Channel 4 and FR3), adapted from the novel by Thomas Flanagan.

In December 1982, an RTÉ documentary to commemorate the centenary of the birth of James Joyce won an Emmy award. 'Is there one who understands me?' was produced by Seán Ó Mordha.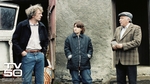 Glenroe, RTÉ Television's rural drama serial, was first broadcast in September 1983. It became RTÉ's second major rural soap after The Riordans. Dinny (Joe Lynch) and Miley (Mick Lally), the father and son who had featured in the rural series 'Bracken', were the central characters in Glenroe. The pair had moved to north central Wicklow to grow vegetables. Shot on location in Kilcoole, Newtownmountkennedy and in RTÉ Television studios, the weekly series quickly climbed to the top of the Irish television ratings and ran until 2001. Glenroe popularised Miley's oft-used phrase "Well Holy God" in the Irish vernacular.
In 1983 technology made its way into the quiz show with Murphy's Micro-Quiz-M on RTÉ Television featuring what were hi-tech computers in their day. And Sunday nights would not have been complete without Where in the World? First broadcast in 1987, it saw two families pitted against each other answering questions about geography. Presented by Theresa Lowe, it aired until 1996.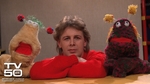 Dempsey's Den began in September 1986, presented by Ian Dempsey with puppets Zig and Zag, who arrived in Ireland from the planet Zog, with their dog Zuppy. The children's afternoon presentation was later shortened to 'The Den'. Zig and Zag were joined by a sock monster, Soky, and a turkey, Dustin. Although originally aimed at children, 'The Den' gained cult status among the student population.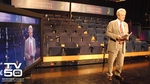 November 1986 marked the first broadcast of Questions and Answers, a current affairs programme, presented by Olivia O'Leary. In 1988 O'Leary was replaced by John Bowman, who took the helm until the programme ended on June 29, 2009. 'The Frontline' began in September 2009, with Pat Kenny hosting the topical debate show with a panel of studio guests and an invited audience.
News reports were first transmitted by satellite on RTÉ Television in February 1987 when Charlie Bird reported from the Philippines on the imprisonment, trial, and subsequent release of Fr Niall O'Brien.
RTÉ began transmitting Aertel, a teletext news and information service, in June 1987. Information on foreign, national and regional news, as well as sport, finance and agriculture, weather forecasts, and television and radio listings were all made available free of charge. To avail of the Aertel service, the viewer required a television set equipped with a teletext converter or decoder. The service is now available in an enhanced digital version on Saorview, the digital TV service in Ireland.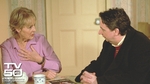 September 1989 saw the first broadcast of Fair City. It has gone from being transmitted once a week in the early days to four times a week now on RTÉ One. 'Fair City' is filmed in RTÉ studios, with additional location shooting in various spots all over Dublin. The show employs a production team of about 250, including more than 100 actors, as well as writers, film crew and production staff.