In all innocence
'The Live Mike' was a comedy, variety and chat show presented by Mike Murphy, starring Twink (Adele King), Dermot Morgan and Fran Dempsey. The Friday-night live show ran over three series from 1979 to 1982, with comedy sketches, candid camera pieces and serious interviews. Here, Twink remembers filming the popular pre-recorded segments where she interviewed schoolchildren about current affairs. And below, read some of the children's memories of featuring on the show.
"It became the hit of the show and it was only a fluke. Mike and John Keogh ['The Live Mike' producer] had seen me in studio one day when we'd had a children's choir in and they'd been a bit disruptive. I'd sat down and had a chat with them and after that they'd been saintly. Mike and John sat me down and said to me: 'We've had a marvellous idea. Why don't we film you talking to young people about current events?' So we tried out the idea on a whim and it became terribly popular.
"My film cameraman that I demanded I get on most of them was Breffni Byrne because he had a brilliant way with the kids. He looked like a big, friendly giant. Helen Quinn came with me. We had very early starts. We'd be out in the RTÉ canteen for seven o'clock breakfast, we did hair and make-up and we'd hit the first school sometime after eight to set up. Sometimes we filmed in two or three schools a day per week. It was a very tight schedule.
"I've a good memory for names. My record one day was getting 45 children's names right. They used to love when I'd rehearse the names and go over it again. I have a photographic memory but if one child moved places I was knackered. I'd tell them to go back where they were sitting because I could only remember he was Aaron because he was between Jennifer and Siobhan. Remembering their names was key, because rather than that dreadfully dismissive thing that adults do with children - 'No, not you, the one behind you in the red jumper' - I was able to speak to them on a first-name basis.
"A lot of times the warm-up on film turned out to be funnier than the actual piece because we were getting them going. It depended on the school. In the very cultured schools getting them to talk was the problem because they were very reserved. In the working class schools it was getting them to speak one at time instead of talking over each other. Mitchelstown in Cork were the best talkers in Ireland.
"Sometimes the clips were more poignant than funny. Some of them were quite statement-making in terms of the socio-economic situation of the children. I remember one time we were filming in a school in Brunswick Street and they hadn't a bob between the lot of them, God love them. The question was 'What was a strike?' and this little fella said: 'Well my Ma cleans in a hospital and when the cleaners are out on strike it does mean that I do have to go out and nick stuff from the shops. I do nick a bit of bread because if there is a strike in our house we do have no money.'
"In the afternoon we went up to Our Lady's College on the Templeogue Road and I asked them: "What happens when there's a strike?". This very genteel hand went up and she said: 'Well a couple of weeks ago, um, it was my birthday and the bin men went on strike and the dogs knocked over the bins and they were all over the place and it absolutely ruined the party for people coming in.' That was as much of a dilemma as the bin strike meant to that child. It could be very telling. We saw a lot of the social imbalances in Ireland at the time.
"I got into enormous trouble for one clip because I asked the children what they thought of the nun's habit. Some of them took it a tad too far and started describing the underwear, saying it had 'A-men' written across them. They went on their own little spin. Then there was a very serious, little girl and I remember her name was Irene. She said: 'I don't think it's fair that nuns are not allowed to wear makeup because what if some priest fancied them and wanted to bring them round to his place.' There were parish priests castigating me from the pulpits of Ireland, saying it was encouraging children to be filthy. I said the only filthy minds were the ones up on the pulpit. Kids speak innocently."
Twink was in conversation with Jan Battles.
Below are some of the pupils who featured on 'The Live Mike' in a Valentine's special in February 1981. See what each of them said about love and romance to Twink in the five-minute clip on our Clip of the Week page.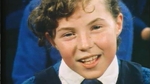 Anne Grace, 41, was a fifth-class pupil in St Brigid's Girls National School in Newtownmountkennedy, Co Wicklow when 'The Live Mike' filmed the Valentine-themed episode in 1981.
"I remember looking at Twink and the big camera but I cannot for the life of me remember what I said. I was 11. We hadn't a clue. We were so innocent. In 1981 innocence was completely different to what it is now. I have a boy who'll be 11 in March and there is no way he is as innocent as I was. Compared to the knowledge they have these days, I was completely clueless.

"We were late getting out of school as a result and I missed my bus and had to walk two miles home afterwards. I didn't get to see it when it went out because we didn't have a TV. My mum and dad had to go down to the local pub to see it. They came home really proud of me."

Grace, a separated mother of three children aged 22, 17 and 10, never again saw the boy she spoke about in the clip. "I'd just moved to the school and it was the other side of the county from where he was."
She did, however, bump into Twink a few years later. "I actually met her when I was 19 when I was in giving birth to my eldest son. She was in the same maternity hospital as me [having her daughter Chloe] and I met her in the gift shop. I was an unmarried mother in 1989 giving birth to my first son. She was in a beautiful, long, white, flowing gown, looking like she'd just come out of a boudoir. And there I was feeling like I'd been dragged through a ditch backwards. I couldn't believe how well she looked. We were looking at baby clothes and I was talking about breast feeding. She looked fabulous."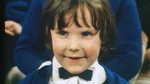 Lorraine Butler (now Lorraine Ashley) was five when Twink came to St Brigid's that day. "I don't remember exactly what I said to Twink on the day although I have older cousins who tease me about it still! When our teacher explained that we were going to be on 'The Live Mike', I was thrilled at the idea of meeting Twink and being on television, and I couldn't wait to go home and tell my Mum and Dad about it. I remember being fascinated by the cameras on the day, and how nice Twink was to us when she came in and started talking to us.

"My aunty and uncle were in our house on the night the programme aired and I remember feeling very shy because they were laughing. I dare say a five-year-old's idea of true love is a good deal different to what I'd say now!" Butler worked for the BBC in London for five years before moving to Australia 11 years ago, where she's a stenographer, writing teletext subtitles for live television. She's been married to Dean since 2004, and they have a nine-month-old son, Tom.

Pupils from two other schools also featured on the Valentine's special episode.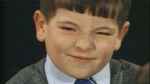 Maurice Byrne, 38, was one of the children interviewed from St Mary's in Belmont Avenue, Donnybrook, a mixed school down the road from RTÉ. "They called a few of us down into the classroom. I think I was called because my name was at the top of the register. Either that or because I was a cheeky s***e!

"I can remember Twink interviewing us. Her voice was gone, she could barely talk. We were seven or eight at the time and didn't know any better. Innocence, that's the way it was back then. I've never seen [the clip]. I would have been in bed when it was on." Byrne now lives in Blackrock, Co Dublin with his partner and their 15-month-old daughter. "Everything's hunky dory in the love department, I'd have to say."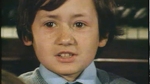 Lee Horan, 39, who was good pals with Byrne at St Mary's, left Dublin about 15 years ago and now lives in Longford. It was the preparations beforehand he recalls more than the actual interviews.

"We were down in the library room, or the sex education room as we used to call it. I remember queuing up outside to have the hair brushed and the uniform tidied up by the school principal beforehand." Horan, who didn't marry but has a partner, said: "I think they came to our school a couple of times. An earlier time I was talking about the book I was reading, which was Hansel and Gretel."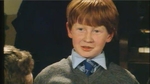 Ronan Davin, 42, was 11 at the time and in fifth class in St Mary's. "I've slightly less hair than I did then! It was great craic. I remember them coming in and setting up the cameras and Twink talking to everyone beforehand. She was very good with all the kids, putting them at ease and having the craic with them.


"I lived right beside the school, in the gate lodge, and on Friday nights we used to see Mike, Twink and Dermot Morgan going into Madigan's pub before they went up [to RTÉ] for the show. They'd always say hello back." Now working in Brooks builders providers in Dublin, Davin never married. "I got close to it a couple of times but I dodged that bullet."


Pupils from the boys national school in Newtownmountkennedy, St Joseph's, were also interviewed in 1981. Both schools have now been amalgamated. Anthony Duffy, 35, a Bank of Ireland worker, appeared in a longer version of the insert shown on television.


"I remember being woken up to watch it on television and being very grumpy because I was so tired waiting up for it that I'd fallen asleep. I was five so I have only vague memories of it. Everyone was excited that Twink was coming because she was a big star at the time. I still get a bit of a buzz every time I hear her name. She was the queen of showbiz.


"I was asked if I had a girlfriend and I said 'yeah' and called her name out and said I was going to marry her. My parents and her parents have been slagging me about it ever since. I didn't marry her but she was at my wedding two years ago! She's happily married with kids and I've one on the way."