Stairway to success
For Michael Burke of Stira Folding Attic Stairs Ltd., an appearance on 'The Late Late Show' was life-changing. Here, Michael's son, also Michael, who with his sister Kate took over the Galway family business when their father died in 2010, recalls how Gay Byrne's 40-second demonstration on one of the show's inventors' specials changed Stira from a one-man outfit into the successful company it is today.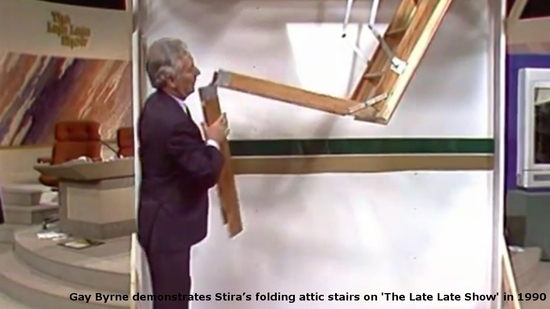 "I remember going out on fittings with my father in the van. [The orders would come from] word of mouth and doing shows like Ideal Homes but when it went on 'The Late Late Show' that's when it really picked up. It was huge. It went from something just being done in a shed out the back of my grandmother's house to a proper business afterwards. The orders shot up. Dad hired fitters and guys to work in the factory. Part of the shed is still here but the factory has gone up around it.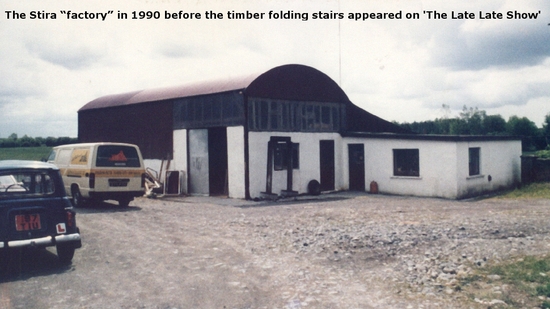 "Dad always said it was the biggest thing that happened to the company. It would be hard to know where we'd be without it. It changed the company instantly.

"Stira has been in business for over 30 years now, making timber folding attic stairs. We're unique in the world in that we make custom stairs. They have a 10-year guarantee. The way we designed our stairs – it's basically one stairs but it has an inner frame so we can make the stairs as big as we want, for big ceilings or wider openings. It's a very flexible design. We get orders from places as far away as Israel and America.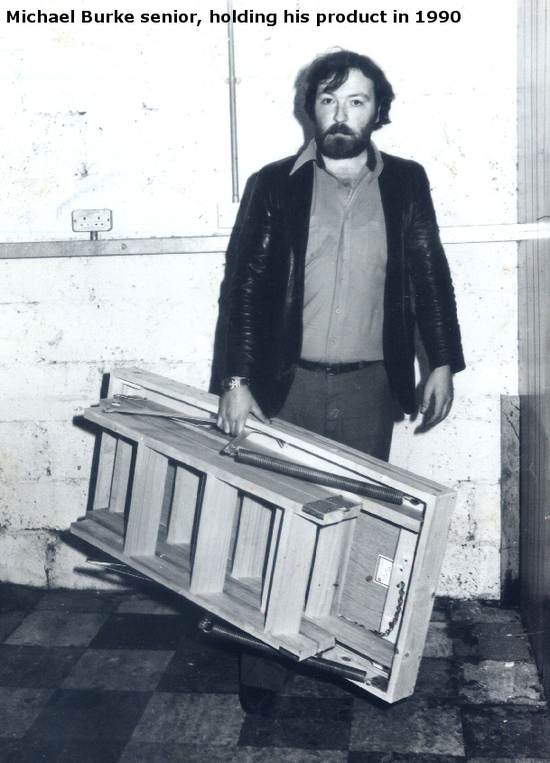 "Dad was from an engineering background himself so he'd be doing the metalwork side of things and designing it. Over the years the product has constantly changed. I started sweeping floors in here when I was about 12 and worked my way through all the different stations in the factory. At the moment there are 38 employees in the factory on the production lines.
"The other thing about us is we have the British Standards Institution Kitemark, which is recognised worldwide as the highest quality mark you can get. You have to have the Kitemark to put anything into a public building.

"We sell to airports, churches and community buildings. We have distributors selling our stairs in the UK. We're different on the market over there as well because we're the only manufacturer that fits its own stairs. Because we fit our stairs we come up against different problems and we can find solutions for them. When people can't find another stairs that will work anywhere in the world we're usually the only ones that can help them. Stira stairs have been sent to places like Chile, Lebanon, Tanzania, Bermuda, Barbados, Costa Rica and Malaysia.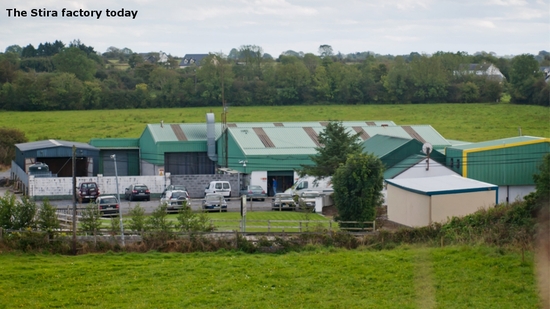 "We're just after sending out the biggest fold-away stairs in the world to Israel. It's going into a 150-year old public building in Israel. They wanted all the metal gold plated so all the hinges and the hand rail were electroplated gold for them. It's a very old Ottoman-empire building so they probably wanted it to fit in better with its surroundings. It's fourteen foot nine high. It's an electric, remote-control, fold-away stairs because with a stairs that big you wouldn't be able to physically open it because the height is too great. It would have cost about €1,500. [They came to us] because they couldn't get it anywhere else.
"There's [a Stira] in Áras an Uachtaráin. It was a specially made stairs because the building has a protection order on it, so we had to make a special clip-on ladder.

"We get our timber in from North America, the highest grade you can get. There's a warehouse where we prepare the timber before it's brought into the factory. Metal stairs don't really hold their shape over time. You'd think they would be stronger but they're not. Timber can flex and take weight and bounce back to the way it was where metal gradually pulls apart over time.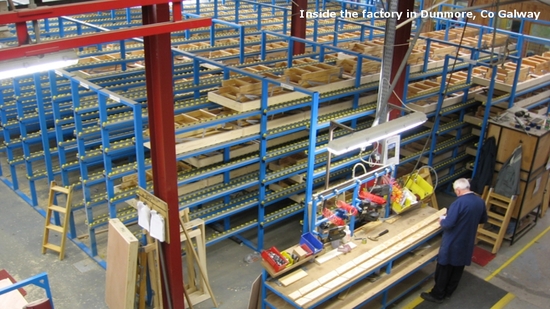 "By the second time we went on the Late Late [for a follow-up in 1993] production had quadrupled. The vans have only recently stopped saying 'As Seen on The Late Late Show'. It was just the case that we needed to put other stuff on the van, promoting the remote control systems, so we took it off. We went with world-class manufacturing which meant upgrading the factory again. We worked on production lines with the same manufacturing techniques they have in Japan.

"Dad died two years ago, aged 57. He always said it put Dunmore on the map. It's myself and my sister Kate running the business now. Kate is in the office and she controls the money. I'm over the advertising, do a lot of the shows, the website, and quality management.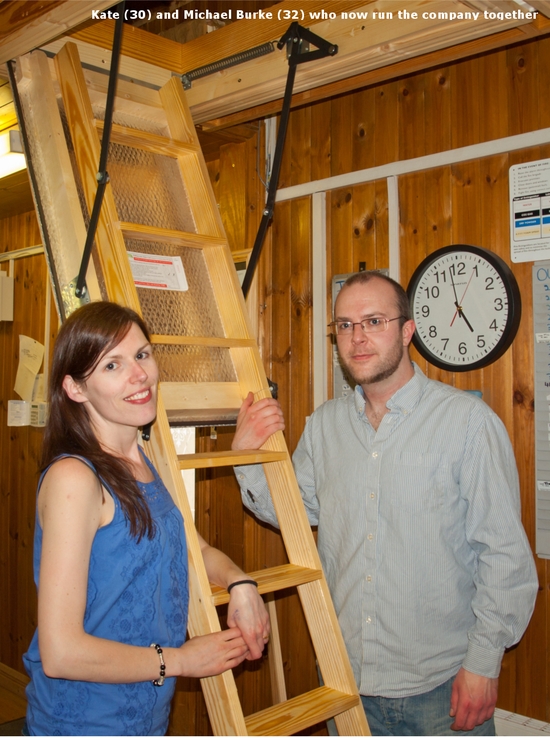 "There was a downturn beginning before Dad died. Once the housing crisis set in it affected us straight away. We never had any great debts, no loans holding us back, so we were able to hold on. Financially we'd been doing pretty well and we had savings.


"We've branched out. We've a new company starting up - Pellere Technologies - making a lever propulsion system for wheelchairs. It gives you more power to get around in a wheelchair but you're still driving it yourself so you're still getting exercise. A lot of people don't like going into power wheelchairs because it means they'll get worse and worse because they won't get any exercise. It's getting a great reception at any show we're doing.


"A local guy came to us with an idea for a hand-powered, stand-on scooter that you ride on but it didn't work for that. We tried it on a wheelchair instead as it would be more practical and less of a gimmick. We've been developing it for two years, taking it out to wheelchair users. We've been talking with distributors in the UK and Ireland so hopefully we'll start selling that soon."


Michael Burke was in conversation with Jan Battles.