Getting the measure of the Irish
Peter Bowles played Major Sinclair Yeates, the quintessential Englishman living among the eccentric Irish, in the RTÉ/Channel 4 series 'The Irish R.M.'. The comedy drama, which ran for three years from 1983, was based on the novels by Somerville and Ross, set in turn of the 19th to 20th century west of Ireland. Although famed for playing gentlemen, Bowles had far from aristocratic beginnings.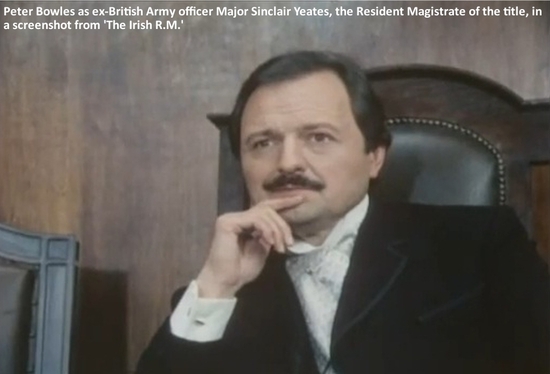 "My parents were both servants to very important families. My father was a butler and chauffeur to the heir to the Earl of Sandwich and my mother was a nanny, for the Duke of Argyll and Lord Beaverbrook's daughter. When the [Second World] War came everything changed. My father went to work in a factory.

"I was on a scholarship at RADA that was renewed every term. My parents couldn't afford the fees at all. I had a Nottingham accent and I would have been kicked out if I hadn't learned to speak properly. I used to share a little room with Albert Finney. We were in a play there and we were both picked up by a big agency called MCA, the Musical Corporation of America.

"I was taken around all the big casting people with this agent - to Pinewood, Shepperton and Elstree [studios]. They all said I'd never play an Englishman because of my colouring. I was advised to go away and learn Spanish, Italian, Turkish and Greek. I do remind people occasionally that in the big success that started me off on television, 'To the Manor Born', I wasn't English at all; he was a Czechoslovakian who'd taught himself to be English.

"In 1975, when I was starring in a Tom Stoppard play called 'Dirty Linen', Ronald Inkpen (a screenwriter and producer) sent me ['The Irish R.M.'] books saying he wanted me very much to play the major in a television series. I thought 'It's so wonderful, why aren't they offering it to a star, like Michael Caine?' Poor Ronald Inkpen died, so [the series] didn't happen.

"I was so excited after I read the books that I tried to buy the rights myself. I didn't quite know how to go about it so I made enquiries and unfortunately spoke to the wrong person, who then acquired the rights himself. These things happen, as I've learnt as I've got older. He offered me the part but then IRA bombs started to go off in London so the whole thing was shelved because we thought nobody would want to watch 'The Irish R.M.'.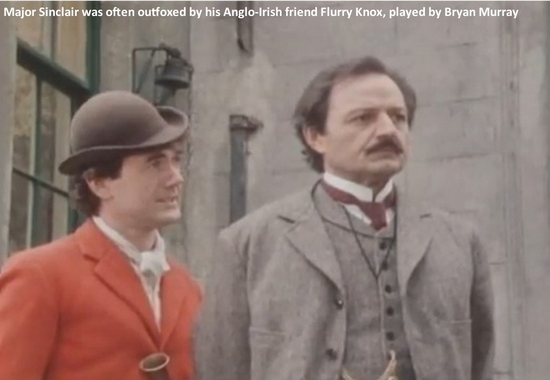 "The whole thing was forgotten about and then in 1982 I went into a restaurant with my wife, and on her way out a young woman who I'd met before stopped by my table and said 'Peter, how lovely to see you. This is my fiancé.' I was introduced to this man and she said 'He's going to do a television series called 'The Irish R.M.'.

"I'd just finished doing 'To the Manor Born' so I was hot. I asked him had he cast Major Yeates and he said 'No'. I told him I'd like to play him. He asked me if I knew the books and I said I did. He said 'You're the only actor I've ever come across who knows them.' He contacted my agent the next day and that's how I got to play the part.

"The Irish cast all flew over to England for a read-through and the director (Robert Chetwyn) said 'I'd like to read all six one-hours.' So I said 'Steady on, darling. I'm not going to read six one-hours, I'll read three.' He wasn't very happy about that. He said 'I want to say one thing before we start reading. This isn't a comedy; this is a documentary.' And he was looking at me in a peculiar way. I had a huge reputation for playing comedy. I'd had three big series over here which were extremely successful – 'To the Manor Born', 'Only When I Laugh' and 'The Bounder'. 'Only When I Laugh' was a number one show, with 18 or 19 million viewers.

"Anyway, we started to read it and it was very amusing, for the right reasons. When we had shot the first episode and were halfway through the second episode, [the director] came up to me and he said 'I've just seen an assemblage of the first episode. You're very good, you know.' I said 'Thank you.' He said 'I'm serious; you're very good in this. I'll be plain with you. I didn't want you for this. I thought you were just a comedy actor. I wanted somebody else and you were cast over my head.'

"It brought it home to me that there is a sort of snobbery or prejudice that if you do comedy you can't do serious acting. In fact, if you can do comedy you can usually do anything. All the top actors can do comedy well.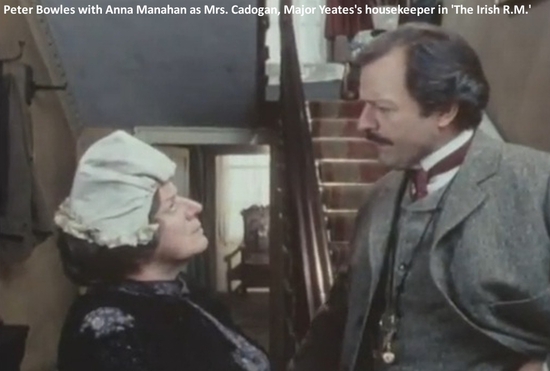 "In 'The Irish R.M.' Ireland was still under British rule. The law was British law. I was sent there as the local magistrate. He's a very nice man, a good man and innocent in the nicest possible way about the eccentricities of Irish life. He is teased continuously by the Irish, for many good reasons, and amusing incidents occur.

"It was wonderful [working with the Irish cast]. I absolutely loved every minute of it. It was hard work, in that we had to work six days a week, and I was in every scene so I was up at the crack of dawn.

"I'd not lived in Ireland before and after the first day of filming I went out on my own in the evening and drank a couple of large whiskeys. Of course I didn't realise that your doubles are much bigger than ours. So I woke up in the morning and my head was in the cupboard and my body was in the bed. I had huge scenes to do. The crew were very amused and then they explained to me that the measures were bigger in Ireland.

"I learned very quickly of the generosity of the Irish, who were always keen for me to have a drink with them and you can't go and just have one drink. It tends to go on. There would be a line of drinks down the bar and I'd ask the barman what was going on and he'd say 'The people up there have all bought you a drink'. I learned to be very careful how often I went to a pub.

"Because of the long hours I was working it was very difficult to get food. Right opposite my hotel there was a huge McDonald's. They wouldn't let me pay because they knew me from my work. I found I was having McDonald's every night at 11pm. I had an awful lot of it I'm afraid.

"I was staying in a magnificent suite [in The Gresham] that had been built especially for Elizabeth Taylor and Richard Burton. It was magnificently furnished. Huge it was, with gold taps. The shower head was a gold dolphin. There was a huge drawing room with a lovely peat fire. My wife, Susan, flew in every weekend.

"I remember my television stopped working in this magnificent suite and I kept telling them. They kept saying 'Don't worry, we'll fix that Mr. Bowles' and it wouldn't be fixed. A week went by and then another week and in the end they said 'Oh we don't like to fix just one television. We like to wait 'til there's about 14 of them and then get the man in.' It was said with such charm.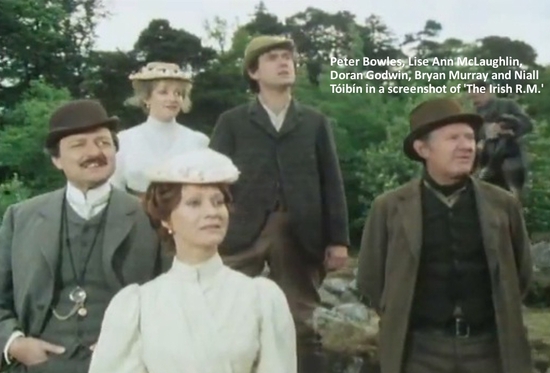 "Everywhere I went in Ireland people called out 'There's yer man!'. I found the difference in [Irish] women's attitude to men interesting. I was often approached by women, rather like how men approach women. They were certainly forward. They would ask me if I would like to have lunch, or to have a drink with them.
"I didn't find it out immediately but there was a photographer kept in the hotel foyer who was there to photograph me should I come back to the hotel with anybody. It would have been in the papers [if I had]. My fame, as it were, came to me when I was old enough to be reasonably sensible. When I did 'The Irish R.M.' I was 46. I wasn't 22; I'd been around.
"One of the nicest things was that Channel 4 put out [the series]. Nobody was watching Channel 4; it was in a terrible state. There was a headline which said 'Bowles saves Channel 4' because for the first time they got big viewing figures. It was enormously successful in America too.
"My wife and I were at an open-air restaurant in Greenwich Village in New York, two or three years after I'd done it. I noticed there were limousines outside and men with walkie-talkies. A group of men were sitting at the table near us, all dressed in dark suits with ties, and whenever one of the men spoke everyone else laughed. Because I'd seen so many films, I thought that they were the mafia.
"I turned and spoke in what I thought was a whisper to some people at another table and said 'Excuse me, but who is that gentleman over there that everyone is paying homage to?'. Before they replied this man got up and said 'Mr. Bowles, you may not know who I am but I know who you are. Welcome to New York. My name is Koch, Mayor Koch, and I love 'The Irish R.M.'.'
"[While the series was on air] I met Michael Winner (the film director) at some do and he said 'Peter you are dreadful, you might have dropped a line to Marlon [Brando] to say thank you or something' and I said 'I don't know what you're talking about Michael.' He said that on Marlon's 60th birthday (in 1984) when he was [in England] he had asked him if there was any English actor he'd like to meet and Marlon had said 'There's one. I want to meet Peter Bowles.' Apparently they'd rung up my agency who said I wasn't available but nobody had told me! It was probably some temporary secretary [who'd spoken to them].
"Then about three years after that, I was hosting the TV Times Awards. There was a very beautiful woman who gave me the statues to present to the winners. During the rehearsals she asked to have a private word. She said 'You probably don't know this but Marlon Brando is a huge fan of yours.' I asked her how she knew and she said 'When he comes over here I'm his girlfriend and in his hotel he often watches your shows. He's got 'To the Manor Born', 'The Irish R.M.' and 'Only When I Laugh' – the whole sets on VHS.'"
Peter Bowles was in conversation with Jan Battles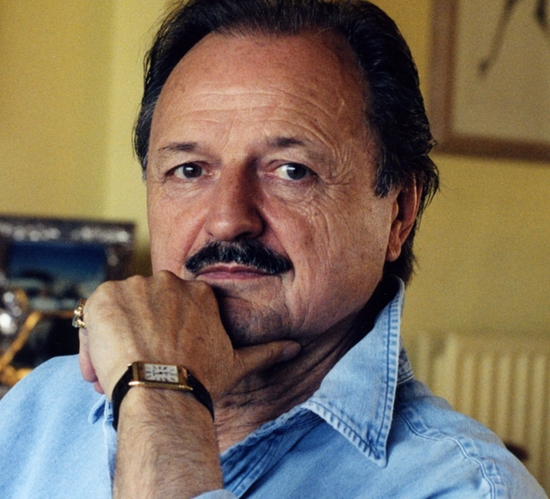 Further tales of Peter Bowles's time in Ireland can be found in his autobiography 'Ask Me If I'm Happy: An Actor's Life'.