Not a dedicated follower of fashion
Pat O'Mahony co-presented RTÉ's fashion series 'Head to Toe' from 1989 to 1994 before leaving the programme to produce and present various radio and television shows for RTÉ. In 1998, he moved to London where he worked as a freelance TV and radio producer/director, reporting for the BBC's 'Watchdog' consumer series and producing the Emmy-winning 'Reporters at War' for Discovery. Since his return to Dublin in 2009, among the shows Pat has produced is 'Now that's What You Called News', an internet news review of the year, hosted by Craig Doyle. TV50 caught up with Pat, armed with photos of him modelling some dodgy haircuts and 90s fashions of his own.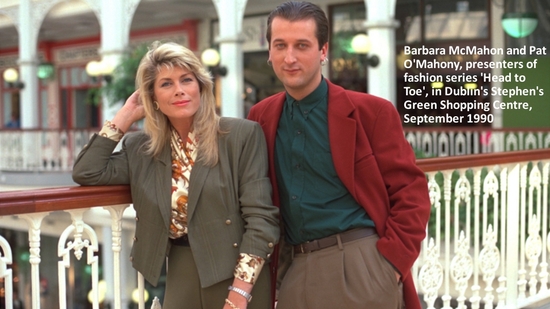 "I'm looking at that (above) and, okay, there are a few things. It's at least the second year. 'Head to Toe' started in 1988 with Marty Whelan, Frances Duff and Mary O'Sullivan as the presenters. Then the series producer Dermot Horan, who is now head of acquisitions, came in to overhaul it. Marty had left 2FM and had gone to Century. He lost three television gigs. I'm delighted to see him back. But they basically pulled his three TV gigs.
"Gareth O'Callaghan got 'Video File', which was a half-hour, music video programme on a Friday evening; Theresa Lowe got 'Where in the World' and I got 'Head to Toe'. I remember a couple of months into the run, I was down in Kildare with my mum and Theresa had done a half-page interview with the 'Sunday Independent' plugging 'Where in the World'. There were a lot of photographs of her on set and underneath one shot it said: 'I owe everything to Marty Whelan.' I turned to my mum and said you could put my picture in there and use exactly the same caption. Every time I used to meet Marty I'd say: 'Thanks', just jokingly.
"It's at least the second year I did 'Head to Toe' because the ponytail is gone. I had the ponytail for the first year I did it and people said: 'Why are you getting rid of the ponytail?' and I said: 'I've had the feckin' thing for five years, I'm fed up with it.' They thought I was mad. So we filmed the ponytail being cut off for the opening story of the second series ('90/'91). It was Claire Duignan's suggestion. She was head of features; she's now head of radio. When she heard I was cutting it off that summer she said: 'Why don't you film it?', so we did. The earrings are still there. I didn't take the earrings out until 2003. I just got bored with them one evening round at a mate's in London and just took them out.
"Up until recently, I hadn't seen Barbara since 1998. I went to London in 1998 for 11 years. We met for a drink beforehand, just to say 'see ya'. I had coffee with her for the first time in 14 years the other weekend and it was like the pair of us had spoken the week before. We just picked straight up. It was gas. We always got on. We were chalk and cheese but that's what made the show work. We were able to cover a lot of different angles.
"When I was hired I hadn't a clue about the fashion business. I wasn't hired for my expertise. Leather jacket, t-shirt and jeans: that was my costume. I was out of college, I was a bum, I had no money but I had done a lot of TV and radio stuff while I was doing communications in what is now DCU. It was NIHE Dublin then. I was constantly the one dragged in front of and volunteering to go in front of the cameras when we were doing TV stuff. And I had done pirate radio down in Kildare, out of the back of a caravan in Newbridge in the early '80s before I went back to college. I did my Leaving Cert in '78, did PE in Limerick in Thomond for a while, and then in between that and going to NIHE in '83 I did lots of different things. I sold insurance, hitched around Europe, picked grapes in France, delivered booze around Kildare from the back of a truck; but in the middle of it I did some pirate radio work with Ray D'Arcy on WKRC, a meaningless combination of letters. It sounded American which is why I think the guys who ran it picked them.
"I was writing a TV column for the now long-defunct 'Dublin Event Guide', a fortnightly freebie, and I came out to RTÉ to interview Moya Doherty, pre-Riverdance, about a show she was producing. At the end of it, after the tape was switched off, we were bemoaning the lack of a good music programme on RTÉ and the lack of good young presenters. This was November '88, I would have been 27. She said: 'Give us a shout after Christmas and we'll put together a proposal for a music programme.' We did, they liked it, but it didn't get commissioned. She said: 'Don't be too upset, that's the way it goes. In the meantime, 'Head to Toe' are looking for new presenters, they're revamping the show.' And I said: 'What's 'Head to Toe'?' She said it was a fashion programme. I went: 'Ah, Moya, come on, me in a fashion programme?' She said: 'You probably won't get it, but it'll be a great experience.'
"In fairness, when I was well into the gig, they did say to me: 'You were an outsider, we were only humouring Moya. We had no interest until you did the audition.' They figured I could do the TV and they could teach me the fashion. And they were right. When I started on air I was treading water. By Christmas I was doing a few widths and by the second year I was doing lengths. I'm a quick learner. My role on the show was to ask the obvious question. In the early days I didn't know what an A-line skirt was.
"That get-up now (above), I would never have dressed in all those colours [before]. Barbara was always more classic than me. I remember the researcher, Mary McLoughlin, took me out shopping at the very beginning. She probably threw her eyes up to heaven at the time and thought 'there's no hope for this eejit' but I learned. These would have been clothes we would have picked up ourselves. We didn't have stylists. So I can't blame anyone else!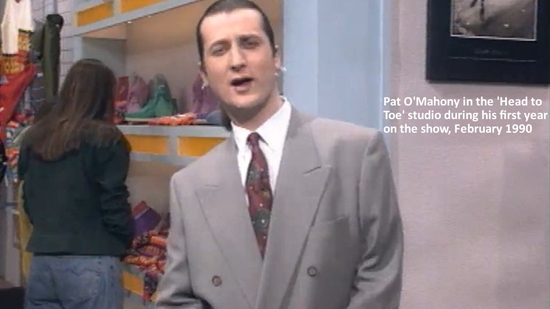 "That (above) is the very first year [I was on] the show. I know because (a) I've got the ponytail and (b) we're in studio. That's a shop set in a studio. Instead of having a live audience we had people pretending to shop. Myself and Mari O'Leary were the presenters and Barbara was our on-the-road reporter. Mari worked on the show for a year. She's an ex-model and now has her own PR company. She had just started the PR company and it was taking off. By the end of the year she knew she couldn't do both.
"'Head to Toe' used to be a studio-based programme with inserts that Barbara, or occasionally myself and Mari, would do. I remember around Christmas Dermot Horan asked me one day as I was coming out of the studio what would I do differently with the show. I said I would get out on the road. 'The Clothes Show' was on the BBC at the same time and it was always on the road. It was the best thing we ever did.
"When we started the show in '89 I was living in Sandymount. It used to go out at 7.30pm on a Friday. I was cycling home from town on the Saturday after the first show went out and as I came around by the front of Trinity College up towards Grafton Street, I distinctly heard a male voice going: 'Oh look, there's the ***** off the telly last night.' I laughed all the way out to Sandymount.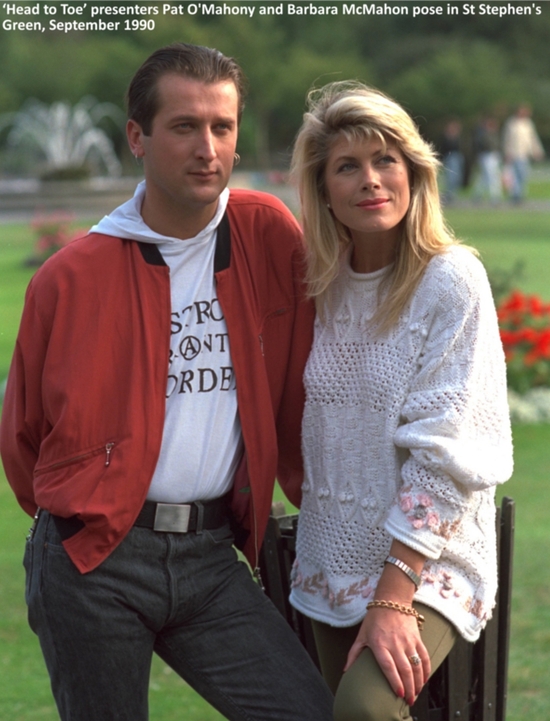 "That's in St Stephen's Green. That's a bit more like me – a pair of jeans, a hoodie and a jacket. I remember that jacket – I think blouson is the phrase. And that's a John Richmond top. Barbara again is far more classic and sensible.
"I'll tell you when I knew people were watching the show. December 8th is culchie Christmas, when us country folk traditionally come to Dublin to do our shopping. We did a piece the Friday before on the Bargain of the Week slot. There was one particular shirt I held up; it was a lumberjack shirt from Clerys or Arnotts. I remember hearing a couple of weeks later how many thousands it had sold on the back of our mention and my jaw hit the floor. I was flabbergasted. It was then that I realised the impact this show could have.
"It always intrigued me that we were always in the [annual] top 10 ratings and yet only a few die-hards over here watched 'The Clothes Show' on the BBC, which would have had a budget ten times ours. Why? Because they didn't see themselves on 'The Clothes Show' but they did on 'Head to Toe'. Included in the Gianni Versace and the Calvin Klein was Dunnes Stores and Penneys, and the Lainey Keoghs and Louise Kennedys.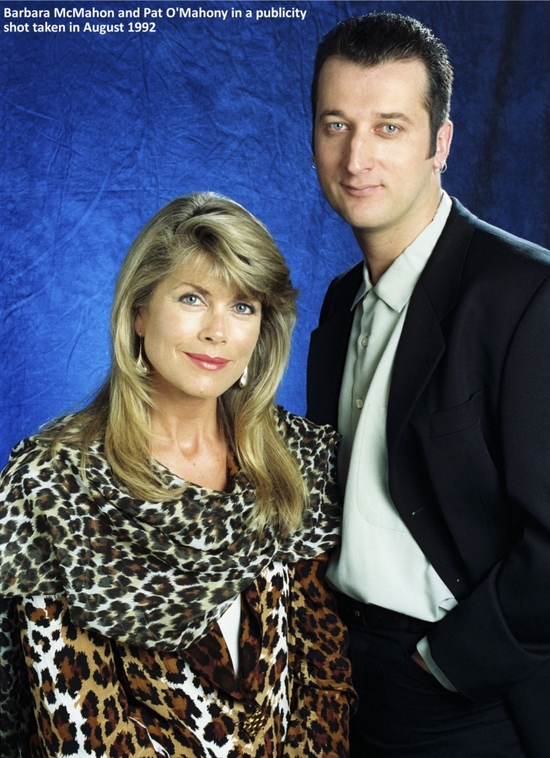 "I would imagine this is around '91/'92. The hair is gradually getting shorter. I think that's a John Rocha suit. I always liked John's stuff. I bumped into him a while ago. It's gas, he now lives not far from Coco Television, which is where I've done a lot of work since I came back from London. He's still designing away to his heart's content except now I wouldn't recognise any of his stuff. It's amazing how quickly after I left the show I stopped looking at it.
"I'm never tempted to have a look in fashion magazines. I didn't care about fashion before I started. When I left I quickly realised how little I cared it about it too. It was a great gig to work on, don't get me wrong. I enjoyed it and I learned a lot but I'm not a fashion fan. When the learning curve eased off and the content didn't interest me enough, that's when I left. I thought: 'Right, I need to change tack.' Financially: a daft thing to do. I tell my son: 'Do what I tell you, not what I did.'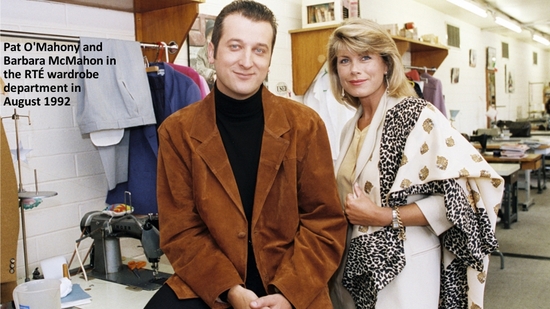 "That was taken in RTÉ in wardrobe. I would have worn stuff like that out. What always amazed me was that guys reacted to it as positively as they did. I don't think they saw me in any way as a threat. I think they were pleasantly surprised that a straight guy could do fashion. I was doing other things as well so they'd hear me on the radio and know there was more to me than clothes.

"When I'd be at gigs in the Tivoli, or the Baggot Inn or Whelan's most of the time people wouldn't even bat an eyelid but occasionally I'd get a guy coming up to me going: 'That item you did about whatever was rubbish' and I'd look at them. I think they half expected I'd give them a row but I'd say: 'Do you know what, you're right, I wasn't too happy with it myself.' But then I'd say: 'Why are you watching a fashion show that's mostly targeting females?' And I'd get one of two stock answers: 'Sure I have to, 'cos the girlfriend is watching it' or 'where else would you get a bit of t*** 'n' a** at eight o'clock on a Tuesday evening'."

Pat O'Mahony was in conversation with Jan Battles