Baby steps on television
Who would have thought that the career of one of Ireland's leading broadcasters was an accidental one? For Pat Kenny, current affairs presenter and former Late Late Show host, it all started out as child's play.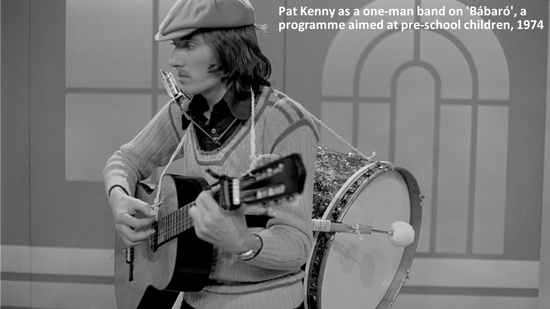 Jan Battles: Many people will probably be surprised to see you in this guise.

Pat Kenny: Absolutely. I didn't think there was any image left from those days. It just goes to show, some things you can't hide from!

I had joined the station as a radio announcer. I used to sing in O'Donoghue's pub, The Coffee Kitchen and The Swamp folk club and someone had told a guy called Joe O'Donnell (an RTÉ producer/director) that I might fulfil his needs for an Irish equivalent of the BBC's 'Play School'.

I was invited to a party by Joe Mulholland, who subsequently I worked for in current affairs when he was the editor of 'Today Tonight'. In the course of the evening there was a sing-song. I sang some of the ballads I was singing at the time. Joe O'Donnell was there quietly auditioning me. I had no idea! That was how I got the job.

The show ('Bábaró') was on three days a week - on a Monday, Wednesday and Friday - with a different set of presenters on each day. I was teamed up with Hilary Orpen; Barry McGovern, who went on to be the great interpreter of Beckett, was another of the presenters. [Each team] would record every third Saturday. I would come in and do three [episodes] with Hilary Orpen and then three weeks later I'd be in again to do three more.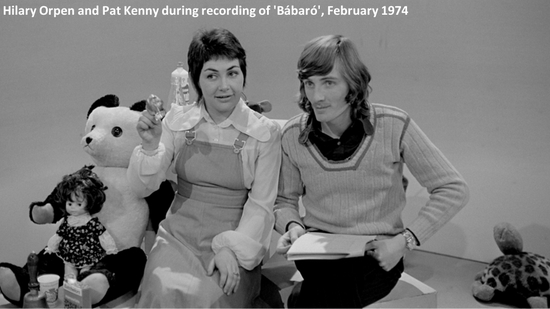 JB: So you were a one-man band on the show?

PK: That was for just one programme. It was mostly telling a story, singing a song, basically talking to two-year olds. We used to write our own songs.

I always look back on it and thank Joe O'Donnell from my heart. It taught me how to deal with countdowns, with floor managers; it taught me the whole discipline of television in a very non-spectated way. I was seen once a week and only by two-year olds, so making mistakes or making an eejit of yourself was done in a very low-key way.

In those days it was a lot more nerve-wracking because if you fluffed a line they had to stop, and sometimes we had to start the show from the beginning. Suppose 14 minutes into a 15-minute show you fluffed, you went back to the beginning and had to do the whole show again.

I learned the nuts and bolts of television presenting on that show, so I look back at it as a very important time. Some people are good on radio and are thrown in at the deep end of television, or vice versa, and it's presumed because they can do one they can automatically do the other. This allowed me, while I was doing my radio job as my main job, to learn everything that I needed to know about television presenting. I then went on, having cut my hair, to reading the news.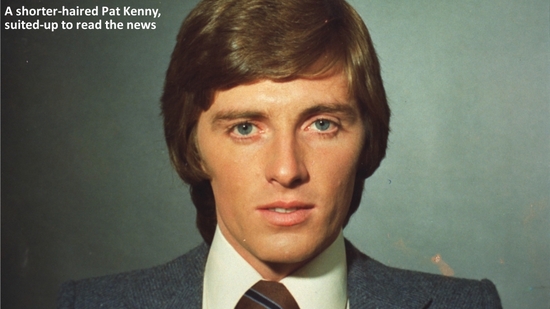 JB: Was the intention always to go into television?


PK: I was teaching engineering and architectural students in Bolton Street College of Technology, while waiting for a 'real job' in engineering, which is what my qualification was.


I enjoyed it enormously but after a couple of year's full-time teaching I felt it became a bit repetitive. In those days there was no research function in Bolton Street; it was just teaching the same things year in, year out. I saw an ad for radio announcers and applied, and that's how I got the job.


Television wasn't high on my agenda. Mike Murphy used to wander into [RTÉ's] Henry Street [studios] from time to time, to do some radio announcing. I met Mike and Brendan Balfe and they were icons. I didn't know if what I was doing was a transient part of my life or something more permanent. I can't say I had major ambitions but once you do TV and they discover the camera likes you then everything changes.


Things happened at a much more leisurely pace than they tend to today. People tend to be discovered, be exploited and then be dropped.


JB: Is there any stand-out moment from your time on 'Bábaró'?


PK: There's only one song I can remember and I can only recall the line 'Caterpillars only crawl'!


JB: Was that the end of your musical career?


PK: More or less. I just became too busy doing other kinds of TV. I was never a great guitar player. I used to do it for the pure craic of the folk clubs. When people started saying: 'What's that fella from the television doing singing, who does he think he is?' I just kind of let it go.

Watch Pat in action from later on in his career on three episodes of 'Kenny Live' from 1988, 1989 and 1993, on TV50 Classics on the RTÉ Player.