On the other side of the magic door
Marian Richardson was a presenter for 12 years on the acclaimed pre-school television series 'Bosco', telling stories of Gregory Grainneog and Charlie Crann, voicing The Tongue Twister Twins and taking viewers through the Magic Door. She began her career as an actress aged 10 in the RTÉ Television production of Ibsen's 'The Wild Duck' and went on to work as a journalist in the RTÉ Newsroom on programmes including 'Morning Ireland', 'This Week', and 'Six One'. Formerly a series producer on 'Today with Pat Kenny' and 'Drivetime with Mary Wilson', she now presents and produces 'Playback' on Saturday mornings on RTÉ Radio 1.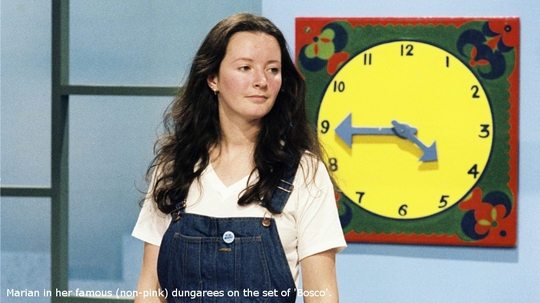 "The International Year of the Child was in 1979 and Joe O'Donnell, a fantastic television producer [in RTÉ], realised that the under-sixes were the most neglected audience on RTÉ. There was nothing for pre-school children. There was 'Sesame Street' and 'Play School' but he reckoned we needed an indigenous programme that would reflect the concerns of Irish kids.

"It was the first time that pre-school education was taken seriously. We all got involved as a team from the very start. I remember we had meetings about things like cognitive dissonance and linear learning. There were educationalists involved.

"The name Bosco came about because there were loads of boxes around. In fact it was my sister, Helen Quinn, who was a writer on children's programmes at the time, who came up with the name. The pilot series went really well and then they commissioned the full thing.

"I have absolutely wonderful memories of it. It was great fun from the start. We all got on like a house on fire. We worked together, we played together. I was also working at other things in RTÉ as well. We'd come in during the summer and record back-to-back for several weeks. There were lots of parties afterwards. We'd go back to one of our houses and have a party. We would all sing Tracy Chapman or Patti Smith - anthemic stuff.

"Miriam Lambert was the original Bosco, then it was Paula [Lambert]. The puppeteer was under the box and I can remember we used to have great gas when we'd go out – we often went to hospitals to entertain children – and Paula or Miriam would be hunched up in the box for hours at a time, with their hand up in the air, with kids pulling out of Bosco. After a few hours in the box we'd take Paula or Miriam out of the box and stretch them out.

"Bosco was a real superstar. At one stage it went out twice a day. It just captured a lot of imaginations. People believed that he was real. It is hard to imagine what it was like but way back then you'd go out and people would ask you serious questions about Bosco, like: "Is Bosco a boy or a girl?"
"The unisex thing was certainly a clever ruse because it became a big debate at the time. I suppose it was Joe's idea so that both boys and girls identified with it. I remember him saying that the puppet was designed with minimal features so that the children could project their own personalities onto it. Joe never said whether it was a boy or a girl. I don't know why but I always considered it a boy.

"I remember there were some controversies around the time. Paul Burton (one of the presenters) was a teacher who taught in a fantastic school in the inner city and there was a big row over his accent because middle Ireland didn't want anybody in television with a Dublin accent. It's crazy when you consider now how successful somebody like Joe Duffy is.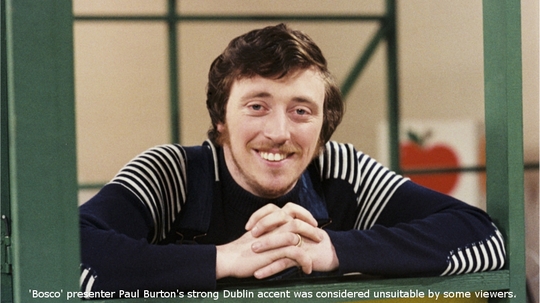 "Money was very tight on the programme. Every presenter had a different persona. I was action girl and spent a lot of time jumping off boxes and tables in my dungarees so they were very practical. I had different coloured-pairs but because most people had a black and white television they all looked the same. A nine-year-old girl wrote in to say she was really sorry for Marian because her mother made her wear the same dungarees all the time and she'd love to send me one of her dresses. I think that's the only time they went out and bought me something new.


"They seemed to run the programme for years and years, until I think the tapes disintegrated. That was the whole time-warp thing about it. There's something really strange about seeing yourself in pink dungarees in your early twenties when you're much older.


"I have a very distinctive memory of when I was working in the newsroom on 'Morning Ireland' and the 'Bosco' repeats were still going on and I was sent out to interview Albert Reynolds - who was Taoiseach at the time - about the Downing Street Declaration. It was a pretty sensitive time and this gang of guys shouted over at me: "How are ya Marian, how's Bosco?" Albert Reynolds just laughed his head off and said he loved the programme as well.


"It's the kind of programme that has followed me around even though I've gone on to do other, different things. Even now [I get recognised for 'Bosco'] and it's usually people who are in their 30s. They remember songs like 'The Tadpole Song' and a lot of people ask me do I still have my pink dungarees.


"Bosco became a real cult figure. Apparently there was a place in Temple Bar that would play 'Bosco' in the background every Friday night and all these twentysomethings would dance to it. My eldest son, who was a toddler at the time 'Bosco' started, used to get slagged over the programme. I was still getting royalty cheques when he was in college and I would give him the cheques because he was always looking for cash. That money wasn't spent on college books! So Bosco is a bit of a local hero in our family. It went on so long that the royalty cheques got my son through college!"


Marian Richardson was in conversation with Jan Battles.

Watch full-length episodes of 'Bosco', including one featuring Marian, on the RTÉ Player at TV50 Classics here.

A Best of Bosco DVD boxset is available to buy here.