Playing for time
Kathleen Watkins was a well-known harpist and folk singer when she became the first continuity announcer to appear on screen on Telefís Éireann's launch night. She went on to present the popular series 'Faces and Places' in the 1980s, where she travelled all over Ireland, meeting people from all walks of life. She recalls the pandemonium in the lead-up to opening night on New Year's Eve 1961.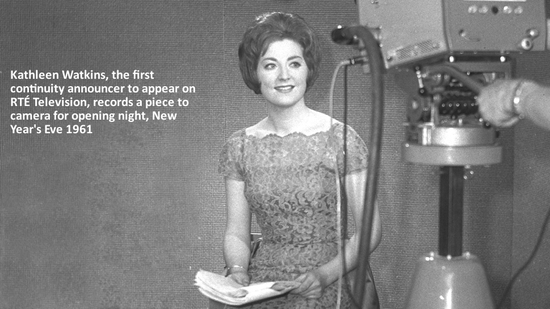 "I saw an ad in the paper for the TV announcers and I thought I'd try that. The day before my interview I was playing at a do in the Gresham hotel. Michael Barry, who was the BBC man who was in charge of RTÉ television at the time, was there. He saw me playing and realised I was the woman he was seeing [the following day]. He saw me introducing the songs. I don't know if it had any impact, but he didn't refer to it.

"The day before [launch], the entire presentation desk, with what seemed like scores of wires hanging out, was sitting up out of the ground; it hadn't yet been sunk. I thought: 'We can't be going to be able to do it tomorrow.' It was hard to believe. But then suddenly everything was in place and it was fine. It was extraordinary.
"I have hazy memories of the opening night. [Newsreader] Charles Mitchel's wife made the three dresses for the three new announcers (Marie O'Sullivan, Nuala Donnelly and Kathleen) for the special opening.

"Marie, Nuala and myself went around the country on tour. The people came out to see us. That lovely Irish courtesy and genuine warmth was absolutely gorgeous. It was very exciting. The highlight of that trip for me was to see Bryan MacMahon, the playwright, teaching a class of little boys. It was magic. I'll never forget it. He was telling them an Irish story that they clearly knew and loved. They were hopping off their seats to tell him the next line. He had the eye and the attention of every child. I've never witnessed anything like it.

"Years later, I remember a rare occasion when Gay got sick and he wrote me a get well letter for Gay in the most beautiful Irish. Talk about something coming from the heart. It was really quite magnificent.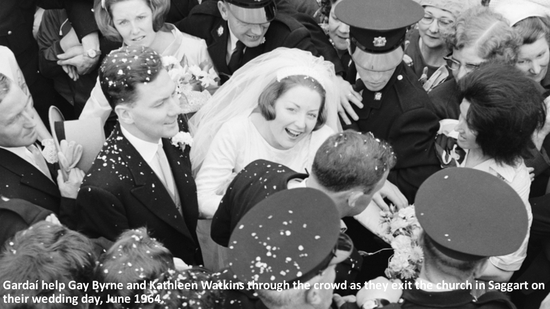 "The funniest thing about the early times in RTÉ was when Barry Baker (RTÉ Programme Controller) said to me one day: 'Would you like to speak or would you like to sing? We've been having a lot of breakdowns so it might be nice if you had the harp there and sing a song or two instead of going into long promotional pieces.'

"When things just sat down, suddenly you'd be put on air live to do these long promotional pieces. Tom O'Hagan was writing them at the time. He was killed trying to keep all this filler stuff going. Two or three minutes is a long time in vision for an announcer, reading promotional pieces about films and so on. I had the harp in there regularly tuned up and I sang occasionally when we had a break. It was much easier for me to toss off a song. I would time the song, so if I thought it was going to be a minute's break I would do a minute song and if it was three minutes well then I knew I had three minutes to sing. Then I might get a sign to say we're ready to roll again.

"During one of the early years a rumour went around the building that Padraic Colum was coming into RTÉ. We had learned Padraic Colum's poems at school – 'Old Woman of the Roads', 'The Drover' – but we never thought we'd see him walking into Irish television. He came in to our announcers' studio. He was warm and friendly and rosy of cheek, like a country farmer. Just before he went on the air I noticed he had a horn of hair sticking up on his head. So I went into the studio and said: 'Excuse me Mr Colum, there's a horn of hair sticking up there, we can't let you go on the air like that.' He said: 'Would you put it down for me?' So I smoothed down the head of the famous poet!

"'Faces and Places' was just sheer enjoyment. Justin Nelson (an RTÉ producer) had this idea to go around the country for the summer. I thought it sounded like a lot of fun. In fact, we got six years out of it.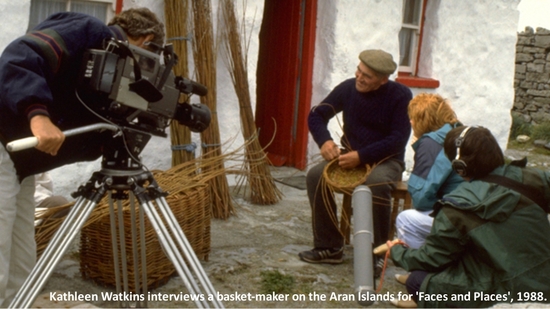 "Public service broadcasting is what we were about. We covered the country. We went to America and England too. It was a lovely programme to do. When we were working in Ireland it would be with the crew for the area. In Cork we had one crew, in Sligo it was somebody else. We were the happiest team but when I think back on it, it was a huge amount of work to do in a week.


"It was like being on television all day long because we were shooting all day and then travelling to different places, fixing the hair and make-up, doing your PTC (piece to camera), doing your chats with the people. It was pretty hectic but hugely enjoyable.


"What was more important was we covered the real people. We were looking for the man with the herd of cattle or the woman who did the beautiful embroidery or the woman who had a wonderful garden or people who sang songs. Different kinds of real Irish people, not the head buck. We weren't hearing Dublin accents. We touched every part of the country and we met some really beautiful people."


Kathleen Watkins was in conversation with Jan Battles.


Watch Kathleen in an episode of 'Faces and Places' from 1987, one of the TV50 Classics on the RTÉ Player.