News update: Kate Cotter, 30 years on
In 1982, thanks to 'Youngline', nine-year-old Kate Cotter realised her dream to become a newsreader for a day, getting a tour of the RTÉ newsroom from Anne Doyle and meeting newsreader Charles Mitchel. Here she tells TV50 how it left a lasting impression on her life.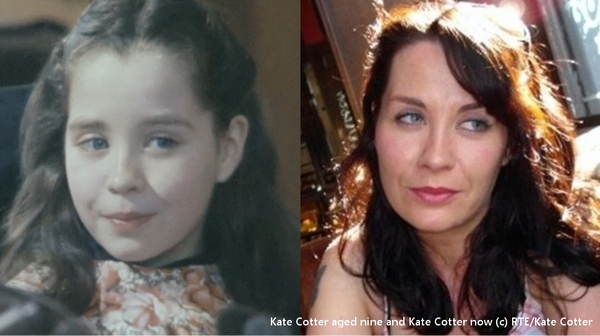 Like pretty much all children who grew up in 70s Ireland the only TV we saw was RTÉ. We LOVED 'Anything Goes' and 'Youngline'. 'Youngline' ran the 'Dream Machine' which was just like 'Jim'll Fix It' in that it tried to make children's dreams come true. I had long dreamed of reading the news, and especially wanted to be just like the very glamorous Anne Doyle. I duly wrote to the 'Dream Machine' and asked to have my wish granted. I will never forget the day the letter arrived from 'Youngline' to say yes!

At the age of nine even going on the train to Dublin and staying in a hotel (the Montrose) was exciting! I got a new dress and shoes especially for the occasion! My mum accompanied me and looking back it must have been a big deal for my parents as I had three younger siblings, including a baby, so I suppose my dad had to take time off work to mind them etc. I've been told RTÉ looks pretty much the same now as it did then. As far I was concerned it was the most exciting place I'd ever been. Even going for lunch in the RTÉ canteen was thrilling as me and my mum eavesdropped on conversations about cameras and filming schedules.
There was more footage than the clip shown on the RTÉ TV50 website. Ultan Guilfoyle, one of the 'Youngline' presenters (who had a remarkable collection of 80s jumpers!), read my letter aloud and then there was footage of me meeting him and being introduced to Anne Doyle. Anne then started her tour of the RTÉ news area. I had my autograph book on the go all day and managed to catch quite a few newsreaders and even some actors and presenters. I still have it stored away 30 years later. When I went to have my make-up done the other person having theirs done was Mike Murphy and we chatted away like old friends.
I do remember being quite anxious about the boom pole and you can see in the footage I look up regularly to check if it's still there above my head! The newsreaders were all really friendly; I met lots of them including Sean Duignan and Charlie Bird. The funniest bit of the footage for me is when Anne Doyle shows me the fax room and explains that that's the system for receiving international news but there's a different 'system' for receiving national news and the next shot shows me being introduced to Grace. Grace was clearly the 'system' for reporters phoning from phone booths all around the country to file reports which she painstakingly typed up. You can see she was well loved by all the postcards on the wall behind her desk.
I loved reading the news and loved the buzz around RTÉ. It definitely was an experience that stayed with me and influenced me in choosing a career path. I went on to do a degree in English and Sociology at UCC and a Masters in Film & TV Studies at DCU. I worked briefly in the film industry in Dublin before going to work in TV production in London. I worked at ICM and Hartswood Films on both documentaries and comedies.

I eventually became a freelance TV Producer/Director and have enjoyed an exciting career producing a variety of factual TV programmes for all the major UK channels, from one-hour documentaries for BBC4, observational documentary series for Channel Five, to the much-loved BBC2 series 'Animal Park', with Kate Humble and Ben Fogle. I now love camerawork and editing and all the technical things I was nervous about when I was nine.

I met a lovely Galway man who writes for both TV and theatre. He wrote the last series of 'Raven' for CBBC. We settled down together in Glasgow, which is a thriving media city, and I still work in TV as a producer and also teach film-making to young people at a local college. We have a two-year-old son who watched the clip on the RTÉ TV50 website about one hundred times in a row! I'm now 39 years of age and 39 weeks pregnant with our second child and it will be fun to tell him or her that Mummy was 'Clip of the Week' just before they were born!

That wonderful, unforgettable day in RTÉ has stayed with me and clearly had a significant influence on my life and I'm thrilled to see the footage again. I do hope to come back and work in TV in Ireland in the next few years. Maybe my son can come and read the news in RTÉ when he is nine!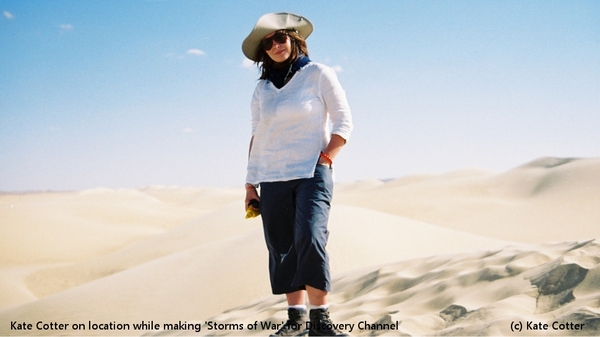 Watch Kate in action as a nine-year-old newsreader in our Clip of the Week here.