Once upon a time in Neary's
Jimmy O'Dea (1899-1965) qualified as an optician before first becoming a serious actor and then a comedian. He took to the stage full-time in 1927 and enjoyed a successful career in pantomime, touring Ireland and England in the 1930s and 1940s. Among the television programmes O'Dea made for RTÉ were children's show 'Once Upon a Time', 'O'Dea's Your Man' and 'The Life and Times of Jimmy O'Dea'. In 1959, he appeared opposite Sean Connery in the Disney film 'Darby O'Gill and the Little People'. Here his godson Conor Doyle, keeper of the Jimmy O'Dea Collection of memorabilia, remembers Mr O'Dea.
James Plunkett [author of 'Strumpet City' and RTÉ producer] wanted to have a children's programme on RTÉ to match the BBC's 'Watch with Mother', which usually had famous stars reading a story, and thought of Mr O'Dea. Mr O'Dea was the way you would address Uncle Jimmy when you met him in a professional way. In fact my Aunt Ursula, although she had worked with him for over twenty years, was not allowed to call him Jimmy either, until they got married, and even then she was only allowed call him James A! Maureen Potter called him "The Governor" all her working life!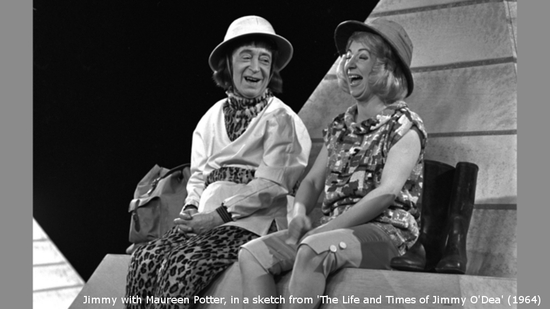 Anyway, Jimmy was at the time the biggest star here in Ireland, having done so much on the radio, theatre and of course Disney's Darby O' Gill [where he played King Brian, leader of the leprechauns] a few years earlier. Like many other variety artists, he was very sceptical about TV at the time. His agent in London a few years earlier had asked him to do a new type of programme for the BBC called a "situation comedy" but it would mean being away for about six months filming and he turned it down. And so, Sid James was cast in his place in the now very famous 'Hancock's Half Hour'.

James Plunkett knew he could not afford the type of money Jimmy would usually be looking for. Mr O'Dea's office was in Neary's Bar in Chatham Street, just off the top of Grafton Street. Between a matinee and an evening show, he would walk out of the Gaiety stage door on Tangier Lane and travel around the corner to his 'office'. He always had the same seat and table in Neary's. God help anyone who would be sitting in his seat when he arrived in the bar.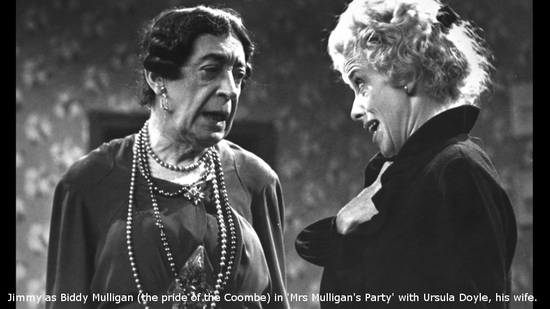 Jim P worked out what time Mr O'Dea would be walking from the Gaiety to Neary's - in fact I believe he stood at the corner of Chatham Street for nearly a week before he approached Mr O'Dea and asked if he could speak to him about a TV series called 'Once Upon a Time'.

Jim P was invited into Mr O'Dea's 'office' but, shock and horror, there were a few Trinity students at his table. It had become a custom of second and third-year students to bring unsuspecting freshers up to Neary's for a few drinks and get them to sit in Mr O'Dea's seat!! They would nearly fall off their seats with fright when they saw who had just walked in.

Jim P gave them a good rollicking and sent them on their way. Mr O'Dea was so impressed with him that after a few drinks the deal was done. I think the sum agreed was something like £10 for the whole series, a very small fee indeed.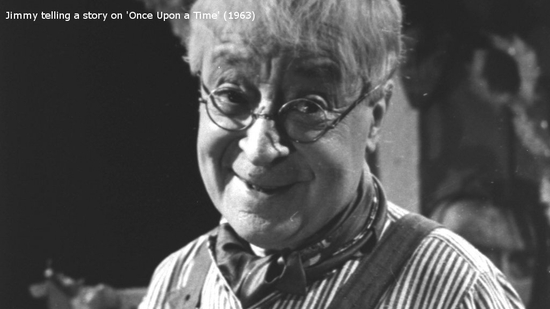 Many years later after Mr O'Dea's death a rumour started that the whole thing in Neary's had been organised by Jim P!
Watch Jimmy O'Dea in action in 'Once Upon a Time' and also 'O'Dea's Your Man' on the TV50 Classics section of the RTÉ Player.

BELOW, CONOR REVEALS THE STORY BEHIND WHY THERE WAS ALWAYS A LOAF OF BREAD ON THE TABLE IN 'O'DEA'S YOUR MAN', WHICH ALSO STARRED DAVID KELLY.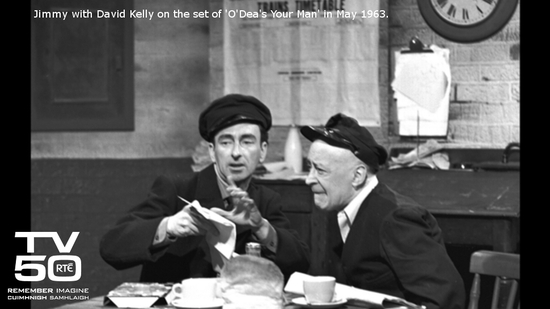 The microphone was actually in the loaf of bread on the table. That's why most of the time they were huddled around the table so that their voices could be picked up! After about six weeks viewers started to contact RTÉ asking why the bread had not been eaten or thrown out as it must have gone stale!