Always a woman ahead of her time
Geraldine McInerney was 31 when she joined RTÉ as a continuity announcer in 1974 and made history a year later when she became Ireland's first female newsreader. She tells TV50 how that role never sat easy with her and after a couple of years she escaped to a new life in America, where she ended up working with some of the biggest names in movies and rock 'n' roll.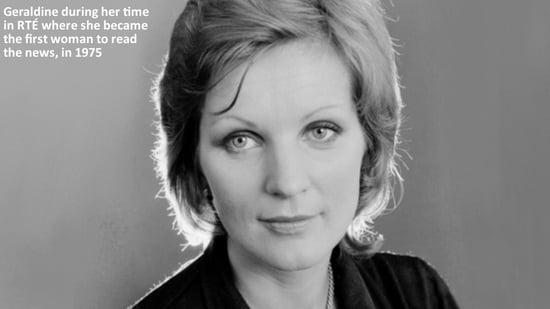 Jan Battles: How did you get into RTÉ?

Geraldine McInerney: My marriage broke up and I was looking for something to do. I was at home in West Cork looking after my three children. I moved up to Dublin and was fortunate enough to get a job as a continuity announcer at RTÉ. Then they decided they wanted a female newscaster so I applied for that job and, to my absolute shock, got it.

JB: What was it like working with all your male colleagues?

GM: They were condescending. They didn't like having a woman. A lot of the men in the newsroom came from newspapers. There's a big difference between writing for the spoken word and writing for a newspaper. Do you know who was lovely? Charles Mitchel was a complete gentleman and he was very much on my side. He was a doll. Most of the others, not so much.

JB: Do you think you changed anything in Ireland by being the first female newscaster?

GM: Not a bit. It was because it was the year of the woman (the United Nations designated 1975 as International Women's Year) and they thought we'd better throw somebody up there. It was nothing to do with being supportive of women's lib.

JB: How did it feel to be the only woman reading the news?

GM: To tell the truth, it never sat comfortably with me. Ireland is a very small country. A job like that, everybody knows your business and everybody wants to know what you're doing. It was not my favourite thing at all. I moved off to the States and started my own PR company. I think that's probably what made me very good as a PR person for people who were famous. Not because I could compare myself with Jack Lemmon or Lee Marvin, but I had a slight inkling. I had great fun here (in New York) because I was behind the scenes. I had clients like Jack Lemmon and The Rolling Stones, Linda Ronstadt and Neil Diamond. I did the PR for them for years and years.

JB: When you went out there first, did you have any connections?

GM: Absolutely none. I'd started off working in advertising. After about a year and a half I got head-hunted by this big PR company, Mahoney Wasserman. They wanted somebody to set up their East Coast office, which I did. From there I set up my own company. Lots of people I worked with at Mahoney used to say "why don't you set up your own company?" so I did.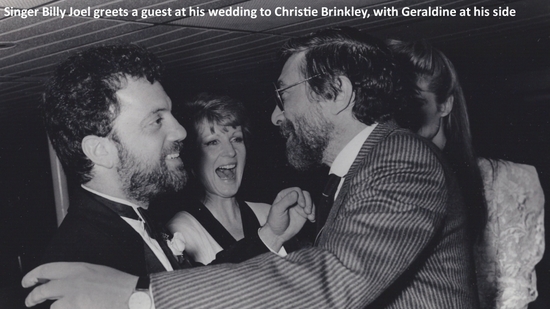 People like Linda Ronstadt, Christie Brinkley, Billy Joel, and Kelly McGillis were my personal clients. I went to Christie Brinkley and Billy Joel's wedding. I hung out with Linda Ronstadt and George Lucas (the 'Star Wars' director) when they were dating. People treated me as a part of their intimate circle. I was very much part of their lives and that was great fun. George Lucas and I would always talk about Irish literature. Linda was a big reader, as am I, so she and I would always talk about books.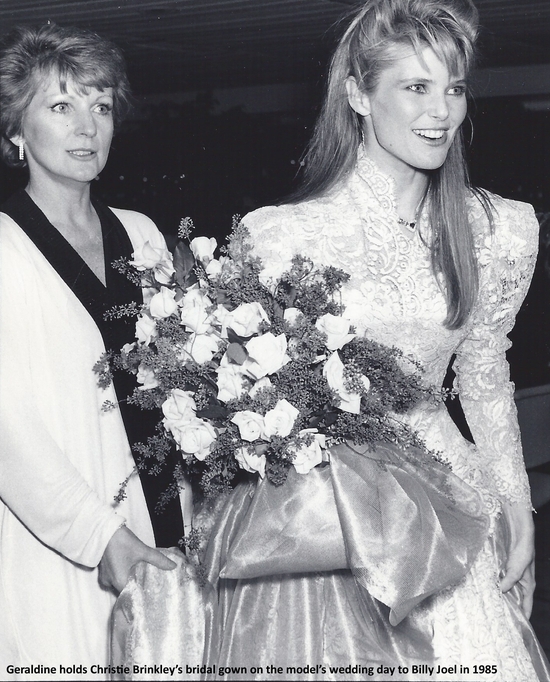 Lee Marvin was doing 'Gorky Park' and had been talking to me about how wonderful the script was and I said I'd love to read it. I picked him up from the airport and he was staying in the Carlyle (hotel in New York). He'd promised he'd bring me a copy of the script but he'd forgotten it so he was telling me about it. He was drinking and he'd drop his head down and mumble. He'd lift his head and then drop it again and mumble some more. I was going: "Mmm-hmm", "Really?" and "Oh yes". I had no idea what he was talking about. Finally he looked at me and he said: "Do you want to go up to my room?"
I thought: "Oh my God, this is my life's worst moment." I said: "No, no, no, we're fine here. We'll have another drink." He looked at me and said: "And I say to her…" It was a line out of the script! I'd thought he was propositioning me!

JB: Were your clients divas?

GM: My two favourite clients were Jack Lemmon and Linda Ronstadt. Both of them were so incredibly erudite and interesting. I remember Jack once telling me he lived in terror his whole life that he'd never get another job. Here was one of America's most established actors and yet he was without any confidence. It was like every job was going to be his last.

I did a couple of tours with The Rolling Stones. It was bloody hard work but it was great fun. Keith Richards was great fun and so was Ron Wood. I remember Keith's fortieth birthday and his parents came over for the party. They were this really homely pair. I went over to talk to them and asked them if they'd had a nice flight. [His mother] said: "We'd never flown before. It was ever so interesting. We left Heathrow where it was raining and foggy and then the plane went up and it was all sunny." They'd no idea they'd gone above the clouds.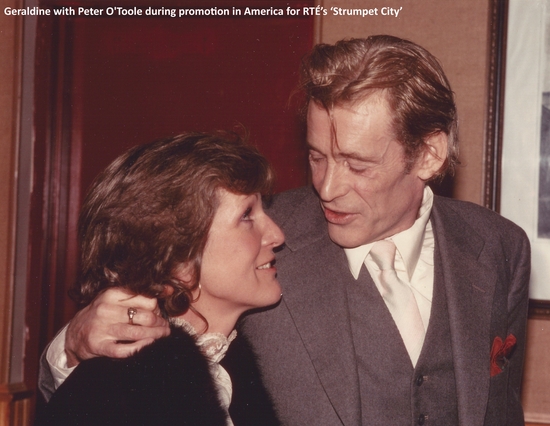 I did a lot of movies as well, like 'Prizzi's Honor'. Angelica Huston was lovely, of course because she was brought up in the west of Ireland. Sometimes I'd pinch myself and think "I'm having lunch with Niall Diamond" but it was a job. I suppose it was pretty glamorous but I always just thought it was great fun.


Myself and Linda have remained close. And Christie Brinkley and I have too. Celebrities have a different view of people who work for them. As a publicist you become very close to them because they lean on you for advice. Sometimes they listen to you and sometimes they don't.