The joy of stories
Eamon Morrissey has had a long working relationship with RTÉ, in tandem with a distinguished theatrical career that has included two Broadway runs and a long spell in The Abbey. He is best-known on television for various roles on the satirical series 'Hall's Pictorial Weekly', which ran throughout the 1970s, and for his one-man show, 'The Brother', which is based on the works of Flann O'Brien. Eamon talked to Jan Battles for TV50 in the RTÉ canteen, in between rehearsals for 'Fair City'.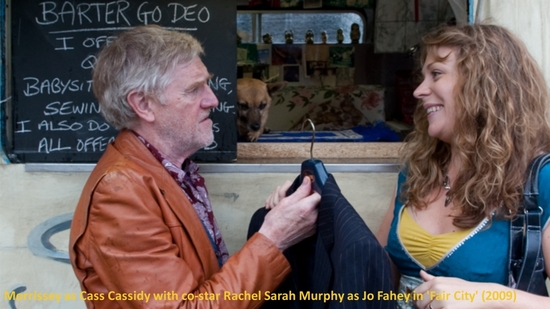 "From my bedroom window in Ranelagh I could see the television mast going up when it was being built. I would have been about 17 at the time. I was already an actor and I remember wondering would I ever be transmitted from the top of that mast.

"I was involved in RTÉ from the early days, although not on the opening night down at the Gresham. It was a snowy night, and myself and Mike Murphy went throwing snowballs at Patrick O'Hagan (the famous tenor and father of Johnny Logan, who was singing). I think we were a bit miffed that we weren't involved.

"From the early days, there seemed to be a fair amount of drama [on RTÉ], more than they do now. To a large extent, it was stage plays being done for television. There were all sorts of bits of work going. Then I started doing sketches for Tom McGrath in Light Entertainment.

"I went off to London to become a star, and became a barman, which is the standard course. Then when Gay Byrne started doing sketches on 'The Late Late Show', I used to come home for the weekend and do the sketch and go back on Saturday. I was paid something like eight pounds for the sketch and the night flight was only four pounds, so I got a night out and then it was back to the bar.

"Frank Kelly and myself started doing 'Newsbeat' with Frank Hall, reading the statements of county managers and councillors. That was dead straight reading but after a while we discovered we could put on silly voices and silly hats, provided we quoted the thing exactly. That really was the start of what evolved eventually into 'Hall's Pictorial Weekly'.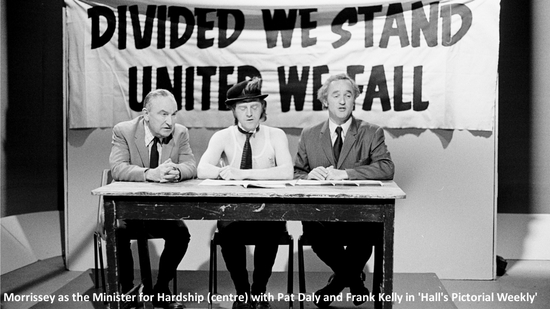 "'Hall's Pictorial' was just one day's work a week. We had no rehearsals. There was fierce pressure to get the show in the can in one day, and to get out by 5pm. The main script was written by Frank Hall and it was quite an achievement - to do 26 minutes a week for 26 weeks. He had a great deal of help from John Condon, who was producer. The money was lousy, and to make a living as an actor you'd have to do something else as well. You'd find yourself leaving here at four o'clock and trying to get to Cork for an eight o'clock show.

"People always go on about the Minister for Hardship – and he was a fine creation, more by accident than design really. We came in and the costume was there, they had this vest with holes in it and the broken-down hat. The Minister for Hardship was very close to Taoiseach Liam Cosgrave and it sounded like him. I never met the man. Apparently he was delightful company but on television he was very careful with his words, so when he would say something like 'I say to you most sincerely,' the nation fell about laughing.

"It was during the fuel crisis of the '70s which made life extremely difficult. You couldn't get petrol. I remember I was sitting in a pub in Dame St. at the back of the Olympia. I had a real banger of a car parked outside. And I saw the aerial move off. I had just managed to get a full tank of petrol and the petrol was more valuable than the car.

"The economy was in nearly as bad a state as it is now. The coalition government were always arguing in public, which was great for us. It was the first time it was actually a government minister [we portrayed] as opposed to a county councillor. So it was a transition to satirising the government directly.

"When Fianna Fáil got back into power there were a lot of comments made that we were the cause of the coalition government going out. It would be great if we had that kind of power but we didn't. What is forgotten is that the commentators at the time didn't realise how unpopular the coalition was, or indeed how popular Jack Lynch was himself, so they were only too happy to look around for some scapegoat and blame us.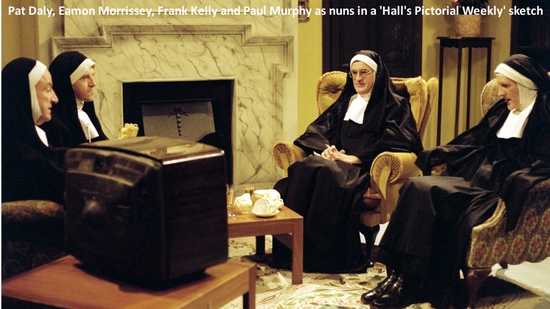 "There were other characters like the delightful 'Mothers of Seven from Cork'. My character Mavis enjoyed her sherry a little too much. Then there were the nuns who sat around very politely in the convent discussing things. They would begin very nicely and within about five sentences they'd be calling each other Blueshirts.

"It was amazing the effect 'Hall's Pictorial' had on the public, which we didn't realise at the time. One of the things we're still hearing is that whole families watched together; from granny down to young kids watched it and got something out of it.

"'The Brother' started in '74 in The Peacock and I reckoned if I got three weeks out of it I'd be lucky and I'm still doing it! I did a tour of it last year. In '76 we did a television version in Studio 1 with a live audience. It had an amazing effect and people still talk about it.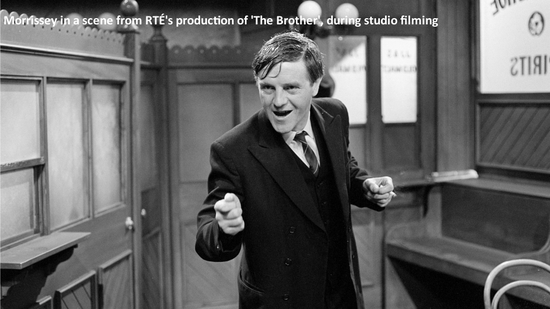 "People ask me 'What was the most successful thing you've ever done?'. Surviving financially as an Irish actor for 50 years is quite an achievement. Three years ago, when I was 66, I got my old age pension and that was the first regular income I ever had. Insecurity comes with the job.


"For the last couple of years, I've been in 'Fair City'. Cass [Cassidy] is an interesting character. People around the country either like him, or else dislike him, but he certainly has his effect. He's a joy to play. He's an inoffensive rogue.


"In the early days, because nobody was quite sure what to do with this thing called television, it was open to all sorts of crazy ideas, whereas now there's less room to make mistakes. Will there be television ten years from now? Will we be watching on television sets or on our phones and the internet? It would be a foolish person who would try and predict what the future of broadcasting is.


"If I look back on the 50 years since I saw this mast going up, I'd want to do it all over again. There are lousy ups and downs, financial pressures at times, but the joy of being able to tell stories to people is wonderful."


Watch classic episodes of 'Hall's Pictorial Weekly' from 1973 and 1980 on RTÉ Player TV50 Classics.

'The Very Best of Hall's Pictorial Weekly' Volume 1 and Volume 2 are available in the RTÉ Shop.