Four blondes and an armed escort
Thirty one years ago in Dublin, Bucks Fizz won the Eurovision Song Contest for the UK with 'Making Your Mind Up', turning the four group members into overnight stars. They went on to have two other UK number ones, with 'The Land of Make Believe' and 'My Camera Never Lies' and sold more than fifteen million records. Three of the original group members - Cheryl Baker, Mike Nolan and Jay Aston - perform together as The OBF. Last year a court ruled they can't use the words Bucks Fizz in their name as the trademark is owned by another group, featuring their former co-member Bobby G. Cheryl Baker, who has also enjoyed a career as a television presenter, remembers a life-changing week in Dublin in 1981.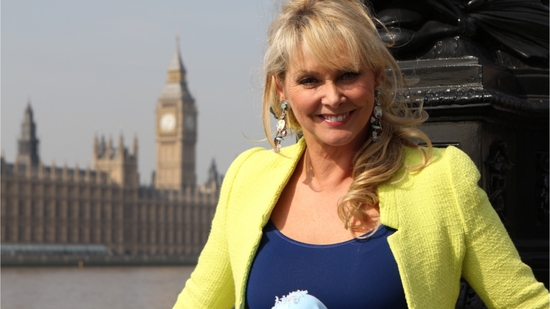 "In the days of Eurovision prior to 1981, it was predominantly a song contest. It was usually ballads sung by solo artists who were well-known in their respective countries. The late 70s had been in recession and so in the early 80s it was like let's forget all the bad stuff and have a lovely happy, hoppy, skippy song and have a party.

"The woman who put us together, Nichola Martin, said: 'I want them in primary colours, I want them all to have blonde hair, so one of our guys, Bobby, had to have his hair bleached. She had the formula which she thought would work and she was right.

"We had a meeting about the outfits and Jay Aston, who is two stone lighter than me and always has been, said we should be wearing mini-skirts. At the time we'd said knee-length because the song was rockabilly and the long skirts would swirl around when we danced and look great. Jay said it would look more sixties, more Mary Quant, to have mini-skirts. As a joke I said: 'Let's just have both.'

"The choreographer said: 'That's a great idea, and on the line 'if you want to see some more' that's when the top skirt comes off'. So the skirt was attached with Velcro so the boys could rip it off. Nothing like that had ever been done on the Eurovision and it really was a shock. Now of course nothing is shocking. I think the day after Eurovision shops around Europe sold out of Velcro because every little girl wanted a Velcro skirt! They all learned the dance routine too. People still come up to me to this day and tell me they asked their mum to make them a rip-off skirt and they were 'Cheryl' in the playground.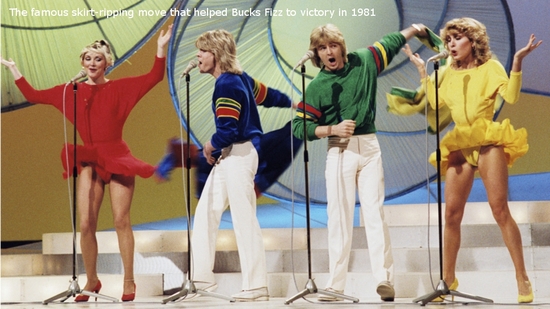 "The days in Dublin leading up to the Eurovision were hugely exciting. Mike Nolan comes from Dublin so all of his family were there. There were parties every night. I just remember it being the most amazing time, although, at the time as well, there were all sorts of threats going around from the IRA. We actually couldn't be kept in the same hotel as all the other countries. We had to have armed forces looking after us and guards on our doors. We travelled everywhere separately from everyone else. Rather stupidly, as a young, 27-year-old woman, I thought all this was really exciting. You don't actually think of the danger.

"We stayed in the Westbury. Mike and I escaped from our armed guards and went off on our own. 'Making Your Mind Up' was already at number five in the UK. In those few weeks since the British 'A Song for Europe' we'd already become household names so Mike used to say 'Just walk along the street and stare at people until they recognise you'! [laughs] They were happy days.

"I remember going shopping on Grafton Street another time with Mike and it was like being in the royal family because we had to have armed guards with us. I bought the most amazing dress. I loved it and it would be in now because it's all come around again. My children now wear my 1980s clothes and they call them vintage.

"I'd done Eurovision once before, three years before in Paris, and it was all a bit staid, a bit too serious. In Dublin we just had a ball. The Irish know how to party, let's face it.

"On the night, the voting was really close. It was so nerve-wracking in the green room I can't tell you. But there was a lot of camaraderie and there was a really nice atmosphere.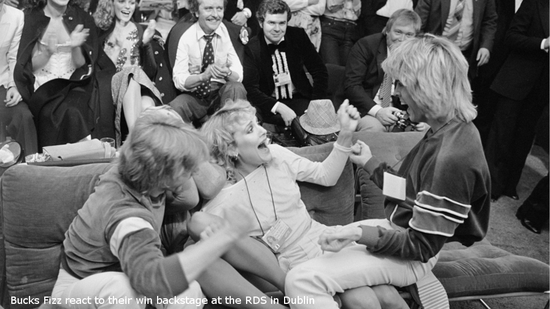 "[After the win] we went back to the Westbury and had a party. I crept upstairs and rang home to my council flat in Bethnal Green in East London. My family were all screaming 'Rita's on the phone!' - my real name is Rita - and I immediately started crying because I wanted to be there then. I'd been born in that block of flats and had lived there all my life. My sister said that when we won the windows were all flung open and everyone came out and was dancing up and down the balconies. I rang my brother in Australia next and he said: 'Your life's going to change now, Rita.' Then I went back downstairs and had my first Buck's Fizz! The first of many!

"The next morning we had to do a big photo-shoot for all the papers and I remember one guy from the Daily Star said: 'I want you and Jay in a barrow full of cockles and mussels.' That was one thing we did turn down. We flew home to Heathrow on the Sunday and had the day off. But then on Monday it went nuts, our lives changed then, forever. We travelled the world, came back to Ireland and sold out our shows.

"Me, Mike and Jay work together. We call ourselves The OBF, for legal reasons. Our new album called 'Fame and Fortune' has six original tracks and six Bucks Fizz tracks done in a completely different way, in styles including flamenco, country and blues. There is a track called 'Ain't it a Shame' which is a story of Bucks Fizz, the highs and lows.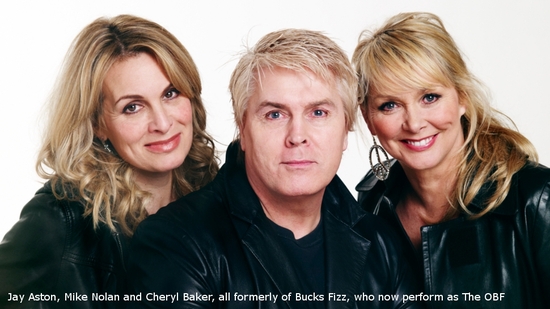 "I still watch Eurovision every year but there are too many countries in it now. It is unfair because the voting has got a bit silly. But as a show it is fantastic. I think Ireland have got a better chance than the UK at winning it again. I don't think people particularly like us around the world. The old Eastern bloc countries still regard us as friends of America and they regard America as the enemy.


"Engelbert Humperdinck [the UK's entry on Saturday] is a great singer but he's also an old man and I really don't want him to be ridiculed. I hope he gets the respect that he deserves. Jedward are great. They should have done better last year. I loved the song. They're great boys. They'll be top five and maybe they'll win it. The UK won't. We still have to enter though. It would be a very sad day if we didn't.


"Last year we came 11th with Blue and when I did it in Paris with Co-Co we came 11th then too. At that time it was the worst the UK had ever done. Now we think 'Oh we didn't do too badly this year!' I felt almost humiliated that we came 11th in 1978. Isn't it funny?"


Cheryl Baker was in conversation with Jan Battles.

Watch Bucks Fizz's winning performance in the 1981 Eurovision Song Contest from Dublin on our Clip of the Week page.


The OBF's album 'Fame and Fortune' can be bought from their website www.theobf.co.uk this weekend, prior to its general release.