Striking against apartheid
Cathryn O'Reilly was one of ten Dunnes Stores workers who walked out in protest from the supermarket's Henry Street branch in July 1984 when their colleague Mary Manning was suspended for refusing to handle South African fruit because of the racist apartheid regime. For almost three years they picketed the store, until April 1987 when the Irish government brought in a ban on importing South African produce. Nelson Mandela, who presented the group with medals when he visited Ireland in 1990, said their action was "inspirational". A plaque, donated by the government of South Africa to the group, is embedded outside the Dunnes Stores shop on Henry Street.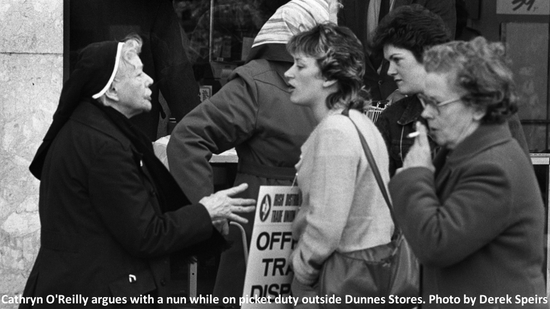 Jan Battles: How old were you when the strike started?
Cathryn O'Reilly: I was twenty two and I'd just had my son. He was a year old in the June and the strike started in the July. I lived with my parents and then when the strike started I couldn't afford to live anywhere else.

JB: Why did the strikers take action?
CO'R: We got a union instruction to boycott South African goods and services. There was a customer with two grapefruits and she hovered between Mary [Manning]'s and Alma [Russell]'s registers. In the end she went to Mary's register. Mary explained to the customer: "I'm sorry we've been instructed by our union that because of apartheid in South Africa I can't take for those grapefruits." The customer was fine with it apparently.

Anyone who was refusing to handle South African goods had managers or trainee managers standing behind them. They told Mary to close off [her till] and they took for the lady's stuff. When Mary went up to the office they told her they had no option but to suspend her until she changed her mind. The next day there was a picket on the store.
At the beginning people didn't take a lot of notice of us because we were all very young. People were going into the shop, and [suppliers were] bringing goods into the shop. So we said we're going to have to toughen up.
We went around the back and tried to prevent them from bringing goods into the store. We picketed there and then the Irish Congress of Trade Unions instructed other unions to boycott Dunnes and not to deliver any goods to them. That's when it started to hit them.
One of the people who came down to the picket line was Tony French. He worked in the 'Irish Press' at the time and was a member of the Irish Anti-Apartheid Movement. He told us all about South Africa and the atrocities that were happening there. A few people who were exiled from South Africa joined us too.
We were all invited to the AGM of the Irish Anti-Apartheid Movement. They had this man Marius Schoon who got up and thanked us for going on strike. He was a white South African who lost his wife and his six-year-old daughter to a letter bomb because they were opposed to the apartheid system. He had a very profound effect on everyone in that we had nothing to lose only our jobs. He had lost his wife and his daughter for what he believed in. That made us more determined to continue doing picket duty and to speak out about it. Arthur Scargill (president of the National Union of Mineworkers) came down to the picket line. He had a placard and walked up and down with us.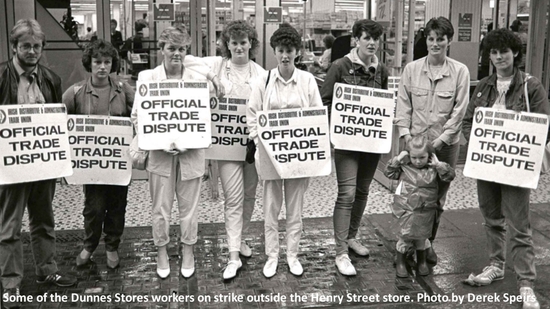 JB: Did your opinions strengthen as the strike progressed?
CO'R: At the start we knew very little about South Africa. We were ordinary, working-class people. You got your wages on Friday and you decided where you were going to buy clothes or go dancing at the weekend. Where before you mightn't have been very interested in politics, it made you very aware of politics and their double standards. It changed your opinion on a lot of things. It made you challenge things.
You were like: "I feel very passionate about this and if I can stand up for people thousands of miles away then I can stand up and speak about injustices here as well'. It made you very aware of the injustices that happen in this country as well. One of the people who came down to the picket line in the early stages was from Pavee Point, the travellers' [organisation]. They have their own form of apartheid against them in this country, the way they are treated.
JB: What were the disciplinary measures taken against you while you were picketing?
CO'R: We didn't get any pay. At the start of the strike we got £21 a week strike pay and then it was increased to £23 so we depended on donations from other trade unions and the public to bring our wages up.
JB: What was the general reaction from the public?
CO'R: They were very good. The people who could least afford it went to Roches Stores across the road (who were boycotting South African produce) which was dearer than Dunnes. There were people crossing the picket. There were nuns and priests going in and we were going: "Do you not have a moral conscience?". We would challenge people on it. I'd say: "If Mary refused to handle contraceptives now Sister you'd have no problem walking up and down up on the picket line."
It was a different climate to what it is today. There were very few black people in this country. It was very new for people. I can remember at the start of the strike someone coming down and saying: "I don't blame you for striking; I wouldn't handle them if black people had handled them before me." You're better off just walking away [in those cases].
JB: What were you co-workers who weren't on strike like?
CO'R: The canteen was directly above where we did picket duty and they would throw teabags and rubbish out over us. In Dunnes Stores at the time we used to get a week's wages as a Christmas bonus. At Christmas they were coming out going: "Oh what will I spend all my money on?" knowing we had no money. It's hard when you're doing picket duty every single day to try and keep people motivated. Everyone gets days where they're down and wondering if it's ever going to end.
JB: Did it change you?
CO'R: It did, big-time. In a million years I never would have thought that I could get up in front of thousands of people. At civic receptions where there are very affluent people I would never have thought that I would be able to stand there and speak and think "You know what, you're no different to me really."
We went everywhere around the world during the strike. Places like Berlin, Moscow. Myself and Mary did a whole month going all over England, Scotland and Wales speaking at anti-apartheid movement meetings, civic receptions, colleges, different political groups, different trade unions.
We went to South Africa (at the invitation of Bishop Desmond Tutu) but got deported at the airport (after being held for seven hours surrounded by armed police). There was a state of emergency and the pictures that were coming out of the brutality to women and children, just because of the colour of their skin, just reinforced we couldn't back down and made us very determined to keep going.
The combination of seeing how people were being treated in South Africa and then meeting people who couldn't go back there, you became very passionate about it and you wanted to see change. So it did change everybody.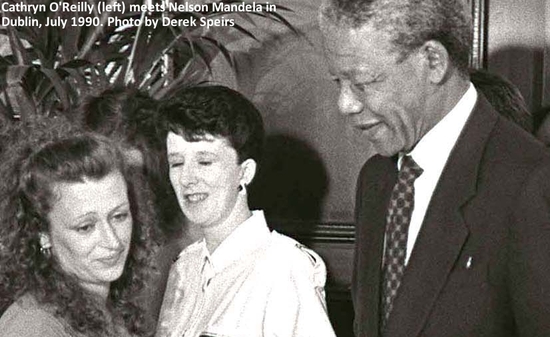 JB: Did you get low at any point and think it wasn't achieving anything?
CO'R: The worst part was when we had to lift the pickets to let the government work on sanctions. Ruairí Quinn asked us to lift the picket while he worked on sanctions. You're still on strike but not on a picket line. The fear is you're not visible so people are going to forget about the strike. You're thinking: "Are they fobbing us off? Is anything really going to happen?"
JB: Did you pay a personal cost for taking part in the strike?

CO'R: There was one girl who I would have been very friendly with from the time I started and she decided to pass the picket. I've never spoken to her since. Some of them who passed the picket live where I live. They put their head down even now [when we pass each other]. People like that, if that's the way they are I don't need them around me.
Financially, I think everybody [paid a cost] but you didn't see it like that. People made huge sacrifices. Vonnie Monroe was just newly separated and she was struggling to pay her mortgage. She ended up losing her house. People were saving to get married and things like that. It did affect people. But it was worth it.
JB: Why?
CO'R: It's great to be able to say that you were able to change policy in this country. Twelve workers got government to change the law. Even one person can make a change.
JB: Having succeeded in getting the government to impose sanctions banning imports of South African produce, what happened to the strikers?
CO'R: [Dunnes] wanted us to sign a new contract of employment. It was only the people who were on strike that had been asked to sign them. Some of the girls went back to work. On principle I couldn't go back. The girls that went back it was right for them; it just wasn't right for me.
I found it very difficult to get employment. You can imagine: "Where was your last place of employment and why did you leave?" For a good number of years I was doing voluntary work and little courses. I got involved in loads of different campaigns over the years. Then the government introduced a Community Employment Scheme. I did three years of community employment and during that time I tried to up-skill myself. For the last twelve years I've been working as Family Support and Outreach Worker with Cabra Resource Centre. I work with families who discover their son, daughter or partner has an addiction problem.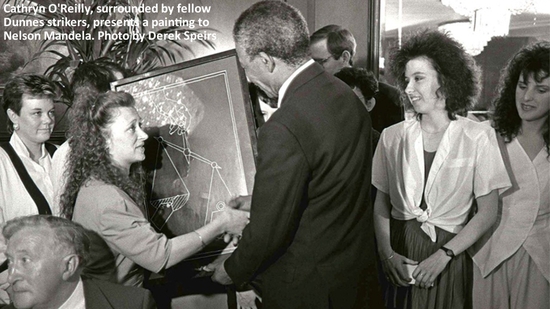 JB: Did you ever get to actually visit South Africa (not just the airport)?

CO'R: I went to South Africa a few years ago to do a challenge for the Central Remedial Clinic. Part of the itinerary was to go to Robben Island (where Nelson Mandela was imprisoned). There are buses that take you all around the island, driven by ex-political prisoners. When we got on the bus the driver asked everyone where they were from. I said I was from Ireland and he said: "Do you know the famous store in Dublin?". I told him I was involved in the strike and he was like: "Oh my God." I'd had my picture taken with Nelson Mandela, my hero, when he came to Dublin to get the freedom of the city. I had brought the picture with me because I wanted to get a photo of me holding it outside Nelson Mandela's prison cell. I can't describe the way I felt. It was very spiritual.

The contrast of the wealth and the poverty is unbelievable. On one side of the road you could have a big, five-star hotel with armed guards on reception, protecting people in the hotel, and you look out the window and there's whole families living in cardboard boxes on the other side facing it. I'm hoping to go back next year and do the Niall Mellon Township Trust (which builds houses in townships of South Africa).

The eleven Dunnes Stores workers from Henry Street were: Mary Manning, Cathryn O'Reilly, Karen Gearon, Theresa Mooney, Vonnie Munroe, Sandra Griffin, Alma Russell, Michelle Gavin, Liz Deasy, Dorothy Dooley and Tommy Davis. They were later joined by Brendan Barron who worked in the Crumlin branch of Dunnes Stores.

Watch an interview with Cathryn and other Dunnes Stores strikers on 'Today Tonight' on our Clip of the Week page.