Listening for jewels
Today (22 October 2012) marks the first anniversary of the death of broadcaster Cathal O'Shannon, who had a long career with RTÉ Television. He worked in current affairs from 1965-78 before leaving to become Director of Public Affairs for 14 years for Aughinish Alumina in Co. Limerick. Among the many programmes he made for RTÉ were 'Thou Shalt Not Kill', 'Bon Voyage' and the 2007 documentary, 'Hidden History: Ireland's Nazis'. Paul Cusack, who produced many of Cathal's programmes while they were both working for RTÉ, remembers a close friend.
Jan Battles: When did you meet Cathal?

Paul Cusack: In the early '80s I did a series called 'Saturday Live', where we had a different presenter every week. It preceded 'Kenny Live', which I later produced. We had a number of interesting presenters, Rhonda Paisley, Bishop Eamon Casey and Michael Cleary. All I'll say about them was it was an interesting experience.

A thoroughly nice, splendid fellow was Bishop Walton Empey of Limerick, a Church of Ireland bishop. Great fun and a great humanitarian. One of the guests he wanted to have was Cathal O'Shannon, who had left RTÉ to work in Limerick for Aughinish Alumina (a company that extracts alumina – the raw material from which aluminium is made – from ore).

I met this extraordinary, charming, roguish character; impeccably dressed, twinkle in his eye and we kind of clicked immediately. Later we met when Dermot Horan produced a series called 'Bon Voyage', which was a holiday programme, and Cathal and I got to know each other and had great fun in different parts of the world.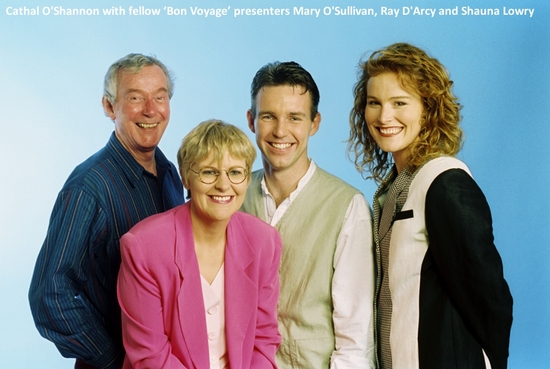 I proposed to him the idea of doing a series called 'Thou Shalt Not Kill', which was really not so much about Irish murders than it was about the way we were. Pre-1963, pre-television, murders were few and far between. Nowadays, sadly they're two-a-penny. It told of life in the country, life in the city, loneliness, an overpowering church and sometimes ineffectual state.

Cathal was the ideal presenter for that. He wrote a lot of the script. He was just a joy to work with. We would work very hard and we would play very hard. Personally I learned a huge amount from him about what it is to be a broadcaster: to be clear, to be precise, and to have something to say.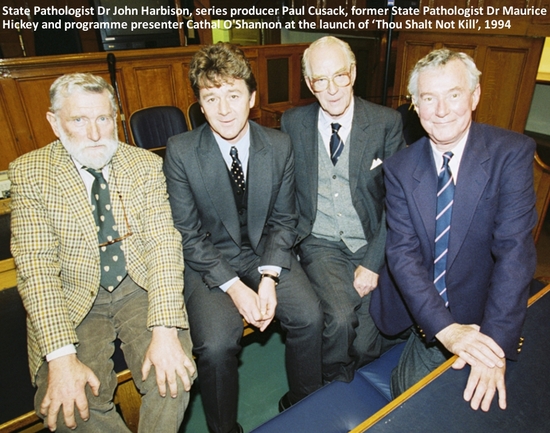 That's how our relationship developed and we became very close personal friends. There was a little group of Cathal's friends that I was introduced to. He knew my family from way back. His sister Fionnuala was an actress and was a friend of my parents (Cyril Cusack and Maureen Kiely) who were actors and Grania, another sister, was in the film business.

He had been persuaded by his good friend Dick Hill, who was Controller of RTÉ 2, to come back to present a series on the Irish who made wine in France, 'The Wine Geese'. Gradually he came back and he finally finished in Aughinish Alumina and worked with me on two series of 'Thou Shalt Not Kill' and they were hugely successful, largely due to him.

He just had this extraordinary ability to communicate. First of all he had a great curiosity. Then he had this beautiful voice, a Dublin accent that spoke of a particular period. He was warm, engaging and he loved the English language and wrote it beautifully. He embraced his audience and they went with him. He was an old seducer really.

JB: Do we see that kind of broadcaster anymore?

PC: No we don't. Cathal was an extraordinary personality, a huge presence. But for him the most important thing was telling the story and communicating. There was no hectoring, no self-promotion. He was very different from the kind of pampered presenters that we often see in broadcasting today who are primarily engaged in promoting themselves and not telling us about ourselves or reflecting who we are, which is what Cathal felt was the job of a reporter.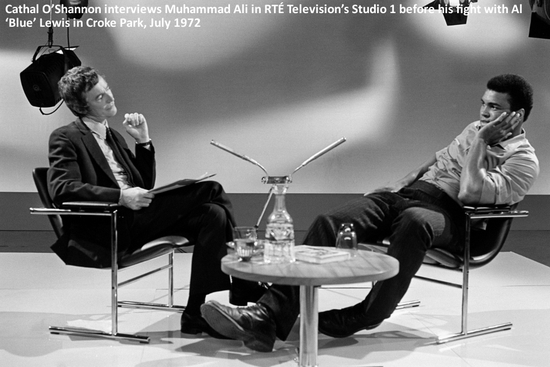 Terry Wogan referred to him as the greatest television journalist Ireland ever produced. I think the two great broadcasters that we have produced in Ireland are Cathal O'Shannon and Gay Byrne – both very different. Gay is able to elicit a story from people in a different way from Cathal but both had that extraordinary skill. He knew when to be quiet. They both had that extraordinary ability to listen.

That's gone. Nowadays they're looking at their notes, they're not listening and if they listened there are gems, jewels to be mined from the people they're talking to. Cathal could do that, he knew when to shut up and just let it happen. He also rejoiced in the ordinary - that paradox of the ordinary in people's lives being extraordinary.

There was a piece shown recently as part of TV50 ('Lifestyle – Times got Good') where he talks to a bachelor farmer and it was just exquisite. [The farmer] was a cute countryman. He finally trusted Cathal. Cathal could mine it out of them.

He was an avid reader of both Irish and world history. Some of [the subjects of] his work like 'Even the Olives are Bleeding' (a 1976 documentary film on the involvement of Irish volunteers in the Spanish Civil War) are unlikely to have been touched on with such depth, passion and insight if they'd been made by anyone else.

He had an extraordinary presence. When we switched the camera on Cathal he just grabbed the audience; the first few words teased them into staying with him. He wanted to tell a story. He didn't need music; he didn't need fanfare or any kind of special effects to get the audience to stay with him.

JB: What motivated him?

PC: Extraordinary curiosity. His background was working class Dublin. His father (Cathal O'Shannon Sr) was a famous republican who was at the right hand of James Connolly. Cathal was an adventurer. At the age of 16 he forged his birth cert and joined the RAF and went off to Burma.

He had a low boredom threshold and that included people. The one crime with Cathal if you were in his company was to be boring. That was not allowed. He didn't tolerate fools. Cathal was a feisty character and didn't take s***.

There was a moment when Charlie Haughey considered Cathal O'Shannon was the man who should interview him. Fred O'Donovan his great pal, Cathal and Charlie Haughey met in Bon Appetit, a favourite restaurant of Charlie's in Malahide. The first thing that Charlie said was: 'Are you man enough to ask the right questions?' to which Cathal replied: 'Are you man enough to answer them?' Charlie didn't do the interview with Cathal. He'd always liked Cathal's work but he wanted to tell his story his way.

JB: Why did he leave RTÉ to go to Aughinish Alumina?

PC: He was angry because they wouldn't let him make a project of his which was to interview the survivors of the Irish Civil War. There was money involved as well. In those days presenters and performers were not paid the kind of money they are now. Aughinish Alumina made him an extraordinarily generous offer to do their press and public relations. He enjoyed it.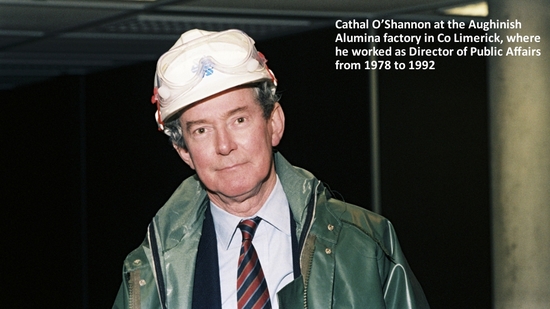 JB: Do you think he had any regrets?

PC: He seriously regretted not getting to make the documentary on the Irish Civil War. The programme he made - 'Emmet Dalton Remembers' – where he spoke to Emmet Dalton, who was with Michael Collins when he died, was of exceptional value historically. He wanted to interview all those who were still alive who'd been involved in the Irish Civil War. Only a few years later and they were dead and that opportunity was lost forever.

JB: What do you miss most about him?

PC: I miss the stories, his presence. I miss a lot. He was the greatest fun. To spend an afternoon with Cathal drinking nice claret and eating oysters was the greatest way to spend the day. He was a Renaissance man, a great adventurer. One of those exceptional people you meet in life.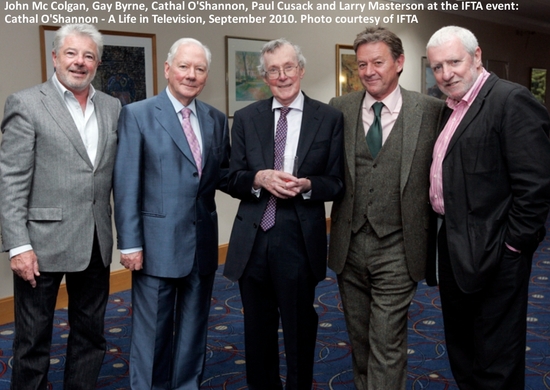 Watch footage from Cathal O'Shannon's public interview with Gay Byrne at the IFTA presentation in his honour.

As part of TV50, 'Lifestyle: Living Like Lords', presented by Cathal O'Shannon, is being shown on RTÉ One on Friday 26 October at 8.30pm. See TV50 Programmes for details.