The Grace-ful art of bollixology
Comedian Brendan Grace has been entertaining audiences for decades, with his cast of well-loved characters, especially the eternal schoolboy Bottler, with his catchphrase "Youse are all looking at me." Among the variety shows he hosted on RTÉ down the years was 'The Brendan Grace Show', an episode of which has just been released as a TV50 Classic on the RTÉ Player. A whole new generation discovered Grace after his appearance in 'Father Ted' as the drinking, smoking, trouble-making Fr Fintan Stack. He lives most of the year in Florida with his family but still regularly tours Ireland.
TV50: You're celebrating 40 years in comedy this year, what has been your proudest moment professionally?
Brendan Grace: It was on a make-shift stage out in Lebanon when I stood beneath the Irish tricolour and United Nations flags to entertain our wonderful troops on peacekeeping duties in the Middle East.
TV: When were you happiest?
BG: How about right now!
TV: What is your earliest comedy-related memory?
BG: It would have been in my pre-teens in the Liberties in Dublin listening to the wireless, along with my Mam and Dad as they laughed at a man called Din Joe [Denis Fitzgibbon], whom I came to enjoy in my own early years.
TV: When did you know you wanted to make people laugh for a living?
BG: I was about 17 and singing in a ballad group called The Gingermen and I told the odd joke and the buzz of getting a reaction of laughter from the audience made me do it more and more. It obviously had the same effect on another member of the band, my good friend and fellow comedian Paul Malone, who like myself went on to make a career in comedy.
TV: What was your highlight/favourite moment on RTÉ television?
BG: I had many; however, ironically, my highlight was anything but my favourite moment! It was the second night in the first series of 'Sunday Night at the Gaiety', which went on to become 'Sunday Night at the Olympia'. As I was about to introduce the star Ralph McTell, six banner-waving protesters made their way onto the stage shouting about the IRA. Somehow, the head cameraman and I seemed to communicate through divine intervention and, as if I knew, he had a tight close-up to my face and I stayed in the same position while the stage was cleared. That cameraman - Ray McHugh - and I have since been best buddies. He is now director of all my video productions.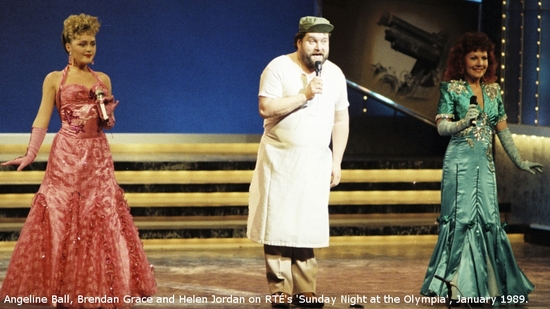 TV: What was your most embarrassing moment on stage?
BG: I had a few embarrassing moments on TV. I remember one episode of 'Sunday Night at the Olympia'; we were possibly the only variety show on television that had a full production item live to air, no room for error. And this night we were doing a tribute to Burl Ives, the legendary performer. We were in full sway with the dancers, Billie Barry kids and full company. And yours truly was in their midst when my transmission/battery pack, which was Velcroed to my underwear, became undone.
As I was wearing dungarees I couldn't get at it as it travelled down my groin and dangled precariously between my legs. Whilst I grappled with my unmentionables, in fear of losing my sound transmission, the floor manager, Don Irwin, danced out to me with a stick mike and the production was saved, but not without a few complaints from Catholic mother-of-twelve-type viewers, who weren't impressed by the physical gestures of the host!
TV: What made 'Sunday Night at the Gaiety' so popular?
BG: It had to be a combination of the quality of the performers, the great variety of the specialty acts, the choreography and the great musical arrangements. The multiple talents of producer John Williams with Mavis Ascot, the late, great Noel Kelehan, Brendan Balfe, and, I suppose, a host of high renown, whoever he was. And the fact that trainloads of people from all over Ireland could gain access to the show, along with the local Dubs, all went to make it the ultimate live TV event. And no one missed it more than myself. Thank you RTÉ for the memories.
TV: What's your stand-out memory of 'The Brendan Grace Show'?
BG: It was probably the night I was presented with the Variety Award live on air. I was about to present it to Christy Moore, who was top of the bill that night on 'SN at the Olympia' when he presented it to me. I was speechless, literally. The show closed without the usual "Goodnight everybody."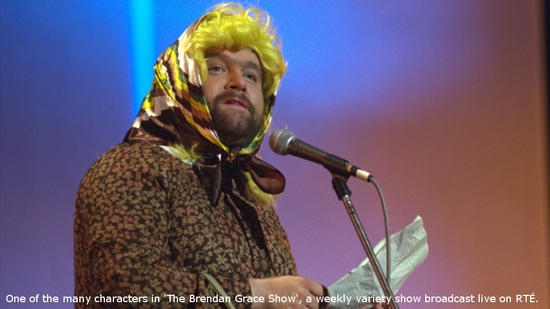 TV: Which living person do you most admire, and why?
BG: Without a doubt, Eileen Doyle (nowadays Eileen Grace). There are too many reasons to specify.
TV: Do you tire of doing Bottler?
BG: Definitely not. He is my very own creation, my baby. He is older by almost two years than my eldest, Amanda. He is actually my child born out of wedlock. Little b***ard. He is my final piece in the show every night and will always be there.
TV: What's the secret to great stand up?
BG: Every comedian has their own style. The term "stand up" doesn't sit well with me. It's a relatively nuevo/pseudo terminology for a comedy performer. Although here in the USA, where I live nowadays, I often describe myself on forms as "bollixologist" and in most cases it is accepted. Those who do enquire are happy with "I'm a fellow of bollixology". So to answer the question, the secret to my own success is my dedication to giving the people what they want. And it still works over 40 years on.
TV: What's the greatest lesson you've learned?
BG: I learned from professional entertainers whom I admired from the start of my career and subsequently became friends with - guys like the late Hal Roach, the great Dickie Rock and my long time buddy Eddie "The Duke" Sweeney – to always dress classy to show respect for your audience, hence the tuxedo for every performance.
TV: What has been your biggest disappointment?
BG: Viagra!
TV: And your biggest achievement?
BG: Fathering my four children; Amanda, Melanie, Bradley and Brendan Patrick (before the "V" word!)
TV: If you could go back in time, what would you change about your life?
BG: I was always a keen believer in those immortal words from that movie star legend Doris Day - Que sera, sera. Whatever will be, will be. It was, and that's fine with me!
TV: Who would your dream dinner guests be?
BG: Perhaps Snow White and just six of the dwarves! I'd be Happy with that bunch. Although Bill and Hilary Clinton, along with Michael O'Leary, Twink, Maeve Binchy AND, my "weather in the leather" thrill, Jean Byrne. Come to think of it, AHH to hell with the rest of them! A quiet dinner for two, me and Jean. WOWWWWWW!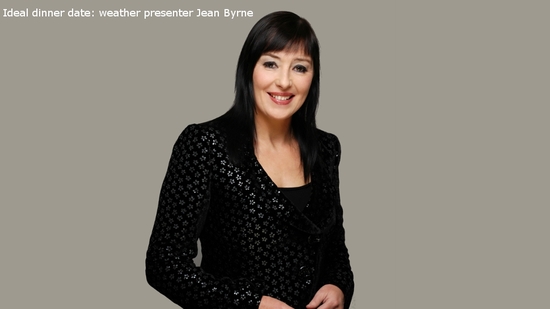 TV: What is your greatest fear?

BG: Nowadays it's the possibility of being asked to share a microlite three seater with Derek Davis and George Hook, to fly over Croke Park on All-Ireland football final Sunday.

TV: What makes you unhappy?

BG: Irish pies and sandwiches and most food products that have filling. I will say that more than 75% of these products are a complete rip-off and what kills me is that not enough of us complain. We accept the half-filled apple pie or chicken pie or the unbuttered sandwich with the see through plastic ham, and pay top dollar for it.

TV: What would people be surprised to learn about you?

BG: I am giving this question to Eileen to answer!

"My big hairy husband is chef in his spare time. He can prepare lovely meals, make marvellous soups and is a master sandwich maker and, wait for it, a great cleaner-upper too. Provided the dishwasher is on duty. By the way the dishwasher's name is Eilo. He loves shopping in the supermarket, unlike most men. And, above all, while his devotion is to St. Anthony, he is a born-again St. Francis. We are used to it now, but he collects leftover bread in every restaurant, not just from his own meal but everyone else's too, then proceeds outside to feed the birds. He reckons he was a robin in another life."

I think what Eilo is trying to say is: "He's not the full shillin'."

TV: Will you ever retire from performing?


BG: Retirement? Huh! Who said that was ever an option! I'd go mad as well as driving poor Eileen crazy into the bargain. Taking more time out is great and gives me more quality time with my family. Besides, each grandchild adds a couple of years to your working life. Right now I'm up to the year 2020. As Ronald McDonald would say: "I'm lovin' it."

TV: What do you hope your legacy will be?

BG: The word legacy suggests after-life or ceasing to be. Me no likey! My dad often used to say to me: "You're a super optimist," and I can see now how right he really was. I still frequently begin a sentence with: "If I ever die…". So, as I credit my parents on their headstone and their memorial cards: "You gave us life, laughter and love", that's just how I'd like my life to be remembered, with laughter and love, and I say to my darling grandchildren: "Reach, dream, believe."


Brendan Grace was in conversation with Jan Battles.

Watch a full episode of 'The Brendan Grace Show' taken from the archives and made available on the RTÉ Player as a TV50 Classic here.

A three-DVD boxset, 'Another Three of a Kind', which includes the famous Father of the Bride speech, is available here.