A radio man on television
Former RTÉ broadcaster Brendan Balfe has delved deep into the archives and interviewed dozens of leading players to make a 12-part radio series about Irish television's first 50 years. 'The Irish Eye' is an independent production, funded by the Broadcasting Authority of Ireland, made by Balfe's company for RTÉ. Jan Battles asked the renowned radio man for his own personal views on RTÉ television, and whether they had changed after immersing himself in its history for his radio series.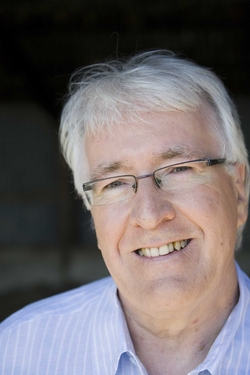 JB: How did you approach making the 'The Irish Eye'.
BB: The series is mostly chronological but there are a couple of breakaway programmes; there's a close-up on Eamonn Andrews and one on Gay Byrne and there's one on the most-loved RTÉ shows. Having done lots of archive-based series before, I have a fair clue as to what's in there. I remember the opening night anyway because I was there and I was also at the first Late Late Show. I have a mind like a dustbin. I'm not sure what I had for breakfast but I remember all that stuff.

It's meant to take a raised-eyebrow view as against being a very earnest programme. I didn't want it to be a hagiography of RTÉ. It's meant to be an objective look. The approach I took was to talk to, and talk about, the people who made the programmes, and not necessarily look at the internal politics of it. I've done about 40 new interviews with people including Eoghan Harris, Lelia Doolan, Tom Hardiman, Cathal Goan and Joe O'Donnell.

One of the episodes is called 'How is it done?'. It's the story of a TV station in one day. On the 25th of May we started at 8am until well after midnight, following the entire TV newsroom operation, including accompanying some reporters, as well as 'Fair City' and 'The Late Late Show'. We had three or four people recording everything we could get.

The last episode, 'Glued to the box', is going to be a personal view of the moments in the 50 years that had people glued to the telly – things like the Kennedy assassination, the man on the moon, 'The Fugitive', Who Shot JR? I remember the time when on Eurovision night there wasn't anybody on the streets, literally there wasn't a single person. Those days are long gone but they're worth recalling.

JB: Did you find out anything you didn't already know when making the series?

BB: Only the fact that everyone I talked to who had been there in the early days spoke about the buzz on the campus, the atmosphere, the creativity. No obstacles would get in their way, they'd try something different. That spirit, which I think has faded slightly, was tangible.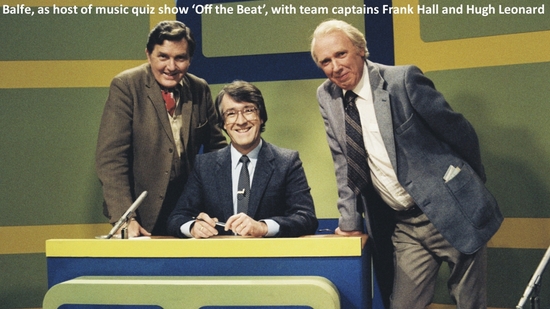 JB: What is your own personal relationship with television?

BB: I watch anything at all. I use it as a relaxant. I have to say there are very few programmes that I'd rush home to see at the moment. The current one I love is the 'Twenty Twelve' series, a comedy based on the preparations for the Olympic Games, which is on RTÉ now. It's really super.

I'm a radio man at heart but I've done a lot of work on television. I presented a programme called 'Eye-Cue', a visual quiz, which was foul, and it took me 10 years to recover from it! Then I did a few other panel games in the '70s - 'Password' and 'To Tell the Truth' - which were bought-in formats. From 1981 to 1983, Hugh Leonard, Frank Hall and I did 'Off the Beat', a music quiz which topped the ratings for a while on RTÉ 2.

A lot of my time was spent being a back-room boy, being a writer and programme associate and picking content for programmes like the 'Twink' series, 'The Tony Kenny Show' and 'Sunday Night at the Olympia'. I invented Twink's Bernie and Rose-Violet characters, wrote those, and invented the pirate DJs she did. I was script editor for the series. Bernie was based on one of the usherettes in the Olympia Theatre. She'd been a Royalette, she'd been in showbiz and so was slightly performer-y. Rose-Violet was just a dunderhead of an aunt of mine, who used to repeat everything you said.

The last major thing I did for television was 'Saturday Night Live', when they had a new guest for a night. I was there as voice over, but I was also there, I think, for insurance purposes. In case the guest presenter bolted or totally collapsed, I was there in the wings doing voiceovers, announcements and competitions.

Having trained a lot of people for radio and television (Balfe lectured at Dún Laoghaire Institute of Art, Design and Technology), I sometimes watch some people on RTÉ Television and grit my teeth and say: 'Dear Jesus, did nobody tell them not to do that?' but that's just my lecturer in media coming out in me. Things like mispronunciations, over-cooking it – not realising that microphones pick up voices and you don't have to shout. There are a lot of people who over-project. They don't realise that even though there are millions watching, they're really watching in ones and they're not part of a huge crowd. It's getting it into their heads that television, for all its hoopla, is actually quite an intimate medium. You have to work the house, the audience in front of you, but it's really a television show so you have to cool it down a bit. There is a difference between being loud and being pacey. They're just personal idiosyncrasies.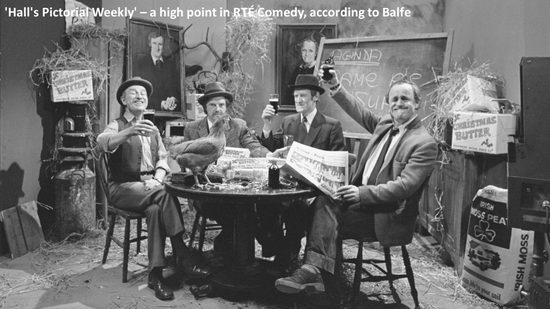 JB: What have been RTÉ's most striking successes?

BB: 'The Late Late Show' and I think, by and large, they're very good at the news. Its current affairs record, notwithstanding recent unpleasantness, is very strong.

JB: And its failures?

BB: I think comedy has been foul, with the possible exception of 'Hall's Pictorial Weekly' and that doesn't always work well taken out of its milieu.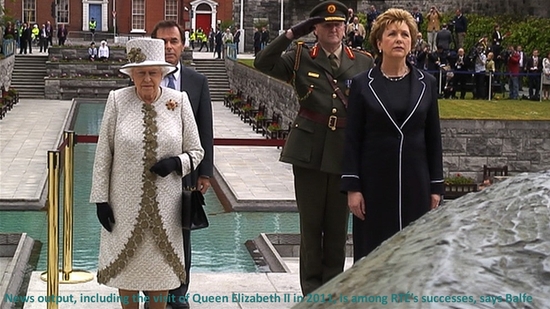 JB: What do you think of the current state of television in RTÉ?


BB: I asked Louis Lentin, who was an early producer on RTÉ, what he thought of RTÉ now and he said: 'It doesn't look any longer like a national TV service' and I'd echo that a bit. It looks like a national service when the Queen comes and when there's a match on but a lot of the time it doesn't. It's like it's not taking itself as seriously as it should be.


Tune into Episode 4 of 'The Irish Eye', on Saturday at 1.00pm on RTÉ Radio 1.

Listen back to Episode 1, Episode 2 and Episode 3 on the RTÉ Radio Player.