A 'Rite' of passage from Riverdance
From being a member of the 'Riverdance' troupe on that memorable Eurovision night in 1994, Breandán de Gallaí went on to dance the principal male lead, the role made famous by Michael Flatley, for eight years. In 2003, de Gallaí left 'Riverdance' to create his own production, returning four years later as dance director. He now auditions and trains dancers for the show, which has been seen by 22m people over the past 18 years, alongside his work as a teacher and choreographer.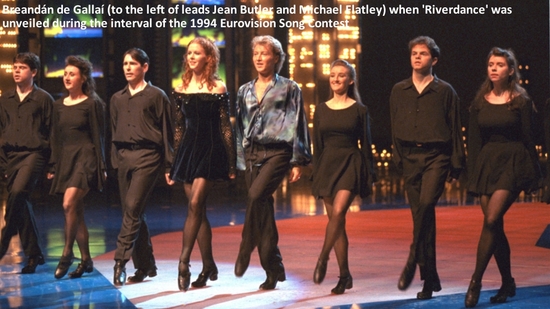 JB: How you feel looking at the photograph (above)?
BdeG: I don't see myself as particularly different, apart from the hair - what the hell is going on there?! It seems like something that didn't really happen because it is so far in the past. Obviously it should be a lot more familiar than it is yet it seems like something that I didn't take part in.
I don't think 'Riverdance' managed to make it look as good as that again. This was a very sophisticated set. There were lights underneath the stage, which is perfect for a one-off but not for something that has to be portable.
I'm immensely proud of being part of that. The dancing was very impressive but it got a lot better. It got slicker because we got better at putting the show together.
We weren't a gang of drama school kids. There were doctors, accountants, physiotherapists. I was 24 and working as a physics teacher. We kept being referred to as 'the kids'. It's a showbiz term and we made a point of saying we don't want to be called kids because we weren't.
There (pointing to photograph) it seems something very sophisticated and something that Irish people really loved. That is certainly not the case now. They have a very different view of 'Riverdance': "Is that feckin' thing still going on?" or "I wish it would go away, it represents Ireland in a Paddywhackery way". That wasn't the case 18 years ago.
'Riverdance' went to South America this summer for the first time ever. They're looking at the Indian and South American market. The model has changed in that it's smaller now. There were 120 when I was on the road with the Liffey company (one of three 'Riverdance' troupes touring simultaneously in the '90s). There are probably about 60 now. What happened in Dublin in '95 is very different to what tours now.
All these people (in the photo) have moved on in massive ways. I met Jean Butler quite recently because she is profiling my work as a choreographer in a course she's teaching in NYU and I'm teaching the PhD in Arts Practice in University of Limerick where Jean did her MA in contemporary dance.
I give lectures on the 'Riverdance' phenomenon. Everybody wants to analyse why it was such a big success. It's interesting because one person might say it was definitely Michael Flatley or someone else would say it was Bill Whelan's music. My take is it was how all these very special elements merged. It wasn't just one thing. Bill Whelan has written some fantastic music that did not win Grammys for him and did not sell hundreds of thousands of records. A lot of it has to do with tipping points, a lot of elements, and a lot of luck. This is the only big global success [from Eurovision] since '94. Before that you have ABBA and Celine Dion.

Michael Flatley and Jean Butler disappeared very quickly [from the show]. People get mixed up and you hear things like "I saw Michael Flatley in 'Riverdance' in Chicago" and I'd be like "Michael Flatley never danced 'Riverdance' in Chicago." They'd say "Are you telling me that I don't know what I saw?" and I'd say "Are you sure you didn't see another show called 'Lord of the Dance' because I know he danced the (first run of) four or five weeks in Dublin, the four weeks in London and the four weeks back in Dublin, all in '95 and then there was a big row." I thought it was interesting that people would buy a ticket for something and not know what they were seeing.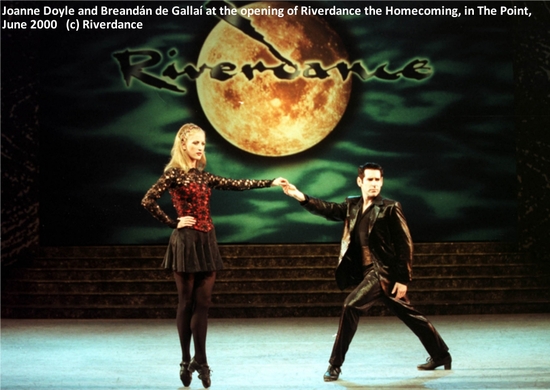 JB: At what stage did you become principal dancer?
BdeG: I went on in the lead role when Flatley left but so did others. We had a rotating lead for a while. Then they went with Jean Butler dancing with Colin Dunne. Very soon after that they decided they would have two shows, one that would tour North America (Lee company) and the other that would do the rest of the world (Liffey company). Both were made up from the original company split in half in '96.
JB: Did 'Riverdance' make you comfortable in life?

BdeG: Yes. The money was certainly nowhere near what Michael Flatley was on but it was a lot more than I would have been on as a teacher. Because you were on tour you had a lot of things paid for, like your accommodation. I invested in properties a long time ago, when there still was a property market. I'm still paying mortgages though.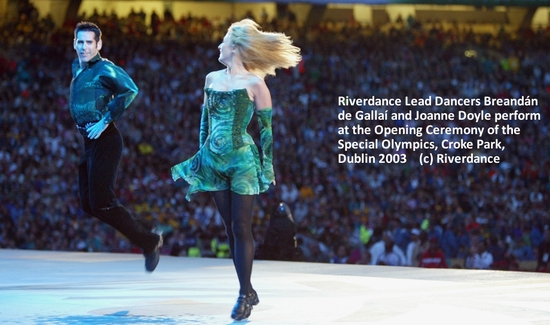 JB: What was the wear and tear on you and the other dancers like?
BdeG: The same as any athlete or any dancer in any other genre. I finished 'Riverdance' in 2003. My last gig was the opening ceremony of the Special Olympics. That was an amazing event to do. I knew our day was up because they were closing the Liffey and they were changing the structure again. They were going to open another company, the Avoca, but they would have a rotating lead and the money was less.
I left before that happened. I was 34 so I was definitely ready to go. 'Riverdance' is very demanding as a lead role. You're doing it every night and then you're travelling a lot so your mind becomes 'my day is about making sure I can deliver the goods every night' – maintaining your body, keeping fit, not being overtired, so you feel you shouldn't do too much. When I got into my thirties, the boredom set in. I wanted my day to be about more than just the show.
I made the decision to leave with a colleague who was in the band. He was writing the music and I was creating a new production. We had worked a lot on the road on the idea. We talked about trying to do more theatrical things with Irish dance. So we left to pursue that project, which was called 'Balor'. It never happened. We had backers. [When] the Madrid bombings happened the bottom fell out of the fund. We were quite advanced in [development]. We'd booked The Point, we'd booked the Irish Film Orchestra to record the music so it was a huge personal burden for the three of us involved.
We were trying to do a very contemporary take on the myth of Balor, which has Macbeth overtones. Joe Csibi (former musical director of 'Riverdance') wrote the music. 'Riverdance' is about spectacle. To me as a dancer and somebody who has studied contemporary dance and ballet, I was also interested in the expression possibilities of Irish dance.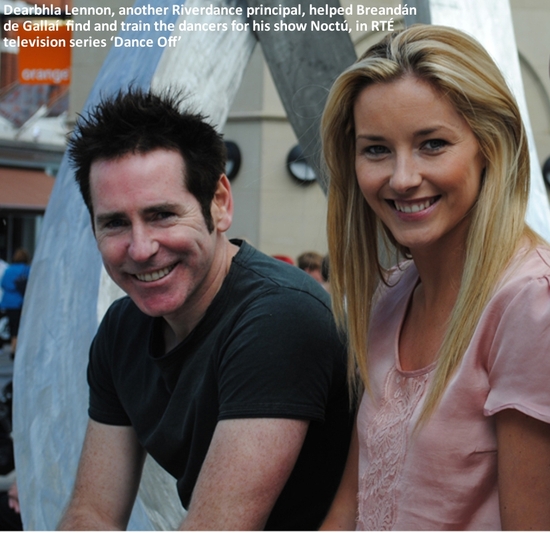 JB: After Balor did you choreograph anything else?
BdeG: I've done two productions. I wrote, choreographed and directed Noctú (which means to bare or expose all). It's Irish dance but in a very contemporary way, to music like Imelda May, Leonard Cohen, Bjork and Stravinsky's 'Firebird'. It was part of an RTÉ programme called 'Dance Off'. That was me making Noctú. There was a six-part series, like a fly-on-the-wall documentary for the Irish Language department.

We were invited to perform it in New York for a seven-week residency in The Irish Repertory Theatre in September last year. It was nominated for two Drama Desk Awards (Outstanding Choreography, Unique Theatrical Experience).The Tonys are for Broadway and the Drama Desks include Broadway and off Broadway, which we were.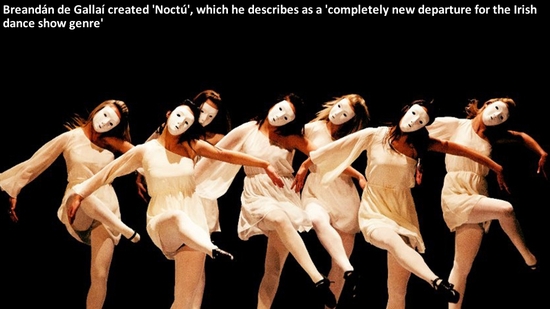 Then I used a full Stravinsky piece in 'The Rite of Spring'. I'm so addicted to Stravinsky. 'The Rite of Spring' happened this August, for the opening of the Fringe Fleadh (in Cavan). It was an outdoor event with about 13,000 people at it.
JB: How did you end up in the University of Limerick?
BdeG: I was asked to be external examiner for a masters down there in 2004. The first time I did it was for a Japanese guy. He had told his parents he was in Ireland learning English but he had actually enrolled in this MA in Irish dance performance.
Irish dance has gone huge globally. For the last ten years there have been schools in Budapest. There's a guy based in Munich who teaches in Moscow and St. Petersburg… I was in Moscow recently and the standard is significant.
I did an MA (in Limerick) in Ethnochoreology, which is the study of dance in its cultural context; you could call it dance anthropology.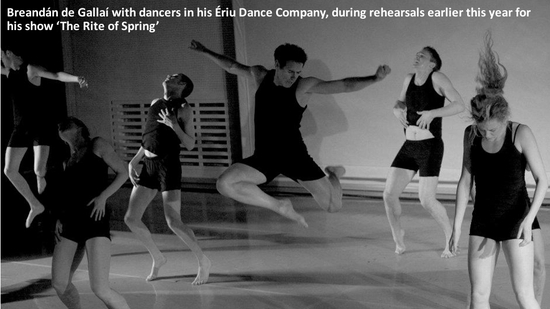 JB: What's next for you?
BdeG: I'm going to spend the next three months teaching the PhD in Arts Practice programme…but I'm also pushing the projects I've just done – 'Noctú' and 'The Rite of Spring'.
JB: Where would you be now if that night in '94 hadn't happened?

BdeG: It's hard to know. I was working as a Physics teacher in a Gaelscoil in Tallaght at the time. I did like it. I was also doing bits and pieces for television because TG4 was just starting. I liked the idea of doing telly and I've done quite a bit since I came back – I did a four-part series for RTÉ with Síle Seoige. So I might have done something like that but I think dancing would have been central in some way.

When 'Balor' didn't work out I considered drawing a line under the whole dancing lark because I was quite deflated. I was doing very little for three years and just going out and enjoying myself. There was that feeling of 'who am I and what do I do now?'. The whole dancing thing had disappeared, I definitely didn't want to be a physics teacher and that's my qualification. Besides when I was doing physics they didn't even have [Microsoft] Windows - you'd turn on the computer and you'd get a C: prompt. So things had moved on quite a bit!
I found myself really gravitating back to dance and that's why I went to the University of Limerick, to engage with it from an academic point of view.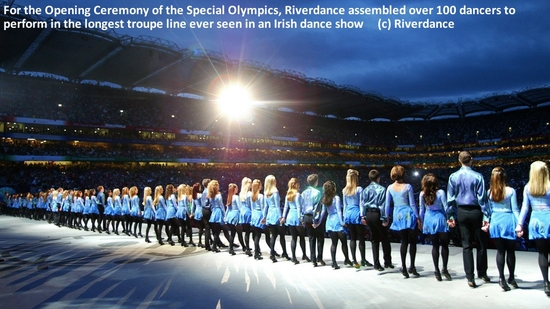 JB: What is your stand-out 'Riverdance'-related memory?

BdeG: When myself and Joanne did our first official lead role together as the leads of the Liffey company. I remember being terribly emotional at the end of it. You turn and you kiss the lead and take a bow and we embraced each other. We had danced the lead lots, as understudies, but there was something special about it.

The Special Olympics was huge. It was just the vastness of it. Even though they played the track of the music, the orchestra played with it. That power of dancing to an orchestra with maybe 80 instrumentalists; that was amazing. It was an outdoor gig and it had rained that day. I could have landed on my ass. It was a huge problem because Irish dancing shoes are death traps at the best of times, never mind on a wet floor. And there were 80,000 people there and it was filmed for broadcast. When people ask 'can I see you dancing?' that's the one that I show them because I'm very proud of it.

Watch the 1994 Eurovision Song Contest from The Point, featuring Riverdance on TV50 Classics on the RTÉ Player