Woman at the top
Angela Collins O'Mahony, 69, was Ireland's first female steeplejack, enjoying a 32-year career in the business until she gave it up in 1992. Originally a secretary in a steeplejack company, she first began climbing when she tired of waiting for the men to come down to collect the materials she'd been sent to deliver to them. After her boss died, the farmer's daughter from a poor background decided to set up her own company. Though she was managing director, she still scaled 300-foot high church spires to replace blown-off crosses and climbed 800-foots smokestacks, secured only by a rope.
Collins Steeplejacks went from employing two to a staff of 62 at its peak in 1992, winning Collins O'Mahony the first Veuve Clicquot Business Woman of the Year Award in 1980 and the Bowmaker Award for Irish Industry in 1986. An honorary doctorate was bestowed by HETAC in 1992. Collins O'Mahony is currently writing her autobiography and patenting new business ideas. Her daughter Susan and son John now run the company, based in Ardnacrusha, Co. Clare. She was interviewed by Michael Ryan for the RTÉ programme 'Enterprise' in 1971.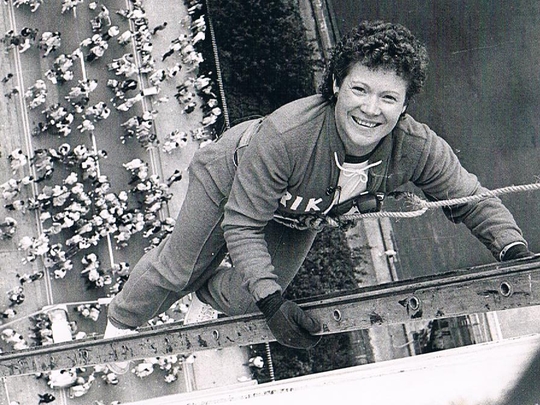 "The heights never bothered me but when a microphone and camera comes near me I'm terrified. I remember Michael coming up on the crane. I think even his own comrades didn't believe that. He wasn't scared. I couldn't believe it. Even our steeplejacks were a bit amazed when he said he was going up to do the interview at the top of the chimney. He sat into the little chair and let us pull him up.


"My son had just been born. It was hard going. I used to have to leave them with people and go out on the road and stay with the lads, but you can't get it all right. I climbed 'til I was seven months pregnant.


"It was a male-dominated world. Women, thank God, now they're at everything but that time I just got publicity because it was a novel idea.


"Steeplejacks climb up the sheer side of a building and there's no scaffolding which saves a lot of money. They can access things through a chair line, they can hang off a rope, where the average builder will have to put up scaffolding and that's very expensive. We painted churches and installed lightening conductors on tall buildings. We got a very big contract one time putting up a 300-foot tower in Inch, Co. Cork and I couldn't believe this company took on a company headed by a woman. So there was no discrimination, that's for sure.


"One time I dressed as a man to do a demonstration for a nun. My husband was the workman that did the talking but when we were blasting he needed a man to fill the pot. The nun wanted to talk to me so I made a sign that I didn't speak. We just had to do that. I felt the nun wouldn't think much of me if I was filling sand and was managing director of the company as well. But for the sake of bringing a man up to Sligo, John and myself went to do the demonstration, rather than waste a day for to pay a man when he could be doing something else.


"I was in France another time and I was pregnant on my third daughter. Again 'twas only a couple of hours work and we said we'd go and do it. John had to tie me onto the rails because you'd be blown away on this site it was so windy because it was 10,000ft above sea level. So I'd do anything really that was decent, to make a living.


"My husband would have been a real chauvinist when we started out. He was like King Henry VIII – a woman's place was beside the sink. In my mother's time, my father would order my mother out to move a pot for feeding the hens out of his way. Women were for man's use and benefit and you were to love, honour and obey.


"I'd got my hunk of a man and I was so pleased I'd leave out his shirt and shoes with his socks left on top. When he'd want a new suit I'd bring three out for him and he'd try them on at his convenience and send me back with the others. I was very dominated by my husband despite the fact that I was very progressive. Keeping the home was what marriage was. You toed the line. Of course, he loved it. It's only looking back we talk about it now. I mean, I never asked him to hold a child and he never did. He said: 'That's woman's work.'


"He worked in the office with me and if needed would go out on site. If there was plenty of work I'd charge myself out as a man and then I'd come back in and catch up on the office work. Then at night time I'd have the books with me. I remember when I was having my children he'd bring in the mail and the secretary and we'd deal with it inside in the hospital. There was nothing neglected.


"I must say I had a lot of help in the house to rear my children. You couldn't possibly do it all. I would take over when the housekeeper finished when I went home. I was very happy with the set up. I don't think I would actually be able to just be an ordinary mother all of the time. I'd have to be doing some kind of manual work as well as minding them.


"I was very happy to be working in Ireland as a steeplejack and being successful. Then one day I got a call that changed our whole lives forever. It was from an American company, based in Boston. They wanted to install a radom (a radar dome that looks like a large golf ball and protects radar equipment from the environment) at Woodcock Hill in Shannon. The guy came over from America and we made friends and we just did it so well that he said: 'I'll hire you from now on, to go to Greece and Bulgaria and Romania'.


"He said he'd love me to meet his boss in the States. So we went over. I said: 'Would you ever think of making your product for Europe in Ireland?' He came over and came to see my farm. I told him we'd give him the site and if he built the factory in Ireland he'd get capital grants and AnCO, as it was at that time, would train the people for him. The factory was built and opened in 1976. ESSCO Collins Ltd. That's there to the present day. I sold my share and it's now L-3 Communications ESSCO Collins Ltd.


"I was 30 years working as a steeplejack and then I got sick. I had all sorts of health problems. I had 98 stitches in my face in a car crash but I never fell. We had opened a golf course in Clonlara [Co. Clare] in 1986 and it was a big move, totally different to what I was used to in the steeplejack business. It was too big for me and I couldn't really control it so I sold it. I gave up [the steeplejack business] in 1992 and my son became managing director. My daughter is now climbing, so she's keeping it on.


"There's not as much [call] for steeplejacks now as there used to be because it was all spires and tall chimneys like Irish Dunlop and Ranks [Flourmills] in Limerick. They don't build them anymore, it's taking them down we are because of the pollution. They're not putting up spires anymore either so we've had to come down and look for work on the ground.


"Replacing roofs of hospitals, factories, churches and convents would be a big thing for us now. We have carpenters, electricians, plasterers, plumbers, everything within the company so we can take a job from beginning to end.


"I have [my husband] truly converted now. On the day my last daughter finished her Leaving Cert in 2002, I said: 'That's it now. I don't have to cook the dinner and I don't have to keep everything perfect.' Once the children are gone that's your duty.


"I said: 'Rather than do without it you can order in stuff, or go out'. I wanted to lose a stone and I didn't want to spend my days cooking. I told him I wanted to go and do the ECDL course, I wanted to learn all about computers and databases.


"He started to learn how to cook from watching programmes and reading the back of the packet and now he's very into cooking. And he'll hoover and when I put the clothes in the washing machine, he'll hang them out now!"


Angela Collins O'Mahony was in conversation with Jan Battles.


Watch Angela's interview with Michael Ryan from 'Enterprise' in 1971 on our Clip of the Week page.