When Amanda Met Paul
In 1982, 'Youngline' filmed eighteen-year-olds Amanda Foran and her date Paul O'Sullivan at a debs ball in the Shelbourne Hotel. Last week, TV50 brought them back to the hotel for the first time in the 30 years since. The couple, now married with a daughter, reminisced with Jan Battles for TV50. Photos by John Cooney.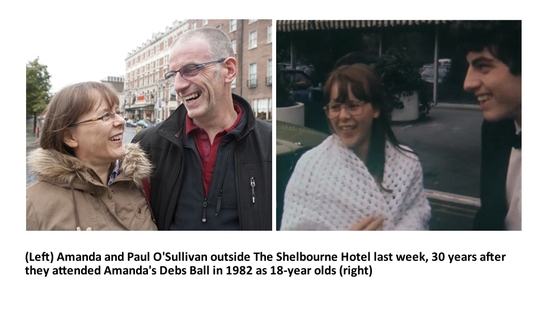 TV50: Were you going out at the time of the ball?

Amanda & Paul (together): We were.

Amanda: At that point it was probably about two years.

TV50: Whose debs was it?

Amanda: It was my debs. I was repeating my Leaving Cert back in school. In those days you could go back to your old school (The Holy Faith, Glasnevin) to repeat your Leaving Cert.

TV50: How did you know each other?

Amanda: We met through friends. He lived in Ratoath and I lived in Ashbourne, about seven miles away from each other (in Co. Meath).

Paul: I used to cycle over to her five times a week. That was the only way you could get around. We didn't have buses and my parents weren't that interested in bringing me over and back five times a week, so I cycled.

Amanda: We went to teenage discos in Ashbourne village.

Paul: The odd time we would have hopped on a bus and gone to the cinema in town but it would have been an early evening showing because we had to get the bus home.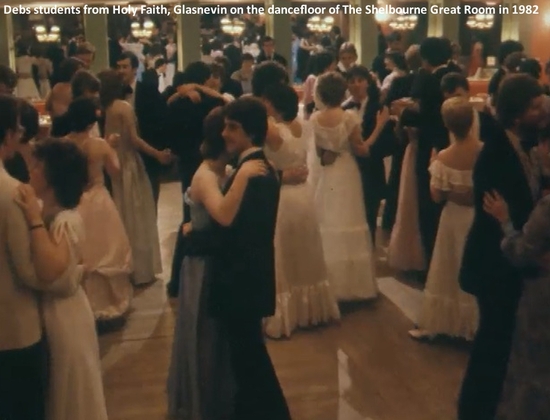 TV50: What are your memories of the night here in the Shelbourne?

Paul: By the time we got here we were very tired because it had been a long day filming (for 'Youngline').

Amanda: We had to come in [to Dublin] to be filmed getting ready.

Paul: We were back out in Ashbourne by about tea time and at that stage we were tired because of all the re-takes. We were still very excited about going to the debs but we were tired. Coming in here, it was really exciting because it was the Shelbourne.

Amanda: It was different to yours because your parents had been at yours.

Paul: Yeah, at that time the Belvedere debs was always combined with the past pupils dinner so you had parents there. There were no parents here so it was exciting.

Amanda: For me it was also exciting meeting up with my old class.

Paul: We had our meal. We were with friends; we just had a good laugh and great fun.

Amanda: There was no alcohol involved at that point, unlike now. I didn't drink, at all.

Paul: I probably had one or two beers and had nothing over in the Olympic Ballroom (where the school decamped afterwards).

Amanda: There were only soft drinks over in the Olympic.

Paul: Now when you see people going out for a debs – even our daughter's – there are drinks taken before they even leave the house. It was completely different. It was good, clean fun.

Amanda: We would have had the nuns here; our head nun would have been at it. It was a big year; there were about 250 of us, there were nine classes. It was a huge school at the time. It was a massive debs. She would have known everyone by name so you would have been on good behaviour knowing that. It would have been a well-behaved affair.

Paul: We would have been very excited too because we knew we were going to be up all night. We'd never stayed up all night before. By six o'clock in the morning we were regretting it because we were so tired but there was huge excitement about that.

Amanda: The [Olympic] Ballroom was organised (in advance). Two or three other schools went to that. And then it was just tradition that you went to The Coffee Dock (at Jury's Hotel in Ballsbridge) for breakfast the following morning and then home on the bus.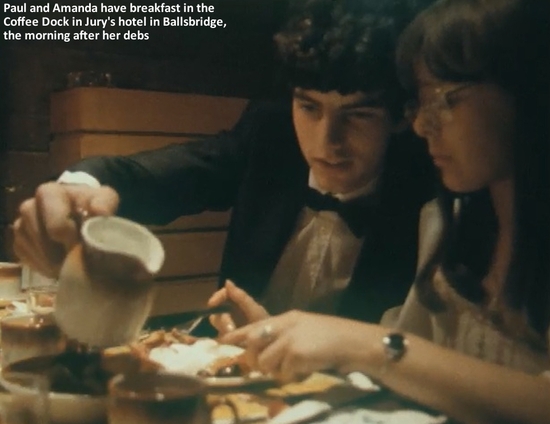 TV50: How come most of the girls in the clip are wearing white dresses?

Amanda: That was just the style at the time. Everyone wore white.

Paul: And everyone hired a black suit. Now, a friend of ours' son had his debs a few weeks ago and he went out and bought a grey suit.

Amanda: My mum would have made my dress. That dress would have been worn to Paul's debs but the ribbon was changed. The colour was changed from pink to lilac. The shawl was hand-knitted by my mum too.

TV50: Did you arrive in a limo?

Amanda: Limos didn't exist! One of our parents dropped us off.

Paul: We have a daughter, Aoife, who's 21. More friends would have arrived to the house to see her off [before her debs] than we would have had. That seems to have got bigger. There were drinks beforehand. Her dress was bought.

Amanda: There was no such thing as fake tan, you didn't go to the hairdressers.

Paul: (After the dance finished) we walked across to the Olympic Ballroom. It was freezing cold and we weren't sure whether we were headed in the right direction or not. I think we got a little lost.

Amanda: The clocks changed that night. We gained an hour. The big question was when would the [Olympic] Ballroom open.

Paul: And what time would breakfast start!

TV50: Can you remember any of the music that was played?

Amanda: There would have been slow sets, which you don't get now. There definitely were slow sets.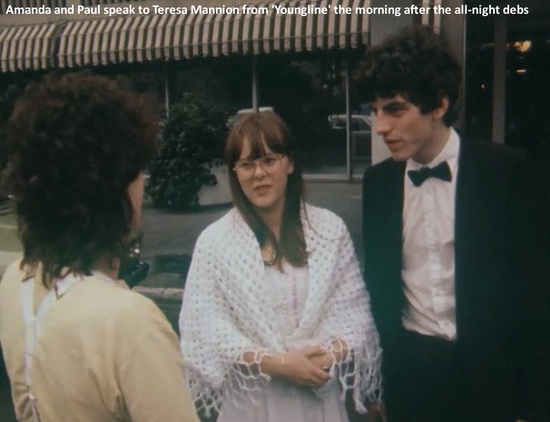 TV50: What happened to you both after that night?

Amanda: You were working at that point and I went to college the following year.

Paul: I was working as a store man in a wholesalers in Ashtown, off the Navan Road (in Dublin).

Amanda: I went to Trinity to do physiotherapy, which was a four-year course.

Paul: And then I ended up in Limerick as a salesman.

TV50: Did you split up then when you were living in different cities?

Paul: No, no, we had the telephone and I used to come home as many weekends as I could.

Amanda: I qualified in 1987 and there were very few jobs in the hospitals in 1987 so I ended up going to work in London for four years.

Paul: Somewhere in the middle of that we got engaged.

Amanda: It was just before my 25th birthday.

Paul: Remember the old payphones with the A and B buttons? – I was putting ten 50 pence pieces in every night phoning her in London. You were lonely in London as well. Every night at a certain time I used to walk to the phone box and sometimes it was vandalised and I'd have to go and find another phone box. We decided after a few months that if we were serious about our relationship that it wouldn't operate in two separate countries.

Amanda: So you moved over to London.

Paul: I handed my notice in and I moved. It was October '87 when I moved to London.

Amanda: To live with a group of lads that you'd shared a house with in Limerick.

Paul: You were living in a house . . .

Amanda: I was living in accommodation provided by the hospital – Whipps Cross Hospital in Leytonstone. It's in East London on the border with Essex. He lived in Wembley in north London.

Paul: It was an hour and 30 minutes by tube. I used to get over to you once during the week and then at weekends. Phone calls were cheap.

Amanda: We were there for four years. We got married (back home) while we lived there.

Paul: In 1989. It was quite clever. We didn't realise it at the time but our mothers ended up organising most of our wedding because we were living over there. We came home, what, the week before?

Amanda: The Tuesday before the wedding. It was all done.

Paul: There were a few stressful phone calls but in fairness both mothers were great.

Amanda: My mother was making my wedding dress and everything.

Paul: We were well-looked after.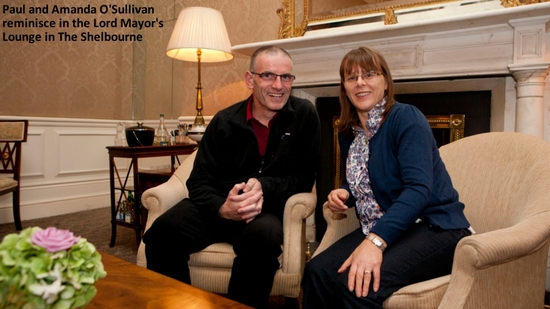 TV50: What were you working at over in London?

Paul: I was a salesman, working with the company I'm still with, Hilti. They sell tools and fastenings for the construction industry.

Amanda: We stayed over there until Aoife was born in 1991. Paul was very lonely. I loved London but he didn't like it and we decided we didn't want to bring Aoife up in London. When she was three months old Paul got a job with Hilti back in Ireland, based in Limerick again, so we moved to Limerick for two and a half years.

Paul: You didn't really like Limerick.

Amanda: I didn't like Limerick.

Paul: I loved it. It's a city but it's like a big village. I loved Limerick so much that I still travel around supporting a Limerick rugby club – Garryowen.

TV50: So when did you end up where you are now?

Amanda: We moved to Lucan in '94. I work for an organisation called Enable Ireland, which provides services for children with physical difficulties.

TV50: Your relationship has survived living in different cities and different countries. What do you put its success down to, given you're still together here 30 years later?

Amanda: Friendship.

Paul: Yeah.

Amanda: Friendship is the basis of it.

Paul: Friendship and compromise. You upped and left when you lived in London. I upped and left when I lived in Limerick. Friendship and an attempt at understanding the other person. Obviously there's love in the middle of that as well.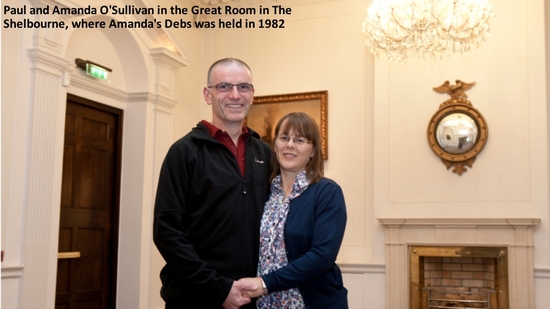 TV50: When you look at yourselves in that archive clip do you feel that you were different people then?

Paul: We're definitely different. We've both changed since we started going out at 16/17 years of age. Without a doubt.

Amanda: We've grown up.

Paul: Bits have changed but we're still friends, we still love each other. We enjoy each other's company. I'll have to remember you said I've grown up because I keep getting told to grow up!

TV50: Did you know on that night that it would be forever?

Amanda: No. You would say you would have known but I don't think I would have.

Paul: I always thought, hoped . . . I wanted to marry Amanda within months of going out with her. And I've always hoped, without sounding too soppy, to finish my life with you as my friend and the person I love.

Amanda: That's what we're working towards.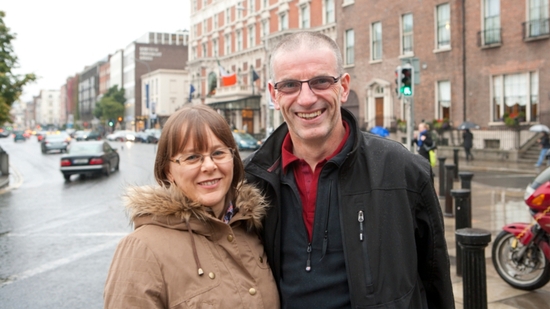 Watch Amanda and Paul as teenagers at her debs in 1982 on our Clip of the Week page.