Written Off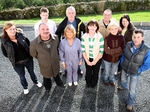 Written Off follows the journey of eight people from very different backgrounds as they take the first steps in addressing the various personal challenges they face with literacy skills.
All eight embark on a six weekend course at Moyvalley Hotel, Co. Kildare, where they mix class work with personal development challenges.
The weekend courses allow the participants to apply their new found skills in a variety of different contexts and develop their sense of confidence.