What in the World?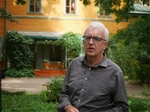 This year's series looks at opposition to the construction of a naval base in Jeju Island of South Korea; disability and development in Togo; the chaos that followed South Sudan's liberation in 2011 and, in episode one, asks what life is really like in today's Russia.
Episodes
Episode One: The Emperor's New Clothes - Russia
For most Europeans following the ending of the Second World War, the former Soviet Union loomed large as a nefarious presence on the international political landscape. . Then in 1991, the facade cracked and spectacularly it all came crashing down.
So what is life like for Russians today? For its old age pensioners? For the generation who lost everything in the abrupt embrace of a most virulent and rapacious form of capitalism? What is life like for the peasantry and in what way are their lives any different not just from Soviet but Tsarist times? And the young: can they be more confident of a future better than that of their parents and grandparents?
This is a film that will put Russia back on the map. It will give Irish audiences a real sense of what life is now like in what was once a world superpower.
Episode Two: Jeju's Aching Heart - Jeju Island, South Korea
Set against the seething anger of local residents in what is now a divided community, in January 2011, the electronics company Samsung on behalf of the South Korean government began construction of a $970 million naval facility on Jeju Island that is scheduled to open in 2015. The facility will host three new Aegis destroyers that cost $1 billion each and twenty warships including submarines.
The film will feature these protests as well as highlighting the spectacular beauty of the island. In highlighting the struggle of the people of Jeju in their opposition to the naval base, the film will draw attention to the continuing arms race, which finds new ways of funding itself and in the process feeds new insecurities. The arms race? It hasn't gone away.
Episode Three: Still Birth - South Sudan's still birth
On 9 July 2011, South Sudan was born on a wave of hope and promise. The liberation of South Sudan from years of oppression and genocide was greeted by throngs of cheering, dancing, singing people as cars tooted horns, churches rang bells, fireworks lit up the night sky and a new clock tower announced: "Free at last." The newest country in the world came into existence but its birth was stilled in violence and corruption that has not brought any reprieve to the people of South Sudan.
The film will chronicle South Sudan's rapid descent into chaos and will attempt to understand how and why this happened. It will report on the legacy issues of the genocide in Djharfur and it will also examine the role that international players, particularly China and the United States, played in the creation of the world's newest state and whether it is possible in the short-term for the distressed people of South Sudan to experience some alleviation of the nightmare that has gripped their country.
Episode Four: Body Talk in Togo
More than one billion people - an estimated 15% of the world's population - live with some form of disability, of whom nearly 200 million experience considerable difficulties in functioning. A staggering 106 million children are estimated to have moderate and severe disabilities.
People with disabilities in poorer countries are often amongst the most forgotten, very often hidden away, perceived as a curse on the family, as a social embarrassment and a cultural / religious defilement. Shot in Togo in West Africa, this film will contribute to the visibility of hitherto mostly hidden and abandoned peoples.