Watch Your Language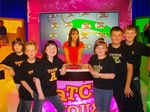 It's fast, it's furious, it's challenging, it's tense. It's Watch Your Language and it's back. The rapid-fire quiz show, is back for its fifth series with new quizmaster Shonagh Lyons, Watch Your Language is all about word play, speed and teamwork.
Two teams of three players, aged between ten and twelve, go head-to-head to see who is best at word play and teamwork. There are two new rounds, 'Pick and Mix' and 'What's the Story?' along with old familiars 'Alphabet Sleuth', 'Catch My Drift', 'The Really Square Round' and 'Front to Back'.
This year the teams come from all parts of the country and bring with them an audience of their supporters who are on hand to help their teams out and shout their encouragement.
You won't want to miss it!!!