Katherine Lynch's Wagon's Den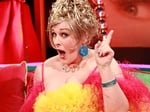 Katherine Lynch's hit comedy Showbiz News Show WAGON'S DEN returns to RTE Two on Thursday January 11th with its usual thunderous cacophony of female wit and opinion on all the celebrity news issues of the week. From movie releases to fashion news, from celebrity news stories to showbiz gossip, the WAGON'S DEN crew skewer the dead meat and baste it in a satisfyingly bitchy marinade of coruscating wit and savvy outrage. It's the 'Anti-Panel' with a nod to Loose Women, and features a line-out of well known and new Irish comic & pundit talent.
Amongst those appearing alongside Katherine Lynch's anchor SHEILA CHIC character are wingman BRIAN DOWLING plus model Sarah Morrisey, 'Gossip Girl' Siobhan O'Connor, Anthea Turner, 'Doctor' Gillian McKeith, Toyah Willcox and Model-turned-Super Injunction Poster Girl Natasha Giggs. In the hunky 'Token Blokey' Corner we've got man-candy to suit every palate.from Jordan's Brazilian Ex Leandro Penna to Thug-hunter Donal McIntyre and 6 ft 6" Rugby Star Gareth Thomas.
Episodes
EPISODE 1 - Thursday January 10th 2013
CELEBRITY JUNGLE SCAREDY CAT HELEN FLANAGAN REVEALS HOW TROPICAL INFECTION ALMOST PUT PAID TO HER FHM SHOOT
She arrived three hours late for studio having missed her flight from Manchester to Dublin, but when ex Corrie actress Helen Flanagan finally joined Katherine Lynch and Brian Dowling on RTE TWO's WAGONS DEN sofa she wasn't short on outrageous anecdote.
Discussing how hungry and uncomfortable she was on I'm A Celebrity, Helen revealed how she had to hide an embarrassing 'Jungle Disease' from ITV viewers. Helen developed a nipple infection from the damp jungle heat, which received emergency treatment from ITV's on-set medic; Dr. Bob.
Helen tells how she worried that she'd be left with permanently scarred breasts, and that the mystery 'Jungle Infection' (which remains undiagnosed) would never go away.
But her revealing cover girl shoot in this month's FHM Magazine is proof of a happy ending and Helen is now happily 'Jungle Disease Free'.

Catch Helen's interview on WAGONS DEN RTE TWO alongside Big Brother Josie Gibson's incredible 7 Stone Weight-Loss Journey plus Geordie Shore's Jay Gardner, Newlywed Vogue 'Mc Fadden and Ann Grimes the 'Ah Here - Leave It Out' Woman.
Thurs Jan 10th at 10.30pm

RTÉ Two, Thursday, 10.30pm