TV50: Ear to the Ground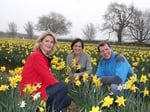 This special edition of Ear to the Ground marks a half century of farming on Irish television.
Helen Carroll visits Glenroe Open Farm in Co. Wicklow, and chats to The Riordans star Biddy White Lennon about the impact of the farming drama on Irish rural life. From contraception and divorce to silage covers and teat dipping, controversy was never far away in Leestown. Broadcaster and journalist Mairead Lavery discusses how the role of women on Irish farms has changed, and Mary McEvoy recalls working with the late Mick Lally and Joe Lynch on Glenroe.
Darragh McCullough rewinds the tape for such groundbreaking programmes as Michael Dillon's Mart and Market and Justin Keating's Teilifis Feirme, the late Joe Murray recalls the Farmers Rights Campaign in the sixties, while broadcaster Larry Sheedy reflects on the immense changes that Europe brought to Irish agriculture.
Meanwhile, as Ear to the Ground enters its 20th season, long time presenter and MEP Mairead McGuinness remembers her time on the programme, including the Foot and Mouth crisis of 10 years ago. Current presenter Ella McSweeney reflects on how television's focus has shifted from education to entertainment over the years and farming on television is no exception.
Ear to the Ground is an Independent Pictures Production for RTÉ.