TV50: The Entertainers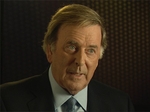 A look back at 50 years of entertainment on RTÉ through the eyes of the entertainers. For the first time on one piece of film we have gathered together the people who have made a big impact on entertainment here at RTÉ from day one right up to and including the present day for a firsthand account of television. Featured faces are: Gay Byrne, Terry Wogan, Mike Murphy, Larry Gogan, Twink, Dara O Briain, Brendan O'Carroll, Pat Kenny, PJ Gallagher and many more.
This is a candid, fun, and often emotional insight into some personal journeys and careers at RTÉ over five decades.
Sir Terry Wogan talks about burning scripts on his fellow presenters as a practical joke; Pat Kenny talks about why he tore up the Toy Show tickets; Brendan O'Carroll speaks about the origins of Mrs Brown that emerged over a casual coffee; Mike Murphy talks about throwing snowballs outside the Gresham on the first night of Irish television and he also reminiscences about the early days at RTÉ when Terry Wogan was his mentor; and Dara O Briain talks candidly about his RTÉ career.