TV50: Highlights from the TV Archives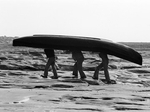 Fleadh Cheoil Thurles (1965), Sunday 21 October, 11.50pm
Remember the heady days of the 1960s ballad boom? The Formica-spangled Singing Lounges? They were but the background soundtrack to the real thing - the social and musical phenomenon that was Fleadh Cheoil na hÉireann at its woolliest and wildest in the Thurles of 1965.
Produced and Directed by Aindreas O Gallchoir and Adrian Cronin
Flights of Fancy - The World of the Pigeon Men (1985), Monday 22 October, 7.30pm
The rituals that ordain and order the pigeon-fancier's world may have changed little since 1985, but few documentaries have captured a more insightful, enchanting portrait than Margaret Gleeson's celebration of man and bird as all prepare for the day of the big race.
Bells and Blue Berets (1966), Monday 22 October,11.35pm
Veteran broadcaster John Skehan's 1966 Christmas visit to Irish UN troops in Cyprus and the Middle East is a poignant reminder of the selfless sacrifice of generations of Irish soldiers serving in the cause of peace on foreign fields. Produced and Directed by Odran Walsh
Isles Of Aran (1963) Tuesday 23 October, 11.15pm
The stark beauty of this black-and-white portrait of the Aran Islands from 1963 documents a people, a place and a way of life still largely unchanged since the beginning of the twentieth century. Mass tourism, focused employment initiatives and an airstrip were things unimaginable, all firmly in the undreamt-of future.
Directed by Louis Lentin
Country Brass - Boherbuoy Brass and Reed Band (1979), Wednesday 24 October, 7.30pm
Paying homage of the sound of a bygone era, The Boherbuoy Brass and Reed Band may have had its musical roots in the previous century, but its feet are firmly planted in the urban landscape of Limerick City. Brought to life by Kevin O'Connor's evocative script and John Williams direction.
Maam Cross (1990), Wednesday 24 October, 11/35pm
Mairéad Ní Nuadháin and the IRIS 90 team spend the day at one of Ireland's oldest horse fairs. Maam Cross in County Galway is the venue for a host of characters who are buying and selling from dawn to dusk. But trade is slow this year and not everyone goes home happy.
Chaith Mairéad Ní Nuadháin agus foireann 'IRIS 90' an lá ar an aonach capall sa Teach Dóite i gConamara. Tá an t-aonach seo ar cheann de na cinn is ársa agus is bríomhaire in Éirinn. Mar sin fhéin, snámh in aghaidh easa atá ann do na mangairí i mbliana. Níltear ag ceannach.
Reporter: Mairéad Ní Nuadháin
Produced and Directed by Mick McCarthy
Lifestyle: Living Like Lords (1971), Friday 26 October, 8.30pm
The irascible Cathal O'Shannon at his most tongue-in-cheek. The lifestyle, mores and ancestral homes of three West of Ireland Lords bring out the best in O'Shannon's stylish sense of unflappable curiosity. Produced and directed by Peter McNiff