This Note's For You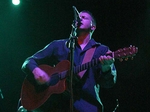 Presented by broadcaster and musician Tom Dunne, 'This Note's For You' goes behind the scenes to reveal the songwriter's experiences of writing the soundtrack to our lives, hits that came from nowhere, duds that never graced a radio wave. How every day they struggle to harness music's inherent power; how occasionally it can make them a fortune; at other times send them into a straitjacket of despair.
The songwriters reveal the tricks of the trade and how they use them, the birth of their creative careers - and finally they explore the future. Will machines take over and produce what the next generation wants to hear?
Shot in Ireland and the UK, the individually-themed episodes feature frank interviews with some of Ireland's most accomplished songwriters including Paul Brady, Phil Coulter, Damien Dempsey, Brendan Graham, Mick Hanly, Neil Hannon, Gemma Hayes, Mundy, Liam Ó Maonlaí, Fiachna Ó Braonáin, Declan O'Rourke, Pete St John and Ash's Tim Wheeler.
This programme goes behind the buzz of performance, to reveal the tough business of teaching the world to sing your song.