The Street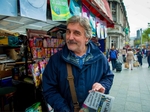 As a snapshot of Dublin circa 2014, The Street meets some of the people whose lives revolve around Ireland's best known thoroughfare - O'Connell Street. From new businesses opening up in NAMA-controlled buildings to the third and fourth generation traders working to keep their businesses alive, this one off documentary investigates just what does O'Connell Street mean to people today and how is it faring. What is The Street like for those living, working, visiting or just hanging out in our capital city?
It's the home of the GPO and the country's biggest St. Patrick's Day parade. Today couples still meet under Clery's clock. Eason's, Ann Summers, the Savoy Cinema and the Gresham hotel are all open for business too-as are street vendors from flower sellers to newspaper kiosks. Last year O'Connell Street's footfall reached 27 million.
In two years time The Street will the main stage for Ireland's Easter Rising centenary celebrations. In preparation for and at the height of the country's economic boom, great plans were set in train to revitalise The Street and make it a great European boulevard once more. But with ongoing construction work on the LUAS connector as well as reports of struggling businesses, drugs and petty crime, O'Connell Street isn't quite Ireland's Champs-Élysées-yet.
The documentary also follows Operation Spire: the Store Street Garda plan to counter drug dealing and anti-social behaviour. The Street also tracks the clean-up crews, the hard up and a little bit of the city's history.
The Street, Tuesday July 15th 21.35 on RTÉ ONE