The Kennedy's After Camelot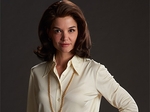 The world-renowned Kennedy family struggles to come to terms with "the end of Camelot."
A ground-breaking mini-series, The Kennedys: After Camelot is an engrossing look at those who carried the Kennedy name - and the expectations of history - following the assassinations of President John F. Kennedy and Robert F. Kennedy.
Katie Holmes stars as Jacqueline Bouvier Kennedy Onassis. Still reeling from the death of her husband, John F. ("Jack") Kennedy, the nation's 35th president and all but crushed by the assassination of her beloved brother-in-law Robert F. ("Bobby") Kennedy, her marriage to Greek billionaire Aristotle Onassis provides safety and security for her and her children. It also outrages the American people. But hers is the story of survival, and she returns to the Kennedys to become the rock of the family. She also uses her own talents to further herself in a career in ways she might never have if Jack had lived - before her untimely death at the age of 64. Her struggles with her son John F. Kennedy, Jr. lead to a shocking revelation about the very notion of Camelot which defined the age.
Matthew Perry portrays Senator Edward M. "Ted" Kennedy. Challenged to pick up the mantle of his fallen brothers, he spirals downward into the abyss of alcoholism and infidelity. Our shattering portrayal of the events at Chappaquiddick in which a young woman died when Ted drove his car off a bridge - never before dramatized on television - ends his chances of becoming President and haunts him forever. But his relationship with Jackie, stormy and emotionally-charged, becomes the salvation of his life and, in many ways, the validation of hers.
They were America's royals, blessed with great gifts and burdened with great flaws. The Kennedys: After Camelot peels back the veneer of power, fame and wealth, and shows them as they really were: all-too-human after all.
Teleplay by Stephen Kronish (writer of the Emmy-winning "The Kennedys") and Sandra Chwialkowska ("Lost Girl") based on the New York Times bestselling book "AFTER CAMELOT: A PERSONAL HISTORY OF THE KENNEDY FAMILY" by J. Randy Taraborrelli.