The Big Bang Theory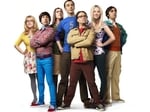 From Emmy® nominees Chuck Lorre (Two and a Half Men, Dharma & Greg, Cybill, Mike & Molly) & Bill Prady (Dharma & Greg) comes THE BIG BANG THEORY, the story of two brainy best friends who could tell you anything you want to know about quantum physics - but when it comes to dealing with everyday life here on Earth, they're lost in the cosmos. Nominated multiple times for both Emmy® and Golden Globe Awards for Best Television Comedy, in addition to winning the 2013 Critics Choice Television Award for Best Comedy Series, three-time winner of the People's Choice Award for Favorite Network TV Comedy (2010, 2013, 2014), two-time winner of the Television Critics Association Awards for Outstanding Achievement in Comedy (2009 & 2013) and two-time winner of the TV Guide Award for Favorite Comedy Series (2010 & 2013), THE BIG BANG THEORY stars Johnny Galecki (Roseanne, Hope & Faith, Vanilla Sky), Jim Parsons (The Normal Heart, The Muppets, Garden State), Kaley Cuoco-Sweeting (Hop, Charmed, 8 Simple Rules, Growing Up Brady, Virtuosity), Simon Helberg (Studio 60 on the Sunset Strip, A Serious Man, For Your Consideration, MADtv, Good Night, and Good Luck.) Kunal Nayyar (Sullivan & Son, Ice Age: Continental Drift), Mayim Bialik (Blossom, Beaches, Curb Your Enthusiasm) and Melissa Rauch (True Blood, The Office, I Love You Man).
SEASON 8 SEE IT FIRST
Episode 1
When Sheldon is forced to teach a class, Howard surprises everyone by taking it. Meanwhile, the tension between Penny and Bernadette gives Amy a chance to play both sides. Guest star REGINA KING returns as Mrs. Davis, the University's Director of Employee Relations.
Episode 2
Howard is nervous when NASA asks him to throw out the first pitch at a Los Angeles Angels game for National Space Day. Also, Leonard and Penny try to prove Sheldon wrong after he claims that he and Amy are a superior couple.
Episode 3
Raj's honesty about his past comes back to bite him after his girlfriend, Emily (recurring guest star LAURA SPENCER), gives Penny the cold shoulder. Meanwhile, the guys consider becoming part-owners in Stuart's comic-book store.
Episode 4
Raj's girlfriend Emily (Laura Spencer) gives Penny the cold shoulder when she learns about his past. Meanwhile, the guys debate investing in Stuart's comic-book shop and becoming part owners of the business.
Episode 5
When the guys want to spend the weekend working on science projects, the girls choose to spend the weekend in Vegas. After Penny receives an email from work, Amy and Bernadette accuse her of being a buzzkill. Meanwhile, the guys' efforts to invent something cool fizzle out when they keep getting distracted.
Episode 6
Sheldon and Raj consider applying for a dark matter research expedition in a salt mine, but first they test their ability to survive the rough conditions by emulating the conditions in the university's steam tunnel. Meanwhile, Leonard and Penny have an argument about money and seek help from Howard and Bernadette.
Episode 7
A doctor misconstrues Penny's workplace flirting and falls for her. When he turns up at her apartment, he attracts the attention of the guys. Meanwhile, Bernadette is going to be featured in an article about hot female scientists, but Amy disapproves of the article.
Episode 8
The gang recreates a prom night on the roof of the apartment building when the girls decide they would like to re-enact their evenings with their current partners. However, Sheldon feels under pressure to take part in all the romantic traditions, and Howard worries about who Stuart will bring as his date.
Episode 9
When Leonard gets minor surgery on his nose, Sheldon is the one in need of sympathy. Meanwhile, Raj's parents' impending divorce causes Howard and Bernadette to work on their own marriage.
Episode 10
Sheldon says a tearful goodbye to "Fun with Flags." Also, Leonard, Howard and Raj look for something significant in a dead professor's research, and Bernadette is shocked to learn her co-workers' true feelings from Penny.
Episode 11
Leonard and Wolowitz nearly come to blows and turn to Raj for help in dealing with a work emergency. Meanwhile, Amy throws an authentic Victorian Christmas party, and Sheldon seeks revenge on her for making him celebrate the holidays.