The Zoo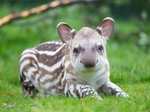 About the Series
The Zoo returns for a new series, featuring more amazing stories, new animals and plenty of new drama from behind the scenes at Dublin Zoo.
It's been several years since Dublin Zoo has had penguin chicks, but when a pair of healthy looking eggs are discovered by Eddie and his team in the penguin habitat, they make the difficult decision to hand-rear them and help them survive.
Now fully grown, it's time for the red panda cubs to leave home and find mates of their own. Susan travels to Fota Wildlife Park in Cork to help oversee the first introduction to a new mate.
When a California sea lion pup is born mother and pup soon develop a close bond. Eddie and Garth keep a close eye on them as she introduces the young sea lion to water for the first time.
A hand-reared gorilla joins the gorilla troop in the Gorilla Rainforest. It's going to be a long and careful process to have her introduced successfully to the other western lowland gorillas, but how will the rest of the troop react to the new arrival?
In the meerkat habitat there's great excitement when new pups are born, and it isn't long before they're learning from their parents.
Alfie the western lowland gorilla has been nursing what seems to be a sore hand for some time, and without being able to see any improvement the keepers decide to bring in some high-tech equipment to investigate the problem.
Budi the young male elephant is growing bigger and stronger by the day, but when he begins to get too boisterous with the female elephants keepers are forced to make some difficult decisions.
Meanwhile, a bull elephant arrives in Dublin Zoo, after a year of careful preparation by the keepers. The question is, how will the huge Asian elephant get on with his new herd?
And Brendan leaves Dublin Zoo for Borneo, to visit critically endangered orang-utans in the wild and discovers a whole new world of wildlife on the way.
Episodes
Programme One
Budi is a playful and boisterous young male Asian elephant and a favourite amongst the zoo keepers, but when he starts to prove too much of a handful for the females in the herd, the keepers are forced to make some difficult decisions.
Last year love blossomed when Brazilian tapirs Marmaduke and Rio met for the first time, and it didn't take long for Rio to become pregnant. Since then zoo keeper Susan has been keeping a close eye on her, and there's more than a little excitement around the tapir house as her date approaches.
And over in the African Plains Helen and her team are busy taking DNA samples from all the chimpanzees in Dublin Zoo.
Programme Two
Last year the keepers in the California sea lion habitat were devastated by the death of Danny, the patriarch of the sea lion group. But all was not lost and the keepers make a delightful discovery when they realise that Sienna the sea lion is pregnant.
The Brazilian tapir calf is thriving in the tapir house, and sets off to explore the rest of his habitat, taking a particular interest in the water pool.
Alfie the young male gorilla has been showing signs of an injury lately and Ciarán and his team are concerned. A team of vets and some very specialised equipment is brought into Dublin Zoo to investigate.
Garth introduces some of his favourite creatures in the Reptile House, the incredible stick insects, who are experts at camouflage!
Programme Three
DJ, the California sea lion pup, has been receiving loads of loving care from his mother Sienna. He still hasn't had his first swim in the pool and his mother is anxious to help him learn.
Dublin Zoo has had a long and illustrious history of breeding and taking care of African lions, but with now only one remains, Sheila the lioness. Now in her old age, her health has been poor lately and the keepers are forced to make some difficult decisions about her welfare.
Alfie and Evindi are playful young males in the gorilla troop at Dublin Zoo but as they get older problems in their relationships with dominant male Harry are becoming apparent. The keepers must decide if they should join a bachelor group of young male gorillas in the UK.
Programme Four
As hatching season approaches, Eddie and his team are busy monitoring the Chilean flamingos in Dublin Zoo's flamingo lake.
Helen and the team in the African Plains are concerned when one of the giraffes appears to be ill.
Susan is down at the red panda habitat, where the red panda cubs have grown into healthy adults, and are now getting ready to move on and start families of their own.
Programme Five
The moment Ciaran and his team have been preparing for has finally arrived. Upali, a magnificent Asian bull elephant, joins the herd at Dublin Zoo. But how will the female herd take to him, some of whom have never seen an adult bull elephant before?
Susan and red panda Bonnie hit the road for Cork where the young female panda is meeting a potential mate in Fota Wildlife Park.
And Eddie and Louise have their hands full taking care of a young flamingo chick.
Programme Six
Ciarán welcomes two Asian lionesses to Dublin Zoo to start a new breeding programme for this endangered species. A new habitat has been built especially for them, but how will they take to their new environment?
Kafi, a beautiful female western lowland gorilla arrives at Dublin Zoo from Stuttgart Zoo. Gerry and Aisleen start the process of gently introducing her to the troop in Dublin Zoo.
And Garth keeps a close eye on the Humboldt penguin habitat, where a couple of eggs look like they're just about to hatch.
Programme Seven
A young male Californian sealion is about to join the group in Dublin Zoo, but how will the females take to the new arrival?
There's loads of excitement in the meerkat habitat as two young meerkats are born.
And Garth keeps a close eye on the two penguin chicks the team are hand-rearing.
Programme Eight
This week, there's tremendous excitement at the African Plains when a baby rhino is due to be born; a little penguin chick takes it very first swim; and a new male Asian lion joins the two lioness sisters at Dublin Zoo.
Episode Ten
Brendan continues his journey through the rainforests of Borneo, where he fulfils a lifetime ambition by meeting wild orang-utans in their natural habitat.
Meanwhile Ciaran and his team are making the final preparations for a very important day. After months of hand-rearing and a long patient process of gentle introduction, the keepers look on as Kafi the orphaned western lowland gorilla takes her first steps in the gorilla rainforest in Dublin Zoo in the company of her new family.
And that's not the only introduction taking place, as proud keepers Garth and Louise look on as the Humboldt penguin they have hand-reared since it was a chick joins the rest of the colony in Dublin Zoo for the first time.
RTÉ One, Thursday, 7.00pm
Useful Links for Dublin Zoo