The Writing In The Sky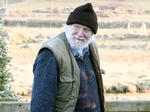 "I think of Dermot Healy as the heir to Patrick Kavanagh" - Seamus Heaney
'Ireland's greatest writer" - Roddy Doyle
This is the story of a writer and his place, of his horse and his dog, and of 3,000 migrating barnacle geese, a film to warm the heart on a winter's night. The writer is Dermot Healy, an outstanding poet, playwright, novelist and autobiographer who is, according to Roddy Doyle, "Ireland's greatest writer". The place is Ballyconnell, on the wild coast of Sligo, the dog is Tiny, the horse is Lucky, and the geese arrive from Greenland around October each year for a six-month stay.
Shot over those six months, this Arts Lives documentary is both the portrait of an artist and of a magnificent landscape and its inhabitants, human and animal.
With an original score by composer Steve Lynch, narrated by Sean McGinley, with contributions from poet Seamus Heaney, novelists Roddy Doyle and Patrick McCabe, and Bill Swainson, senior editor with Bloomsbury, this Arts Lives sets a wonderful writer in the place that he loves and which inspires him.
RTÉ One, Tuesday 04 January 2011 10.15pm