The Republic of Telly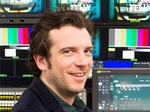 The IFTA award-winning Republic of Telly returns to RTÉ2 with presenter Kevin McGahern ripping up the telly for your entertainment, along with brand new member of the team, comedian Joanne McNally.
Ireland's longest running comedy show will continue to showcase new talent, biting TV reviews and hilarious celebrity sketches.
In the first show, Kevin breaks in his rookie partner Joanne in TV Licence Inspectors 2- when the TV licence payments grind to a halt, Kevin must come out of retirement and track down those responsible.
And when Joanne needs advice on how to bake the perfect bun, she turns to a comedy legend, who takes on the role of Hannibal Lecter to Joanne's Agent Starling in 'Silence of the buns'.
Watch out for extras and previews online at https://www.facebook.com/republicoftelly
Tickets enquires to: tellytickets@rte.ie