The Republic of Telly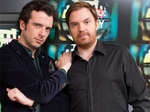 The IFTA award-winning Republic of Telly returns on RTÉ 2. Presenter Kevin McGahern and Bernard O'Shea will be ripping telly to shreds for your entertainment.
With Jen heading on maternity the lads have a new friend to play with every week. First up for episode one it's Laura Whitmore!
In the first show, Kevin McGahern and Bernard O'Shea are rogue TV Licence Inspectors- they'll break the rules to make sure you've paid up. Laura Whitmore will star as the head of the SWAT team who works with the lads on their dawn raids.
And when Jennifer Maguire goes missing Laura turns crime sleuth in "Gone Jen". When she appears as Jen in a reconstruction for Crime Call she begins to suspect Kevin and Bernard were involved.
Watch out for extras and previews online at https://www.facebook.com/republicoftelly
Tickets enquires to: tellytickets@rte.ie