The Really Useful Guide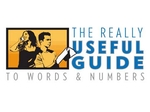 This 24-part Adult Literacy programme is aimed at the 25% of Adults in Ireland - that's just over half a million people who have difficulty reading and writing. Fairly straightforward tasks such as filling in forms, helping children with homework or reading the instructions on a medicine bottle pose considerable difficulties for a significant number of the population.
Presented by Flor McCarthy, this programme aims to give the viewer basic skills so that they can better communicate and function within modern Irish society. Tasks such as planning a trip on the internet, sending text messages and understanding household bills will be tackled. The series will also feature learner profiles - stories about people who have recently gained new literacy and numeracy skills and consequently improved and enhanced their lives.
There will also be a section in the programme to help people understand the complex language and grammar of the news - in TV, radio and print, addressing issusing and understanding around various stories and statistics frequently used.
Useful information:
The National Adult Literacy Agency is producing a workbook to accompany this series. The Freephone number for the workbook will be 1800 20 20 65.