The Committee Room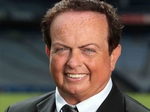 Every GAA member knows that the committee room of any club or county is where it all happens. This summer as the GAA Championships kick into gear, RTÉ brings its own refreshing take on this long standing institution with our Chairman, the ever-popular Marty Morrissey, and a selection of high profile "Committee Member" guests.
With a fresh approach and new strands, the show will be the first port of call for in-depth discussion and features as the championships wind their way to those elusive September Sundays. Broadcast live from studio, the show will be a mix of feature interviews, issue-based discussion and interactivity.
By the middle of the week the dust has settled on the big games and it is big picture discussion, star names, engaging features and a start to the preview of next weekend's games that is required, which is exactly what The Committee Room provides. In addition to the main studio discussion with our guests, there will also be a number features including interviews with injured players, plenty of nostalgia and issue driven reports.
Each week the public will have an opportunity to have their say about what topics are discussed on a Wednesday evening, as well as contributing to the debate itself. The Committee Room will also link up with RTÉ Radio 1's Take Your Point on Sunday evenings for competitions and to set the agenda for the week.
Episodes
Programme 1:
In the first programme of the brand new series presenter Marty Morrissey is joined in studio by Tipp hurler and last year's Young Player of the Year Brendan Maher, as Tipp and Cork go head to head in Munster.
Less than a year after scoring the winning goal in the Munster Hurling Final, Waterford's Dan Shanahan is retired from the game and a long way from the action. As the Munster championship throws in again we catch up with Dan to talk about life after hurling.
In studio Marty will chair a wider discussion with high profile former player and a man who has been examining the effect of retirement on GAA stars.
The new Team Mates feature kicks off with Laois duo MJ Tierney and Colm Begley as we find out how much the star players know about their team mates.