The Big C: Hereafter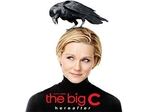 THE BIG C: hereafter is designed to bring Cathy Jamison's journey of the past three years in THE BIG C to its final conclusion. With the help of her no-nonsense therapist, (guest star Kathy Najimy), Cathy faces the challenges ahead, including reuniting with her estranged father played by Tony® Award-winner Brian Dennehy. Fashion icon Isaac Mizrahi appears in several episodes as himself, playing a mentor to Andrea (Sidibe) who will start fashion design school. The limited event series is produced by Sony Pictures Television, and was created by Darlene Hunt, who also serves as executive producer, along with showrunner/executive producer Jenny Bicks. Laura Linney, Michael Engler, Richard Heus, Vivian Cannon and Neal H. Moritz, are also executive producers.

Season 4
Series 4, episode 1 "Quality of Life"
Five months after nearly dying in Puerto Rico, Cathy is at home in Minneapolis recovering from brain surgery and looking forward to celebrating Adam's 16th birthday. With Paul preparing to set off on a book tour, Cathy struggles to fulfill her obligations to her students. But after her unconventional lesson plans spark criticism from her principal, Connie Schuler, she's ordered to toe the line at school. So after another round of chemotherapy exposes oncologist Dr. Atticus Sherman's lack of bedside manner, Cathy is caught off guard when Connie suggests taking a leave of absence until she's feeling better.
Upon learning that Adam is failing chemistry, Cathy orders him to stop playing soccer until his grades improve. Determined to see him graduate from high school before she dies, she hires a classmate to tutor him. During another round of chemo, Cathy is surprised to find Dr. Sherman there being treated for colon cancer. While decrying his lousy attitude, she also develops a fascination with Sherman's commitment to medicine and his cancer research even as he is dying of the disease himself. In the wake of her treatment, Cathy decides to quit her job. But when Connie balks at letting her make an announcement to her students, Cathy commandeers the school's P.A. system to do it anyway.
Now that she's stopped working, Cathy throws herself into planning Adam's birthday party. After declining an offer of help from Paul's cloying assistant, Amber, she rents a bouncy castle for the party just like the ones Adam enjoyed so much as a child. However, when Cathy loses control of her bowels while using it, Andrea says that she's moving out of her college dorm and back into the house in order to help out. Still wanting to do something special, Cathy takes Adam to a storage locker where she's been stashing presents to be opened on the birthdays she won't live to see. Finally, realizing that chemotherapy isn't a cure, Cathy decides to stop treatment.