The Big Big Bazaar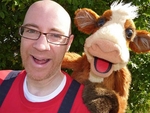 The Big Big Bazaar is a brand new 10 part series on RTÉ's The Den, which challenges teams of 9-12 year olds to raise money for local causes by organizing a massive bazaar. Each week two teams go head to head to see who can make the most amount of money for their cause.
To organise the bazaar they must gather stuff to sell, come up with novel games, select things to auction, publicise it and get the public to turn up with money in their pockets!
The teams are given two days to raid their attics for jumble, make buns, coax their families, friends and neighbours to part with toys, antiques, books, cakes and whatever else might sell. They also need to come up with money-making schemes to encourage the public to part with their cash - from face painting to paper airplane races to penalty shoot outs. Anything goes.
With two hours of frenzied selling, each bazaar climaxes with an auction where each team has an opportunity to sell their three top items. In each programme antiques expert Roxane Moorhead is on hand with valuations and selling tips for the children.
In a final twist the team that makes the most money gets to take half of their opponent's takings for their cause!
The Big Big Bazaar is presented by comedian and children's entertainer Reuben who has been making kids laugh since he was 10 years old with his unique children's act. He has also performed on The Late Late Show, at Vicar Street and at the Kilkenny Cat Laugh's Festival.
Roxane Moorhead is one of Ireland's best-known antique dealers. With over 30 years in the trade she is also an established lecturer particularly in the histories of furniture and porcelain. She is coordinator of the Fine and Decorative Art courses run by the Institute of Professional Auctioneers and Valuers.
The Big Big Bazaar is shot on location in Navan, Ratoath, Kilkenny, Naas, Tallaght, Portlaoise, Kinsale, Youghal, Gorey and Galbally.
The series kicks off in Kilkenny where two teams go head to head to make as much money as they can for their causes. Conor Cantwell, Robert Fitzgerald, John Treacy, Seán Heary and Gavin Byrne will be raising money for Saint Canice's National School Orchestra. They will be taking on Ryan Penfold, Leah Culleton, Jessica Lleshi, Shane Kennedy and Megan Kinsella who are trying to raise funds for their Hip Hop Dance Group. Which team has what it takes to make the most amount of money?
RTÉ Two, Saturday, 10.30am