That's All We've Got Time For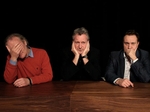 Comedian Barry Murphy is ringmaster in this new satirical news programme for Thursday nights on RTÉ One. Each week he will be joined by team captains Mario Rosenstock and Kevin Myers.
Kevin Myers will have a comedian on his team and Mario will be joined by a journalist or commentator. Recorded in front of a live audience each week, the programme will dissect the week's events in an irreverent and intelligent manner.