Thank GAA It's Friday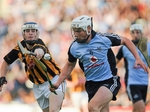 Thank GAA It's Friday will be a weekly act of worship to the broad church that is the GAA.
Gaelic games are about more than the match results every weekend and this programme aims to celebrate its diverse impacts on Irish communities all over the world.
Throwing in on July 4th at 7.30pm, the series will be the first for RTÉ's weekend championship coverage.
Produced by the same people who brought us the iconic Breaking Ball, the show's creators have promised to trawl the country(and beyond) to unearth and time capsule the next generation of unique characters and stories.
From grassroots issues to the global parishes of the diaspora, from warm human interest features to raging hot controversies, from breaking news to unforgettable moments from yesteryear, Thank GAA It's Friday will combine sharp journalism, an instinct to entertain and top-drawer production values.
There will be something for everyone, from a thriving club in Seattle, to the oldest hurley makers in the country, from David Gillick's return to Gaelic football to military exercises with Waterford's Stephen Molumphy!