The Teens' Midwife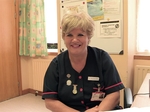 A new two part observational documentary series depicting the work of teenage pregnancy midwife, Una O' Brien at Our Lady of Lourdes Hospital, Drogheda. The series features a number of young parents-to-be as Una prepares them for the birth of their babies.
While the number of teenage pregnancies in Ireland has dropped to levels not seen here since the 1960s, in several reports in recent years, the Louth/Meath area was identified as a region with a high pregnancy rate amongst teens. In response, Una O'Brien became Ireland's first Clinical Midwife Specialist in Teenage Pregnancy.
Improving antenatal services for teenagers is a priority for Una who works in the antenatal education/parentcraft department of the hospital.
In 2010, Una won a Health Literacy Award for pioneering a "text and Twitter" project for teenage mums. Her work was recognized for her efforts to provide pregnant teens with as much information as possible and to encourage them to attend antenatal classes using text messages and Twitter. (This has since expanded to the use of Facebook). Una developed her programme after she noticed that many teenage mothers did not attend antenatal education and were unprepared for the birth of their child. Nearly every teenager has a mobile phone so, with the help of one of the young mums, Una learned how to translate her message about antenatal classes into 'teenage texting language'.
For Una, it is essential to communicate with teenagers in a language that makes sense to them. The extent of her engagement with teen mothers and her groundbreaking use of new technologies have had a measurable impact, increasing attendance at her antenatal classes by 90 per cent.
Our Lady of Lourdes Hospital is the largest Maternity Unit in the north east region delivering 3,800 babies each year. In 2012, 110 teenagers delivered in the maternity Unit of the hospital.

RTÉ One, Thursday, 10.15pm
Related links: