Teens in the Wild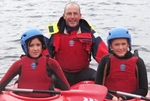 In the second series of the acclaimed Teens in the Wild, Clinical psychologist David Coleman once again takes a group of six troubled teenagers, on a 21 day wilderness activities and therapy course. This time, in the wilds of Donegal, he works with girls, aged 14-17, who are struggling with issues including anger management, bereavement, separation and problems at school - all of which have resulted in strained relations with their parents who are at breaking point.
The activities element of the programme devised especially for this project by the Gartan Outdoor Education Centre is fundamental to the overall aim of the project i.e. improving each teen's self esteem and confidence. As David Coleman says " Poor behaviour is rooted in low self-esteem. The aim of this unique project is to build the teens up not break them down."
For the three weeks, the girls live in an isolated cabin (under the supervision of the Gartan instructors) on the perimeter of Glenveagh National Park. Far removed from the usual teenage temptations and distractions, David's hope is that the girls focus on their issues and work through them with him, giving each of them the opportunity to start making some positive change in their lives.
While their isolation gives them much needed 'space' from their usual environment, some of the girls find the 'cold turkey' difficult to endure.. Three weeks without their own mobile phones, laptops, night life and contact with the outside world is a true endurance test.
During the three week course, David invites the parents to a separate wilderness location in Donegal to explore with him, what possible reasons may lay at the root of their teen's misbehaviour. These intense 'sessions' also help the parents to realise that they too need to be open to change.
The Aim
Teens in the Wild explores with the teenagers and with their parents what possible reasons may lie at the root of their behaviour and the family tensions.
The fundamental idea behind this unique project is that by putting the teens into basic accommodation in an isolated environment, and by removing all 'must have' accessories, they have the opportunity to get a break from home and to gain the skills needed to make some positive change in their lives. As the weeks pass, they will learn how to communicate with their peers and instructors, take responsibility for themselves and gain in self-confidence and self worth. David says that poor behaviour often stems from low self-esteem. Hence the emphasis is always on "building them up, not breaking them down".
The sporting and team-building activities are designed to push the lads physically and mentally but they also offer the teens a fantastic opportunity to enjoy a great adventure.