The Summit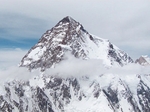 Described by reviewers as "riveting", "pulse-pounding" and "remarkable", multi award-winning Irish Documentary, The Summit tells the story of the greatest single tragedy in modern mountaineering history.
In August 2008, 24 international climbers converged on High Camp, the last stop before the summit of K2, the world's deadliest mountain. Forty-eight hours later 11 of them had failed to return to camp. Among the missing was Limerick climber Ger McDonnell, the first Irishman to summit K2. Ger had been faced with a heart-breaking dilemma on the descent: three climbers tangled in ropes and running out of time.
What exactly happened to McDonnell that day became the subject of huge controversy. Director Nick Ryan painstakingly pieces together, using previously unseen footage from the climb and first-person testimonies, the story of that day. Funded by RTÉ, the Irish Film Board, the BAI and BBC, The Summit has its world television première on RTE One.