Suits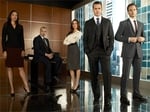 While running from a drug deal gone bad, brilliant college dropout Mike Ross slips into a job interview with one of New York City's best attorneys, Harvey Specter. Tired of cookie-cutter law school grads, Harvey hires Mike on the spot when he sees the young man's gifted mind and photographic memory in action.
Since then, Harvey and Mike have closed cases and tried to navigate the treacherous waters of the legal world without letting it slip that Mike doesn't have a degree. Along the way, they've enjoyed personal triumphs, suffered heartbreaking losses, and built a surrogate family with their closest confidants at the firm.
Recently, this family was almost pulled apart when a merger with Darby International pitted Harvey and founding partner Jessica Pearson against each other. But while war between Harvey and his mentor seemed inevitable, their bond proved too strong to be broken, and the two made amends in time to save the firm from a murder cover-up.
Out of the ashes of that scandal, Pearson Specter emerged stronger than ever. And now, for the first time, Harvey and Mike are enjoying happiness in both their personal and professional lives. But in the high stakes legal world, contentment doesn't last long.and Mike's secret is still hanging over their heads, waiting to tear down everything they worked so hard to build.