St Patrick's Festival Parade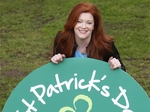 St Patrick's Festival Parade - Tuesday 17th March at 12.20pm on RTÉ One
Join presenters Blathnaid Ni Chofaigh, Aidan Power and Des Cahill on the streets of Dublin, as the parade rolls through the heart of the city for St Patrick's Day.
Ireland's leading pageant companies will bring their vibrant interpretations of 'Celebrate Now', the theme for the 2015 Festival Parade , to life with their spectacular pageantry and colourful performances. Amidst the colourful pageantry, bands from the USA, Mexico, Germany and Ireland will deliver uplifting scores and inspiring rhythms.
This spectacular procession will wind its way through the heart of Dublin city, bursting with colour and theatrics.
Paddy McKenna and Sinead Kennedy presents the highlights of the St. Patrick's Festival, an exciting programme of events to mark our national holiday celebrations for 2015.
Click here for Live Coverage of the St. Patrick's Day Parade on Tuesday the 17th of March at 12.15pm on RTÉ One...
St. Patrick's Day 17 March 2014